Things To Do in Irving Texas With Kids
by Erica Landis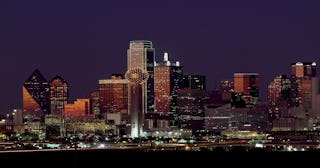 Pixabay/Pexels
Irving, Texas, is a part of the Dallas/Fort Worth metropolitan area. From family fun on Lake Carolyn to Texas-size sculptures and botanical gardens, there are so many attractions we suggest for your next family vacation to Irving, Texas. Here are the best things to do in Irving with kids.
Kids Attractions in Irving
The Mustangs of Las Colinas is the most well-known landmark in Irving. The intricate and very realistic bronze sculpture of nine wild mustangs galloping through the plaza fountain really looks like they're actually galloping. For little ones, their imaginations can really run wild here.
If you grew up in the 1970s, you might remember seeing these famous horses in the opening credits of the TV series, "Dallas!"
Explain to your kids that it took eight years of work for African wildlife artist Robert Glen to create this impressive family attraction.
Just down the street from these famous mustangs, your kids will get a kick out of the Marble Cows. Created as an artistic tribute to the ranchers and ranchlands of this area, great family photo ops are everywhere. Loud moo'ing from children and adults alike can be heard in this area. But the cows remain silent and very tolerant. Bring your cattle herd here for creative Christmas cards and family portraits.
When you think of Texas, you think of gondolas. Ok, that isn't true. But it will be after visiting Gondola Adventures in Irving. Turn the normally romantic gondola into a family attraction with a classic cruise. Cruise for an hour and a half through Irving's Lake Carolyn with up to 10 of your beloved family members. Add some gourmet chocolate and sparkling cider because #snacks. For an extra fee, you can BYOB this unique family attraction. Do it. Because you're on a gondola with your kids.
If you're not quite a gondola kind of family, take the Lake Carolyn Boat Tour instead. This relaxing one-hour tour through the lake and canals and scenic Lake Carolyn on a covered Lear Cruise Boat is a popular tourist attraction. Meet some other families and visitors to the area on this public boat tour.
For water-loving families, try the aqua cycle trikes for rent here as well! Easy-to-ride and no lessons required.
Let's all meet up at The Las Colinas Flower Clock. An Irving landmark, this fully functioning giant clock tells the time year-round. Because the weather is so awesome in Texas, there's an ever-changing seasonal flower design to see. Suddenly always running late isn't so bad.
Take an early morning drive to the Dallas Arboretum and Botanical Gardens for a cool walk before the Texas heat sets in. Trust me, it's not just boring trees again. The events include live music concerts, cooking classes, and art shows. With fun surprise sculptures placed all throughout the gardens, this is a fun place for some family "I-Spy" and photo ops.
But don't miss the Rory Myer's Children's Adventure Garden. The hands-on learning here through science and nature activities plus cool architectural fountains really is spectacular.
The National Cowgirl Hall of Fame in Fort Worth about 30 minutes away is an important "girl power" kid-friendly attraction. Honoring and celebrating women, past and present, who showed the courage, resilience and independence that helped shape the American West.
Don't leave without visiting the gift shop for this "Always Saddle Your Own Horse" mug. Welcome to your newest family heirloom.
Kids Activities in Irving
While you're in Fort Worth, take your cowpokes to The Fort Worth Zoo. It's ranked the #4 zoo in the country. We'll be at the Toyota Children's Ranch and Petting Corral embarrassing ourselves while you're all enjoying the animals and exhibits showcasing over 540 species.
SUP North Texas is where you can channel your inner Mathew McConaughey with some super cool standup paddle boarding on Irving's Lake Carolyn. For families with kids 5 and up, this fun family activity will have you saying alright, alright, alright in no time.
The Play Street Museum in Irving is a themed educational playground. At this location of Play Street, the theme is University. Send your little ones off to college without all the fears and tears. Bring your imaginary checkbooks for textbooks and tuition. Teach your kids how to make good choices at the pretend dining hall. Impress them with stories of how you only ate cereal for breakfast, lunch, and dinner back in your college days.
Check their events page for kid-style fun like slime workshops. At $11.50 per child, you won't have to think about scholarships just yet.
Best Restaurants for Kids in Irving
After you're done with your relaxing gondola ride or whooping it up with family fun on Lake Carolyn, go eat at Italian Cafe to round out the waterfront experience. Dine al fresco or indoors with this local favorite. There are daily specials, NY style pizza, and lots more on the family-friendly menu.
There's tiramisu, spumoni and cappucino pie. Let your kids choose one of everything off the dessert menu. When they complain of bellyaches later, use it as a teachable moment.
El Famoso Mexican Taco Diner …wait a minute TACO DINER!?!? You may want to sit down. In fact, sit your entire family down at this family-friendly place to eat in Irving. The menu is full of fresh Mexican comfort choices. If that food drunk feeling your family will get isn't quite enough, there's also an enticing bar menu for the adults.
Your family cannot resist the charms of Joe's Coffee Shop. Eat breakfast or lunch here for a true local Irving family friendly meal. Menu items like chicken and waffles, homemade corned beef hash and a whole mess of pies made right at Joe's have been making locals happy for 50 years.
And the coffee. Those old school diner mugs make great coffee even better.
Another great family-friendly diner experience in Irving is the aptly named Big State Fountain Grill. You'll find biscuits and gravy, longneck bottles of soda and old fashioned malts and milkshakes on the menu. Order Ma's Famous Hot Bologna Sandwich. And cheese fries. You'll need to buy some Texas-sized pants when you leave this family dining institution.
Best Hotels for Kids in Irving
Omni Mandalay Las Colinas is a 421-room hotel on the waterfront of Lake Carolyn. Send the family to the the heated lakeside pool and check yourself in to the hotel's Mokara Salon & Spa. There are three restaurants on site and of course there's room service for when your kids just should not be out in public.
The Hyatt House Dallas-Las Colinas has larger rooms and suites for a slightly longer stay in Texas. Enjoy a free breakfast with an omelette bar every morning. Put the kids to bed, tell the husband you're taking slightly extra long walk to the ice machine by way of the H Bar. Accidentally end up ordering an appetizer and bedtime chardonnay. Hey, it happens.
The Wingate by Wyndham gives your family free shuttle service to all the popular family attractions, a comfortable room for your money, and free breakfast. Done deal.
MORE: Windy City Fun With The Family
This article was originally published on