Things to Do in Jacksonville With Kids
by Evan Levy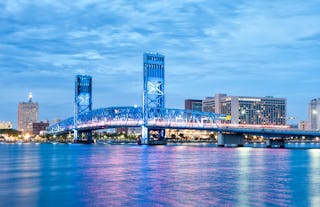 Jeff Crass/Getty Images
If you're thinking about taking a family vacation to Jacksonville with kids, there is plenty to keep everyone busy! From waterparks in Jacksonville to the Jacksonville Zoo, here are the best things to do in Jacksonville with kids.
Family-friendly Activities in Jacksonville, Florida
Adventure Landing Water Park is one awesome attraction your family won't want to miss. On Shipwreck Island, the centerpiece of this venue, you don't have to worry about shipwrecks. Instead, there's a half-million gallon wave pool, four extreme slides, and Typhoon Lagoon. But that just the tip of the, uh, shipwreck. There's Gator Alley, where you can feed the gators, mini golf, laser tag, an arcade, and a roller coaster. Check for special events, too, like Night Swims and free admission to the water park.
Bravoz is another great thing to do in Jacksonville with kids. It's a family entertainment center that includes a trampoline park, arcade and so much more. Don't be distressed that there's something at Bravoz called the Leap Of Faith—it's an elevated platform that the brave leap from in order to catch a suspended obstacle, like a trapeze. Or not. You can choose instead to do the Ninja warrior Course (Florida's largest), scale the climbing walls, or, for those who prefer to keep their feet on the ground, mini bowling.
The main event at the Main Event could be the suspended ropes course, the arcade games, or the indoor, glow-in-the-dark mini golf course. But it's really the fact that it's all under one roof, with a restaurant that serves everything from pizza to sliders and also has a kids' menu.
At the Cummer Museum of Art and Gardens, start your visit with a trip around the museum itself, to see some of the more than 500 works of art, including paintings by the likes of Winslow Homer and Norman Rockwell, as well as a renowned collection of early Meissen porcelain. From there, move outside to the garden, on the banks of the St. Johns River. The plantings are interspersed with sculpture and pools and fountains, making for a seamless "inside out" experience.
The Jacksonville "Hands-On" Children's Museum is more of a big play space than an actual museum—it features lots of opportunities for interactive play, and it's a good pit stop on a rainy (or overly hot) day. Think free play, lots of toys, and plenty of interactivity.
Family-friendly Resorts in Jacksonville, Florida
The Sheraton Jacksonville went through a recent renovation, so you can expect modern updates as well as outdoor dining, a pool, and a fitness center. If you stay there, you're also near shops and restaurants, as well as downtown Jacksonville's entertainment area.
Right near the St. John's Riverwalk, in the middle of downtown, the Omni Jacksonville offers a well-located place to set up camp (not literally). The hotel recently renovated from top to bottom, including the guest rooms, lobby, and restaurant. It has a pool with city views, access to plenty of local attractions, and lots of special package deals.
In a neighborhood once called "Hollywood East," the Hotel Indigo Jacksonville Deerwood Park still offers a Hollywood vibe—at last on Sundays, when guests can partake of silent films, popcorn, and a post-film discussion, all for $5, which goes to help refurbish a silent film museum. Oh, and there's the location at the end of a lakeside boardwalk in a quiet area, plus an outdoor pool and a fitness center.
The Lexington Hotel and Conference Center Jacksonville Riverwalk takes its fitness seriously—there's a pool, fitness center, and access to a Riverwalk jogging path. Note: ask for a room with a river view.
The rooftop pool lures a lot of visitors to the Hyatt Regency Jacksonville Riverfront, as do the great city views and the walkable access to downtown. They also offer an eco-friendly bike service. You're near everything from golf to the zoo, and the suites are spacious (so Junior can pack that extra LEGO.)
Best Restaurants for Kids in Jacksonville
It's easy to get lost in the "starters" section of the Bearded Pig's menu: contemplating bearded Poutine and Frito pie (remember—these are just the starters) could easily while away an evening. But it's onward to the mains we go. You can get everything from chicken to brisket, plus a kids menu with lots of choices. All the sides are vegetarian, there's a beer garden, and dessert includes a Nutella brownie sundae.
Clara's Tidbits should really be named Clara's Cornucopia of Assorted Foods—we would be hard pressed to call a bowl of chicken and sausage gumbo or a New Orleans Po'Boy a tidbit. But the choices are many, ranging as they do from a huge variety of build-your-own sandwiches (more than 10 choices just for the bread) to chili and salads.
At Epik Burger, you can choose from bison or beef for your burger, and also select a number of gluten-free options. With over 34 burgers, you'll probably find something you like. Toppings include red wine bacon jam, peanut butter (yes, you read that correctly) and Riesling-poached apple. If you're feeing flush, you can also try the Wagyu Beef with truffle butter Alchemy Burger for $70.
Sometime during your stay in Jacksonville you're going to have pizza—there's just no way around it. At Moon River Pizza, the pizzas are handmade and include choices like breaded eggplant, pepperoni, and artichoke hearts, plus vegan options. Calzones are also available, and grownups can order beer and wine.
Maple Street Biscuit specializes in yes, biscuits. They're made fresh every day, served with a variety of fillings (often including fried chicken), and often come smothered in shiitake or sausage gravy. Do yourself a favor and don't read the calorie count.
Best Outdoor Attractions for Families in Jacksonville
At the Catty Shack Ranch and Wildlife Sanctuary, endangered big cats are given a home. They're rescued from unsafe situations and can reside there permanently. Current guests include tigers, lions and pumas. Tours are offered and include educational info about the animals and their plight. Oh, and if you see a fox or a coatimundi, don't worry—they're "honorary" cats. This is one of the best things to do in Jacksonville with kids.
Jacksonville Zoo and Gardens has a lot going for it. You can start your day in Stingray Bay interacting with the stingray, move on to Giraffe Overlook or the River Valley Aviary, and end up in the Botanical Gardens. With more than 1,000 plants in its collection, there's plenty to keep everyone occupied, making it an awesome thing to do in Jacksonville with kids.
At the Tree Hill Nature Center, families can check out the Florida Natural History Museum, explore butterfly and hummingbird gardens, and enjoy more than 50 miles of trails, all in the name of learning about environmental conservation and stewardship. Programs include animal encounter shows, a guided trail tour, and, for the truly ambitious (or optimistic) a combination of both.
Hanna Park offers one-stop outdoor experiences, from kayaking to hiking, biking and picnicking. It also offers a beach with surfing (not recommended for beginners, but fun to watch), a 60-acre lake (great for pedal boats and fishing), and a kids' splash park. They also offer camping and cookout facilities, making it a great thing to do in Jacksonville with kids.
The Tillie K. Flower Regional Park offers biking and hiking trails through forested areas, as well as picnic tables and a scenic overlook. It also features a nature center, and for adventurous (more experienced) hikers, the Island Hiking Trail offers a challenging but rewarding course.
Historical Attractions in Jacksonville
Jacksonville offers a number of attractions that showcase its history and culture.
At the Museum of Science and History (MOSH, and worth going just so you can casually say that) you'll see work by local artists and an exhibit on coastal creatures of Northeast Florida. As far as things to do in Jacksonville with kids, this should definitely be on your list.
The Timicuan Preserve is an unspoiled coastal wetland that also includes Fort Caroline, which showcases the French presence in 16th-century Florida, and the Kingsley Plantation, which examines the history of the family that owned the plantation.
Finally, the Ritz Theatre and Museum showcases African-American life in Northeast Florida, and offers numerous special events and performances.
MORE: Best Things To Do in Aspen, Colorado
Why I Always Prefer A Staycation
15 Reasons Gulf Shores, Alabama is Perfect for Families
This article was originally published on