Things to Do in Jersey City With Kids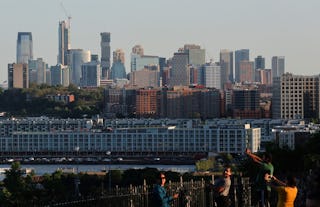 Gary Hershorn/Getty Images
Just a stone's throw away from New York City, there are plenty of things to do in Jersey City with kids. As if the view of the skyline wasn't appealing enough, the walkable streets with shops have something for everyone. From indoor attractions like the Liberty Science Center to riverside walks, the whole family will fall in love with Jersey City.
Here are our favorite things to do in Jersey City with kids.
Things to Do With Kids in Jersey City, NJ
The Liberty Science Center is so good that people come from literally all over to check out their interactive science exhibits. First off, it's huge—you'll probably spend the first half hour wondering where to go. Many of the exhibits are there on a limited time basis, like the current Dino Dig, which makes a return visit this summer. Permanent exhibits include the Touch Tunnel (it's pitch black, and not for those who don't like, um, not being able to see), and the Infinity Climber, a suspended climbing play space—some of the pathways are 35 feet above the floor.
The Tiny Greenhouse in Jersey City is not, in fact, a tiny greenhouse, It is, however, an art studio that offers kids (and adults) plenty of ways to enjoy art, from drop-in art experiences to birthday parties and camps. Recycled materials are used whenever possible, and kids 15 months through eight years can mold, build, create and smoosh (just not each other).
An often overlooked (free) resource is the local public library, and the one in Jersey City is no exception. Check out the Jersey City Public Library for their kids' section, and free programs like movies, "meet the author events," and story time. Plus it's a good place to just sit and chill when you need some sit-and-chill time.
Would your kids like to do a Ninja Warrior Obstacle Course? Of course they would. At the indoor play center Hudson Play, older kids can do the obstacle course, while younger ones can build with foam blocks, and engage in some pretend play. Don't forget Parent's Night Out on Fridays, when you can drop your kids off for an evening of fun—then you can go off and have some kid-free fun yourselves.
Got a budding chef in the kitchen? At Bambino Chef in Jersey City, kids can take a drop-off or ongoing class, plus have a birthday party or attend cooking camp. Cooking options have ranged from soft pretzels to rainbow salads to chicken fingers and berry muffins. Plan ahead, parents: one day you'll be having dinner at their house; prepare them now to host you in style.
Best Hotels for Kids in Jersey City
Located right on the Hudson River waterfront, The Westin Jersey City Newport is well situated to explore Jersey City, as well as to take a trip into Manhattan. If you're looking to save money and you'll be visiting NYC, consider a Jersey City hotel. There's a heated indoor pool, a fitness center, a choice of restaurants—and it's pet-friendly, so Fido too can enjoy the waterfront.
The Hyatt Regency Jersey City offers a pool, fitness center, and rooms with a view—every room has a view of either the Manhattan skyline, Elis Island, the Hudson River, or the Statue of Liberty. It's located right on the Hudson River, New York City is just a train stop away, plenty of restaurants are in walking distance, and the hotel even has its own boat dock, with a "nautical concierge." Make of that what you will.
From a children's menu to children's video rentals, Double Tree by Hilton Hotel & Suites Jersey City is clearly prepared for kids. You can walk to the ferry stop that will take you to Liberty Island, or hop on the PATH train to get into New York City. Many rooms have a view of NYC's skyline, and don't forget the signature cookie that will be waiting for you.
Candlewood Suites Jersey City Harborside has a guest laundry, a fitness center, a business center, and a 24-hour convenience store. Admit it: You will be there 964 times. A train ride will take you to lower Manhattan, where you can access the Freedom Tower, the 911 Memorial, and more, and the suites include a kitchen. You can also request connecting suites.
With an indoor pool and an outdoor patio, the Courtyard by Marriott Jersey City Newport has you covered no matter where you want to hang out. You're near the Liberty Science Center as well as the Newport Centre Mall, which is located right across the street from the hotel (to buy those 11 things you remembered as you pulled out of your driveway.) Plus it's an easy ride into Manhattan. If you just feel like staying put, have a cup of Starbucks, or check out the fitness center.
Best Restaurants for Families in Jersey City, NY
Looking for an old-school vibe along with your fries? At Tommy's Family Restaurant, you can choose from salads, sandwiches, wraps, burgers and more—and you may not even hit $10 a person. Don't be put off by what the restaurant looks like on the outside—it's old-school, remember? If you're a BAD person (that is, lover of breakfast all day) this place has got it.
At the Brownstone Diner & Pancake Factory, you will not be surprised to learn that you can get both diner food and, yes, pancakes. Pancakes are so important here that they've earned an entire section to themselves on the menu. From blueberry to peanut butter chip, they've got it all. They've also got Family Supper, which features dishes like brisket and Mama's Meatloaf, plus pasta, stir fry and fajitas.
Sometimes you go out to dinner just because or, in this case, Just Be Claws. The seafood restaurant offers reasonable prices for po' boys and fried shrimp baskets, as well as landlubber food like chicken tenders and wings. Grownups can opt to start with the raw bar, and kids will no doubt ask for the cheese fries.
The Left Bank Burger Bar may sound like it offers some Parisian flair, but it's really all about the all-natural burger with a wide variety of toppings. The MacDaddy comes with fried mac and cheese and bacon, while the Ghostface Killer features ghost pepper jam, smoked gouda, and sweet potato tots. You can also get turkey, lamb and veggie burgers, many kinds of fries, and "snacks" like fried pickles.
Looking for a nice meal out? Try Skinner's Loft, which has offerings ranging from giant burgers on brioche rolls to upscale mac and cheese, buffalo chicken spring rolls, and even a vegan shepherd's pie. They have a good variety of vegan and vegetarian entrees. They also serve weekend brunch, and your kids will definitely find something palate pleasing.
Best Outdoor Attractions for Families in Jersey City
Is that the Statue of Liberty? And Ellis Island? It is! Liberty State Park offers an urban oasis with the bonus of a fabulous backdrop—both landmarks are visible behind it, along with the Manhattan skyline. The park itself has a two-mile promenade, a total of more than 1,000 acres (300 of which are open to the public), a picnic area, a playground and marina, and an interpretive center that focuses on the ecology of the Hudson River estuary.
You had us at seasonal carousel: it's just one of the features at Newport Green Park. The park also boasts a man-made beach (no swimming, but you can hang out in an Adirondack chair while your kids throw sand on each other), an extremely cool playground, a splash pad, ball fields, and a walkway.
Hamilton Park is a small, historic park surrounded by19th-century brownstones. It offers dog runs, playgrounds for kids of different ages (nice touch) plus tennis and basketball courts. Don't miss the gazebo—lots of events take place around it throughout the year, from a seasonal Farmer's Market to films.
One of the city's newest parks, Berry Lane Park offers multiple sports facilities (basketball, tennis, soccer) and a splash pad, plus lots of trees so you can commune with nature. Community events are often held in the park, so check out the schedule. Bonus: the name sounds like it's someplace Strawberry Shortcake and her friends would enjoy.
Want some advice? Visit the J. Owen Grundy Park right around sunset—not only will it be less crowded, you'll get an amazing view of the sunset, with Manhattan as a backdrop. Game tables are available, and a pavilion is the setting for shows and concerts.
Jersey City, NJ, is known for its outdoor spaces. In addition to the parks highlighted above, the candy-striped LeFrak Lighthouse is a historical landmark in and of itself, but the area also offers a great view of the Manhattan skyline.
Washington Park offers baseball, basketball and tennis courts, plus a playground, and Morris Canal Park offers an exceptionally good view of Manhattan.
MORE: What To Do When It's Raining At Disney World
Why Staycation Makes The Best Vacation
A Lazy Parents Guide To The Great Outdoors
This article was originally published on