These Are the Best Things to Do in Kansas City With Kids
by Nikki M. Mascali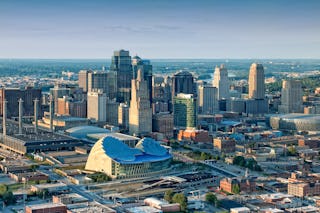 Mark Shaiken/Getty Images
Kansas City, Missouri, is known for its one-of-a-kind barbecue, jazz and being the "City of Fountains." But, all the family-friendly attractions in Kansas City, MO, are pretty rad, too. There's actually so many, it's hard to know where to start. So, for some help, here are our picks for the best things to do in Kansas City with kids.
Kid Attractions in Kansas City
The Wonderscope Children's Museum of Kansas City mixes playtime with learning via art, science and literature. Interactive exhibits include a farm, raceway and veterinary clinic. Note: Wonderscope is aimed at kids 8 and under.
You're always encouraging your kids to soar, right? So, make it a reality with indoor skydiving at iFly Kansas City in nearby Overland Park. The attraction is for kids 3 and up and is accessible for all.
The 11 interactive exhibits at Sea Life Kansas City will fill the kids with under-sea wonderment. Will they be brave enough to reach into the rockpool to touch sea stars and urchins? If not, they can draw their own creatures and watch them swim at Doodle Reef.
The whole family can have fun and learn a thing or two at Science City in Union Station. It has a dino dig, demo area, maker studio, test kitchen and the 4K Arvin Gottlieb Planetarium.
Get the family's creative juices flowing at Kaleidoscope. Because all the materials are provided by KCMO-based Hallmark, the 50-minute creative sessions are completely free. We'll draw to that!
The Coterie Theater has been providing a kid-friendly theater experience for 40 years. Plus, it offers acting classes for kindergarteners to high schoolers and a playwright's club for teens.
Best Restaurants in Kansas City for Kids
With three locations, Fritz's Railroad Restaurant has been a family-friendly Kansas City mainstay since 1954. Hangry kids will be too entranced watching electric trains deliver your food — which you order from a table-side phone — to bicker.
No one will go hungry at Nick and Jake's, which has four locations across the Kansas City area. Its great kids menu is split into "Little Leaguers" and "Big Leaguers." Adults will be happy to know there's ample beer, wine and specialty cocktails, too.
It might be illegal to be in Kansas City with your family and not have barbecue. So, head to one of the locations of Fiorella's Jack Stack Barbecue. Meals for kids under 10 are $6.99 and include an entrée, side and drink.
Everyone will enjoy the vibrant Crayola Café in the Crown Center shopping and entertainment district. Kids can choose a hot dog, grilled cheese, chicken tenders, cheeseburger, mac-n-cheese or peanut butter and jelly. Their meals come with fries, chips, applesauce or corn on the cob.
Also at the Crown Center is Chip's Chocolate Factory, where there are more than 200 yummy treats. You'll definitely want to schedule a tour to see how it's all made.
Best Hotels in Kansas City for Kids
Great Wolf Lodge is a family-friendly Kansas City attraction in and of itself. Get day passes to this immense indoor and outdoor waterpark, or stay on-site in one of its rustic suites. There are plenty of room types to fit wolf packs of all sizes.
Amenities at the Westin Kansas City at Crown Center include adjoining rooms, 24-hour room service, cribs, rollaway beds and a picnic area. In addition, the Westin Kid's Club provides a local activity guide — and a fun place for the kids to play out of your room (and hair).
Worlds of Fun Village offers cottages, cabins and RV sites. Plus, there's a pool, hot tub and store that sells food and supplies. And the best part? Discounted entry to the Worlds of Fun and Oceans of Fun theme parks (more on those in the next section).
Outdoor Activities in Kansas City for Kids
One of the best things to do in Kansas City with kids is visit the Kansas City Zoo. This 202-acre nature sanctuary has thousands of animals and offers Keeper for a Day experiences for kids age 7 to adults. In addition, there's an endangered species carousel and the incredible African sky safari above the zebras, giraffes and rhinos.
The whole family is bound to have fun and, most importantly, tire themselves out at Paradise Park. There's batting cages, bumper cars, escape rooms, go-karts, mini golf, rock walls and more.
Everyone can ride their hearts out Worlds of Fun amusement park. Big kids will love all the thrilling rides, and there's more than 20 for littler ones. Bonus: admission includes the Oceans of Fun waterpark, which has slides for all ages.
Teach the kids about life on a turn-of-the century farm at Deanna Rose Children's Farmstead. Best of all, flood Instagram with pictures of the kids bottle-feeding baby goats or milking cows.
At 1,805 acres, Swope Park is twice the size of Central Park in New York. It's home to Kansas City Zoo, Lakeside Nature enter, golf courses, hiking trails, lakes and much more.
Museums in Kansas City for Kids
Show kids the money at the Money Museum at the Federal Reserve Bank of Kansas City. However, you won't have to shell out any dough as the self-guided tours are free. Cha-ching.
For a meaningful and educational activity, head to the National WWI Museum and Memorial. A scavenger hunt, timeline of World War I and audio tour will help kids engage with this important era.
Gently remind the kids that not every toy needs to be electronic at the National Museum of Toys and Miniatures. Or, take in a show at the Mesner Puppet Theater.
Take the family out to a ball game in just about any season. Kansas City is home to the Kansas City Chiefs NFL team, Kansas City Royals MLB team and the Sporting Kansas City MLS team.
MORE: Things to Do in Knoxville With Kids
Best Places to Explore in Boston With Family
Don't Leave Denver Without Visiting These Spots
This article was originally published on