Things to Do in Kauai With Kids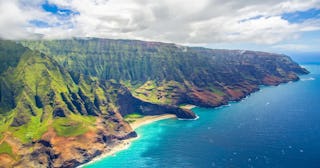 Troy Squillaci/Pexels
Kauai offers so many ways to enjoy its natural beauty that you could easily be busy every second of the day. From beaches to botanical gardens, we've rounded up some of the many ways to have family fun in Kauai. Here are the best things to do in Kauai with kids.
Family-Friendly Restaurants in Kauai
From lauaus to burgers to shave ice, there's no shortage of great food on Kauai. See, below, what we've found!
The menu at Keoki's Paradise features locally sourced ingredients. Starters (pupus) include grilled Thai shrimp or a poke stack with fresh tuna, while entrees lean heavily towards seafood—choose your fish and your preparation. There's a kids menu that leans more towards the expected (mac-n-cheese, fish and chips), plus a slew of cocktails and mocktails. Save room for the cool desserts, like Hula Pie, which features a chocolate crust and macadamia ice cream. And the setting isn't too shabby—think open-air dining and tropical flowers. Read reviews here.
Named for legendary surfer Duke Kahanamohu, Duke's offers up great water views and "island favorites" like Huli Huli chicken (served with a marinade and pineapple relish) fresh fish (depends on what's available) and their famous salad bar, which includes ancient grains and locally grown veggies. Save room for Pono Pie, made with Hawaiian breadfruit and passion fruit. Read reviews here.
Porky's Kauai bills itself as "Aloha in a bun," and if getting food from a food truck, eating it outdoors, and not having too many choices sounds great, they could be right. You can get Hawaiian-style pulled pork on top of a pineapple pork sausage or a beef frank; inside a grilled cheese, or on a rice bowl. Easy peasy. Read reviews here.
It may not exactly be a restaurant, but you can't leave Kauai without trying a shave ice. Waikomo shave ice uses all-natural ingredients—the ice is topped with fruit syrup, fresh fruit, coconut cream sauce, and local honey. You can also get a scoop of ice cream on the bottom. Oh—and you can either get it in a coconut half, or a compostable cup. Get the coconut half, because #kauai. Read reviews here.
Once a food truck, Nom Kaui is now a full-service restaurant whose motto is "keep brunch weird." And why not? The Southern-tinged menu offers a waffle bun with fried chicken, bacon, an egg, pineapple butter, and maple syrup. Or maybe maple pork belly with cheesy grits? If you want something more conventional…you're probably in the wrong place. But, you can still find biscuits with gravy and eggs and more straightforward offerings. And definitely don't forget about their milkshakes and desserts. Read reviews here.
Family-Friendly Hotels in Kauai
Proximity to the beach is pretty much what you're after in Kauai, and we've got the hotels that give you that access. You can start planning those umbrella-topped drinks by the water right now.
The Princeville Resort looks pretty much the way you think a resort in Kauai will look. Right above Halelai Bay, it offers amazing views (even from the guest rooms), crystal blue water, a large swimming pool facing the ocean (to be specific, an infinity pool and a rock-lined whirlpool, plus a kids' pool), a golf course, fitness center, and easy access to local attractions. Prefer the beach? You can sun, swim, or surf the day away.
With a central beachfront location and a protected swimming lagoon, the Hilton Garden Inn Kauai Wailua Bay offers water fun everywhere you turn. (It's also got two swimming pools and a whirlpool spa.) You're close to area attractions, including several spectacular waterfalls, and every room has an ocean, garden, or mountain view. There's a playground right next to the beach, and a spin on one of the hotel's bikes will take you to areas where you can look for sea turtles and monk seals.
The small Ko'a Kea Hotel & Resort at Poipu Bay has 121 guest rooms, a pool with ocean views, and a lava rock hot tub. There's a spa and fitness studio as well. They've also got ocean-side fire pits, equipment for tons of water sports, and an on-site restaurant that features locally sourced Hawaiian ingredients. And rooms feature lanais or patios, so you never have to miss a minute of those views.
The Ashton Islander offers a laid-back approach to island life. Located on six acres, it offers manicured grounds and cabanas, a pool with a jet spa, barbecue areas, and daily vouchers for lemonade or coffee. Parents: there's an on-site laundry. You're also close to great day trips, like Waimea Canyon and Wailua Falls.
There's a 26,000-foot pool right on the beach at the Marriott's Kaua'i Beach Club, a timeshare resort, so you'll never have to be worried about your kids being bored for one single second. There's also a kids pool. They also offer family activities, plus snorkeling and scuba diving. Many of the accommodations have kitchenettes, the beach is outside your door, and if you ever decide to leave, you're right near plenty of area attractions.
Family-Friendly Attractions in Kaui
So much to do in Kauai—most of it outside, with gorgeous scenery. Check out our suggestions for how to enjoy your time in Kauai.
Why spend time inside when you're in Kauai? The Kauai Museum will help give you some of the background of the area, with a particular look at the indigenous and immigrant people of the region. It has a wide range of historical information and artifacts, focusing on everything from WWII to surfing. Don't miss the gift shop for some unique souvenirs. Open Monday – Saturday, 9 a.m. – 4 p.m. Admission: $15 for adults; $12 for seniors (65+); $10 for students (8-17). Read reviews here.
In the middle of a state park, the Kokee Natural History Museum is a nice quick stop to look at botanical prints, handle wood from native trees, and learn about some local (natural) history. Stop by the small gift shop for interesting books and maps—how many magnets can you really buy? Open Monday-Saturday, 9 a.m. – 4:30 p.m. Sunday Admission: free, but donations encouraged. Read reviews here.
Board a train on the Kauai Plantation Railway, and you'll have a unique way to explore your surroundings. The mahogany, open-air passenger cars will take you on a journey through parts of the 165-acre plantation; you'll see fruit trees, vegetable gardens, and animal pastures with donkeys, geese, wild pigs, and more. You can disembark and feed many of them. Conductors will narrate your trip; expect it to take about 40 minutes. Open daily. Adults, $19. Read reviews here.
Located in Wailua State Park, the Fern Grotto is an unusual fern-covered lava rock cave set in a tropical garden. What makes it especially cool is that many of the ferns grow upside down. You'll need to access it by boat (try Smith's Fern Grotto Tours), and although many of the ferns were destroyed by hurricanes, they've rebounded. There's an easy walk to the grotto. Open daily. Adults, $25; children, $12.50. Read reviews here.
The Na Aina Kai Botanical Gardens and Sculpture Park boasts a series of gardens, along with one of the largest collection of bronze sculptures in the U.S. It includes more than 260 acres, best explored with a tour. You can choose from a number of options, like The Family Tour, which includes the formal gardens as well as the children's garden; you could also opt for The Beach Walk or the Bird Tour. Open Tuesday – Friday; the first tour is at 9 a.m. Prices start art $35 per person. Read reviews here.
Family-Friendly Outdoor Attractions in Kaui
Go outside! You'll find so many family-friendly outdoor attractions in Kauai, from gorgeous beaches to train rides on plantations. Don't forget the sunscreen.
Here's a unique way to explore Kauai: on a tube. Kauai Backcountry offers tubing adventures that take guests through canals and tunnels (you'll have a headlamp so you can see when you're inside a tunnel) and see some amazing scenery along the way. Fun Fact: It used to be an irrigation system for a plantation. You'll finish off with a picnic lunch and a dip in a natural swimming hole. Open daily. Ages 5 and over, $116 per person. Read reviews here.
Have you ever wanted to hang upside down on a zipline? This is not a rhetorical question. Koloa Ziplines offers Kauai's longest zipline course, and a variety of tours; participants have the opportunity to zip upside down, in tandem with another person, backwards, and "Superman" style. Definitely not mandatory to do any of those. You can also book a sunset tour. Kids must be 7 and up. Open daily 7 a.m. – 6 p.m. Zipline experiences start at $149 per person. Read reviews here.
The Smith Family Garden Luau now includes four generations of the family that started it, and if you're in Kauai, a luau is a must-do. There's the traditional roast pig, teriyaki beef, adobo chicken, and of course, the traditional poi (mashed taro root porridge). Participants are treated to traditional songs and dances (and can even join in if they're feeling brave.) Your lei is waiting for you. Open seasonally. Read reviews here.
And now for something completely different…the Kauai Kunana Dairy Farm Tour. Touring an organic farm might not be the first thing that cones to mind when you think of Kauai, but it offers a good way to see another side of the area. The farm grows mangoes, soursop, lychee, breadfruit and more; they also have a bee hive and goats (they offer a range of goat's milk products). On the tour, visitors will learn about how the farm operates and also sample cheese, honey and fruit. Don't forget to visit the farm store for products ranging from beeswax lip balm to chili sauce. Open daily. Read reviews here.
The Limahuli Garden and Preserve is home to endangered birds and plants found nowhere else on earth. You can take a self-guided tour to see native plants as well as ones that were brought in with settlers; and finish off with the Whale Trail, which offers unparalleled views of the ocean. You'll also see forests, streams, and archaeological complexes. Open Tuesday – Saturday. Adults (18 and older), $20. Children (17 and younger), free. Read reviews here.
Life's a Beach: The beaches and landscape are what make Kauai such a destination. Try Poipu Beach Park on the South Shore; it's not only great for swimming and snorkeling, but you're likely to spot whales and sea turtles. Tunnels Beach on the North Shore offers amazing snorkeling (waters are calm during the summer, making it a great spot for kids). And Hanelai Beach is consistently ranked as one of the word's most beautiful beaches; its crescent shape is almost immediately recognizable. You can surf, swim—or just hang out.
MORE: Stop Dreading Family Road Trips
Yup. I Take Extra Shampoo From Hotels
A Lazy Parent's Guide To the Great Outdoors
This article was originally published on