Things to Do in Knoxville With Kids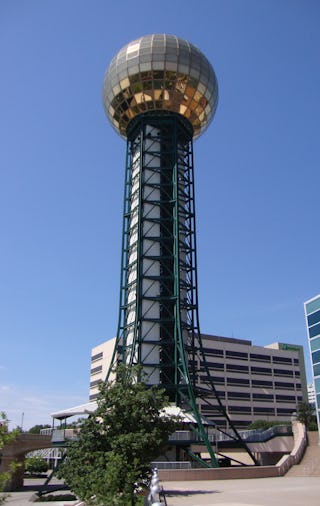 Jordan McAlister/Getty Images
Looking for ways to have family fun in Knoxville, Tennessee? We've got the lowdown on everything from best hotels in Knoxville to outdoor activities and even some things to do inside. Here are the best things to do in Knoxville with kids.
Family-Friendly Hotels in Knoxville, TN
The Tennessean Hotel offers 82 rooms, proximity to downtown Knoxville, and plenty of attractions. You won't forget for a minute where you are: the carpet depicts the Tennessee River, the state flower is incorporated into the logo, and Tennessee craftsmen designed the room furnishings. There's a pool and fitness center, and little touches like cushy towels and Illy coffee makers.
Right in the center of Knoxville, the boutique Oliver Hotel dates back to 1876, when it was a bakery. It's got a cool mix of history and style, with several good bars and restaurants on the premises. Check out the Tupelo Honey Café for breakfast, and take advantage of those amenities like down duvets and marble bath vanities.
Right in downtown Knoxville, the Four Points by Sheraton Knoxville Cumberland House Hotel offers a prime location, with access to nearby restaurants and attractions like the zoo (where your kids will want to spend a lot of time) and the university. Guests can take advantage of the fitness center, large workspaces, and on-site restaurants. And good deals are often available, so be sure to check.
If the thought of someone else cooking your breakfast appeals to you (rhetorical, of course it does) and that breakfast is included in the cost of your room, consider the Embassy Suites Knoxville West. Parents: every room is a two-room suite, and while the kids are jumping on the bed in one of the rooms, you can sneak away to the nightly evening reception. A kids menu, cribs, and high chairs are available.
With a two-story fitness center and a heated indoor lap pool, you may just decide to hang out at the Crowne Plaza Hotel Knoxville Downtown. You can walk to plenty of shops and restaurants, and you're close to the Sunsphere and the Farmer's Market. Having trouble dozing off? They offer aromatherapy sleep kits.
Best Activities for Kids in Knoxville, TN
At the Muse in Knoxville, kids can forge their way through a STEM-centered obstacle course (this one requires brains rather than brawn); climb aboard the USS Muse and set course for anther planet; or use a laser writer or phone flashlight to mark up some phosphorescent walls (do not try this at home). The science museum also offers younger kids the chance to put on a performance and discover the science of sound. And don't miss the coolest way ever to learn about the circulatory system: through oversized air tubes and giant shapes.
While you're at the Knoxville Museum of Art , don't miss the Thorne Rooms, miniature dioramas that showcase French and English style from the 16th to 20th centuries—they were exhibited at several World's Fairs. The museum does also offer regular size exhibits like Higher Ground, which showcases the art of East Tennessee. And while donations are welcome, it's actually free to enter.
Pump it Up offers family fun in the form of stuff that needs to, well, be pumped up. Go for Open Jump, when kids can get all their energy out on the giant inflatables, or the evening Glow Open Jump, when stuff, yes, lights up. Be sure to check their last-minute specials for extra-good deals.
Zoo Knoxville (yes, it used to be called the Knoxville Zoo, probably not worth pondering) has some zoo animals that you've probably seen (elephants, giraffes, chimps) and some that maybe you haven't (guinea hogs and crested screamers, and those are worth seeing just to tell people you did—they're extremely noisy birds). The zoo also offers animal encounters, camel rides, and behind-the-scenes-tours. And check out Bedtime with the Beasts—an overnight stay that includes a private keeper chat.
The iconic Sunsphere in Knoxville may look familiar—it was built for the 1982 World's Fair, and became its symbol. Take the elevator to the Observation Deck (its free) for an amazing 360-degree view of the World's Fairgrounds, the Tennessee River, and the Smoky Mountains.
Outdoor Activities for Kids in Knoxville, TN
Navitat Knoxville offers a series of six adventure trails that families can do together. The trails have 10-12 challenge elements that connect participants from tree to tree, ranging in difficulty from beginner to difficult. They rely on different abilities, from balance to strength. Oh—if you do the Storm Trail, let us know why it's called that?
The Ijams Nature Center offers pretty much every kind of outdoor experience you might want—you can hike, bike or run the trails, kayak the river, or paddle a canoe on a lake. There's a rock climbing area for both beginning and more advanced climbers—or you can simply choose to wander around and see if you can spot any salamanders.
How could you not go someplace called Fort Kid? This enormous urban playground consists of thousands of square feet of slides, rides, and swings. You can also find picnic tables, so bring a lunch and settle in for the afternoon.
Built on the site of the 1982 World's Fair, World's Fair Park now offers lawns, flowers, streams, and waterfalls for an urban escape, plus a splash pad, playground, open areas to run around, and a walking trail. It's also got a restroom and a great view of the Sunsphere.
Your kids will probably be all for a history lesson if it takes place onboard an enormous boat. The Star of Knoxville Paddleboat takes visitors on a cruise down the Tennessee River. While many of the cruises center on dinner and music, you can also take a sightseeing cruise to learn about the history of Knoxville and the history of riverboats, and see the first settlement in the area. Civil War buffs can opt for the Civil War cruise.
Best Restaurants in Knoxville for Families
Sweet P's Barbeque and Soul House is Southern barbeque with a few surprises thrown in. For starters, you could choose fried pickles or pimento cheese dip, but you should move on pretty quickly to the main attraction. You can get brisket or ribs, or a sampler platter, or go for a more unconventional choice like a BBQ Burrito with BBQ chicken or pork. Kids can opt for a pork or chicken sandwich with a side or a drink, and don't forget the sides, from tater salad to sautéed greens 'n things.
For the night when everyone just wants pizza, have it at the Tomato Head, where the list of toppings is so extensive, they're grouped into three categories. You can ferret out the unusual (capers, baked tofu, smoked cheddar, avocado) or the slightly more usual (roasted garlic, spinach, mushrooms). Don't overlook the creative appetizers and salads, like black bean hummus or bacon spinach salad. Kids have it pretty good—the kids menu includes choices like rosemary bread with Monterey Jack and smoked cheddar.
If it's called Chesapeake's (it is) it must offer seafood (it does). Even if you didn't know that, you could guess by the nautical decor. The menu features a range of seafood dishes, from oysters to fried seafood and crabcakes. Landlubbers can opt for a grilled chicken sandwich or a burger, and everyone should probably save room for Slower Delaware pie, with coffee ice cream, a cookie crust, and chantilly cream.
Jackie's Dream really was the dream of someone named Jackie who grew up in a family that loved to cook and brought her skills with her when she opened a Southern food eatery. It shows in dishes like Nanny Mary's Fried Green tomatoes, Mama's Cabbage, or Aunt Maimie's Candied Yams. Everything is incredibly reasonably priced, from fried chicken by the piece to "Everyday Meals" like meatloaf or fried shrimp that come with two sides. Kids get their own menu, but they could probably make a meal just out of the sides.
You can linger briefly over "First Tastes" at Calhoun's (Bacon Wrapped Beef Brisket Burned Ends might be calling your name). But then skip on down the menu to Tennessee barbecue so you can dig into ribs, hickory smoked chicken, or barbecued pork. Sides include Corn Puddin' (not pudding) and Baked Cinnamon Apples, and there's key lime pie or banana pudding for dessert.
You're in Knoxville. Eat Southern food! At Myrtle's Chicken and Beer, the friend chicken dishes with a twist are the way to go—try the sandwich with hot honey aioli and pickled chili and lime slaw. At Café 4, splurge on a cocktail (parents) and upscale comfort food, like brisket nachos or braised short rib grilled cheese. And at the Horn of Plenty, you can opt to have friend catfish or chicken and dumplings—or you can put together your own feast at the next-door market.
MORE: Best Things To Do In Toronto With Kids
I Need Some Time Away From EVERYONE (Including My Family)
Why Staycation Makes The Best Vacation
This article was originally published on