Things To Do in Lancaster With Kids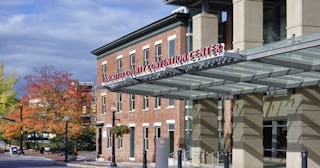 Getty Images
Lancaster, Pennsylvania, also known as Amish Country, where faces aren't buried in devices 24/7 and kids don't talk back to their parents. Families travel here to experience the traditions of more than 30,000 Amish residents. Family activities like horse-drawn buggy rides, farm-to-fork meals and Amish village visits.
But there's lots more to see in addition to the rustic way of life. Visit an ice cream factory, an amusement park, a train museum, activity-filled farms, and farmer's markets. Mashed potatoes, mac-n-cheese, and fried chicken are staples out here as well so what are you waiting for? Here are some suggestions for things to do in Lancaster with kids.
Top Amish Attractions For Families
Plain 'N Fancy Farm, an original Amish farm and home to Aaron & Jessica's Buggy Rides, began serving meals and giving buggy rides in 1959. Today, your family will have seven routes with 20 extra options to choose from. Try the kid-favorite "Cookie Run." This 25-minute ride through an Amish farm stops at a farm stand for you to purchase home-made cookies, root beer, pretzels and lemonade.
Or choose an hour-long buggy ride like "The Amish Farm Tour" where your family will visit a real Amish farm. These are the drivers' actual home farms. Tour the barn, see the cows and big Clydesdale type work horses, mules and other animals. The Amish people really welcome the opportunity to tell your family about their way of life. Open Monday – Saturday, 9 a.m. – 6:30 p.m.; Sunday, 10 a.m. – 4:30 p.m. Read reviews of Aaron & Jessica's Amish Buggy Rides.
Immerse your modern family in the Amish way of life with this one hour long farm tour. Meet and pet their adorable animals, relieve some baby memories when you bottle feed a calf, and even milk a cow. Try gathering eggs here too- much more pleasant than the dairy aisle on a Saturday. Tour the gardens and learn some farming techniques. The kids will love finishing the tour in the farm's candy shop. Everything is homemade in their kitchen. Snickers who?
Not ready to leave this family-friendly farm just yet? For an additional cost, take an afternoon or sunset horse-drawn hayride through the pastures. The peaceful scenery and view will have you pondering how you can bottle some of this tranquility to bring back home from this family vacation. Tours happen daily from 9 a.m. to 10 a.m. (no tours at 11 a.m.) and noon – 5 p.m. Admission: children 5 – adults, $13; 4 and under, free. Read reviews of the farm tour.
If you brought grandparents along on your family vacation to Lancaster, The Backroads Bus Tour would be a great way to see a lot without tiring everyone out. Or maybe you're just not the buggy type. Well, there is an option. The whole family can learn about the Amish in a modern sweet ride of a 14-passenger sightseeing bus.
This 90-minute bus tour on Lancaster County backroads makes at least one stop at an Amish home or an Amish-run business, except on Sundays. Blissful air conditioning, comfortable seats and large windows make this a cushy and family friendly way to sightsee. Your guide will share stories about Amish life, history, customs, and beliefs.
Get off the bus and go inside an authentic Amish farmhouse for a guided tour telling your family about the unique customs and traditions of the Amish community. There are 12 acres of grounds to explore with a Blacksmith Shop, one-room Amish schoolhouse, and an Amish run market.
Spend about three hours and purchase the premium package tour. Adults, $29; youth (ages 5-12) $19; child (ages 0-4) $16. Tours generally run 9 a.m. – 5 p.m. but there are many seasonal changes. Check their schedule here. Reviews of this family attraction.
More Lancaster Fun For Kids
As long as your kids are age six and over, the more adventurous families can enjoy the views of Lancaster from a hot air balloon. Your family will spend about 3 hours from start to finish at this MUST DO family attraction. Actual flight time is approximately one hour. Your whole family can choose to help the crew assemble the balloon and take some pictures. Then launch time.
From the air, you'll see the patchwork landscape of Amish farms, small Lancaster County towns, and even tiny horse and buggies down below. As your balloon starts to descend, often Amish children will chase the balloon in the fields waving hello. How cool is that?!
After your flight and your stomach has returned to your body, an air conditioned van will bring you back to your launch point for some snacks, champagne, and sparkling cider for the kids. Plan a trip to the craft store to buy a frame for your official flight certificate as a family souvenir. Rates start at $225 per person. Rest easier knowing this attraction received the 2019 Certificate of Excellence from TripAdvisor with rave reviews.
This really is a family fun day out. With over 40 different activities at three different themed areas of this family-owned farm, it will be meltdown city when it's time to go. Allow yourself plenty of time to do it all from The Barnyard to The Wild West and The Pumpkin Patch. There's haystack slides, bins of corn "sand" boxes, cow belly bounce house, animal barrel train, hayride, trampolines, petting zoo, so much more. Open for Fall family fun from September through October with this schedule. We recommend a family pass for four ($56). Read the reviews of this Lancaster attraction.
Just the term "hands-on" makes everything more fun and less stressful. Hands-on House Children's Museum of Lancaster is a nonprofit organization dedicated to helping kids learn and have lots of fun in the process. Designed for kids ages 2-10, the whole family learns and plays together. This indoor/outdoor family experience mixes it up with exhibits like the face painting porch, a make believe area with costumes and props, the play garden, and a discovery meadow. All age tickets are $9.50 person. Open most days 10 a.m. – 5 p.m. but check their calendar for holiday hours. Read the reviews.
Collecting, building and operating toy trains is a family hobby that will never go away. If you have a train enthusiast in your family, take one peek in your basement and you understand firsthand the obsession. But there are certainly worse things that could take up so much space in your house.
Tis museum itself is designed to look like an old Victorian-era train station. With trains dating back to the early 1800's to modern models, there are buttons to push on interactive train sets and old ride-on train toys on exhibit as well. One of the largest train collections in the world, this is a great indoor family activity whether you're crazy for trains or not. Admission: Below age 4 Free, Children (4 to 11) $4.50, Adults (12 to 64) $7.50. Hours change seasonally but generally the museum is open 10 a.m – 5 p.m. Read some reviews of this family attraction.
Over 75 hands-on STEM based exhibits for your kid scientists to discover. Themes include light and vision, electricity and magnetism, mechanics and motion, structural engineering, acoustics, fluid dynamics, and puzzles and brain teasers. It's official. Our kids are way more intelligent than we'll ever be. Bring your family here to drive that point home. Open Labor Day – Memorial Day (closed most Mondays); Tuesday through Saturday 10 a.m. – 5 p.m.; Sunday noon – 5 p.m. Admission: ages 2 and under: FREE. Ages 3 and over: $10.95. Read the reviews of this family attraction.
The next time you gaze lovingly at the Turkey Hill freezer section in your local supermarket, dreaming of eating a pint of anything in peace and quiet after the kids have gone to bed, you'll always remember your family's visit to the actual place it all started. Learn how that mint chocolate chip was made, sit in a milk truck, milk a mechanical cow, and learn all about the people of Turkey Hill Dairy.
The highlight of your family's visit is The Turkey Hill Taste Lab where you'll be creating your own virtual ice cream flavor, ice cream package design and shooting a commercial! Any family members lactose intolerant? They can still join in the family fun by learning about and tasting the delicious famous Turkey Hill Iced Teas.
Plan to spend about three hours at this family attraction to do everything. They call it The Triple Scoop. Admission: Regular (ages 13-61), $19.95; senior (ages 62+), $19.50; junior (ages 4-12), $19.50; and children (ages 3 and under), $8. Hours: generally open 10 a.m. – 5 p.m. but make sure to check their hours here for seasonal changes. Read the sweet reviews of this family friendly place.
Designed especially for families with kids under ten years old, this "kingdom for kids" amusement park is the perfect size with over 35 rides, attractions, and shows. Cool off in Duke's Lagoon water play area and cross the little bridge to Exploration Island, where animatronic dinosaurs come to life out of the shady trees and bushes. Plenty of concession stands with theme park food to keep your family going.
This is a great family attraction to introduce your young children to the joys of a day at the amusement park. Seasonal hours with special events at Halloween and Christmas. Open 10 a.m. – 8:30 p.m. with seasonal changes. Check before you go. Tickets: ages 2 or under is free. Buy tickets in advance for discounted rates. Otherwise at the gate, price is$44.99 for unlimited rides. Read the reviews of this favorite family attraction in Lancaster.
Where To Eat With The Family
When in Rome, do as the Romans do. And the Romans of Lancaster sure do love a good smorgasboard. Try some of these very family-friendly dining establishments. Plus, smorgasboard is really fun to say.
Home cooking and food fresh from the surrounding farms, this all-you-can eat smorgasbord buffet will make your whole family deliriously happy. We're talking food coma happy. Kids 12 and under will love the Noah's Ark Kids' Buffet. Built by a local Amish craftsman, it's filled with kid friendly foods for younger taste buds and, of course, dessert. Regular Hours: Monday – Saturday 6 a.m. – 8 p.m. Trip Advisor 2019 Certificate Of Excellence because of these reviews.
Ninety years ago, Anna Miller served chicken & waffles to truckers as her husband repaired their rigs. It was a simple dish, but it was a local favorite. Today, Anna's tried & true recipes have evolved, but they're still prepared with the freshest ingredients in Pennsylvania Dutch Style. If you miss Miller's, they say you miss Lancaster County. Open 7 Days a Week: Seating starts at 11:30am, and ends at 8:00pm. Read some reviews of this great choice for a family restaurant.
A farmers market is a good choice when the kids are hungry but just can't sit still. Tons of delicious choices like fresh meats, cheese and produce, fresh baked goods, chocolates and candies, locally made chips and hard pretzels, hand-rolled soft pretzels, fresh-squeezed lemonade, apple cider, made-to-order subs, and fried chicken.
Have a traditional Pennsylvania Dutch style lunch or walk the aisles of the market with the whole family eating a soft pretzel-wrapped hotdog. Looking for some souvenirs? There's also lots of locally made crafts and quilts, dried and silk flower arrangements, old fashioned toys, dolls and doll clothes, quality leather goods, t-shirts, and locally-themed souvenirs. Fridays & Saturdays only 8:30 a.m. – 5:30 p.m. Read the reviews of this fun family activity.
Good 'N Plenty Restaurant in Lancaster County, PA has been serving authentic PA Dutch meals family style dining since 1969. If you're a social family with the kind of kids that love to tell family secrets, the family style seating could be lots of fun. The host will always introduce you to your tablemates with where they're from and then let the fun begin. Fried chicken, meatloaf, chicken pot pie, roast turkey and beef will get everyone chatting. And gravy. Sooooo much gravy. Heaven.
Not feeling social? It's okay. Don't let that keep you away from this family dining landmark. Individual dining tables are available too. After dinner, watch the kids burn off those mashed potatoes in the play area and petting zoo out back of the restaurant housed in an 1871 farmhouse. Open Monday – Thursday: 11:30 a.m. – 7 p.m.; Friday and Saturday, 11:30 a.m. – 8 p.m. Closed on Sundays. Read these reviews.
This bakery gets inspiration from the Pennsylvania Dutch baking traditions combined with the bakeries of France. The Baker's Table serves breakfast sandwiches, quiche, soups, salads, sandwiches, focaccia pizza and more. Wake the family for a weekend warm breakfast buffet with omelets, made-to-order, with your favorite toppings. Hot waffles with fresh berries, syrup and whip topping. Accompanied by home fried potatoes, bacon and sausage. Open Saturday and Sunday: 7 a.m. to 11 a.m. Locals and visitors rave about the coffee at this kid-friendly spot. They serve coffee from Partners Coffee Roasters, a small batch roastery in Brooklyn. Fresh local cream for your coffee? We strongly suggest you say yes. Open Saturday – Tuesday, 7 a.m. to 2 p.m.; Wednesday – Friday, 7 a.m. to 5 p.m. Read the reviews.
Where to Stay In Lancaster With Kids
Sleep in actual train cars at this Lancaster family favorite place to stay with kids. When The Red Caboose opened in 1970, there were 19 cabooses all simply painted red. Since then, The Red Caboose has grown to 38 multicolor cabooses, a baggage car, and a mail car, all decorated to look like replicas of America's most famous railroads.
Each train car has a refrigerator, microwave, and flat-screen TV. Some even have private decks. Choose the caboose that's the right size for your family. Some have bunk beds too for a true sleeping car experience. Try Casey Jones Restaurant right on site for breakfast, lunch or dinner and then visit The Depot Gift Shop for train-themed souvenirs. Read the reviews of this unique place to stay with kids.
This luxury hotel is minutes from all the Lancaster attractions. It really is a family vacation just in itself. Three hundred contemporary guest rooms (including 160 suites) – all with refrigerators & microwaves for those smorgasboard leftovers. Once the leftovers are gone, chow down at the two on-site restaurants. If the weather is good, swim in the heated outdoor pool while the kids splash in the Kidz Water Zone. There's a heated indoor pool and whirlpool too for year round fun. Read the reviews of this family-friendly Lancaster hotel.
Guests are called passengers, children are junior first mates and the hotel floors are called decks. The detailed Victorian decor adds to the fun steamboat theme.
Kids are abnormally welcome here. At check-in, kids receive a paper sailor hat. If they wear it to the on site restaurant, Huckleberry's, they get a free serving of ice cream. You can also request a real pet goldfish for your room during your stay, and you'll find a rubber duck in the bathtub. All of these extras, plus cookies in the lobby in the afternoon, a playground and indoor pool make this a no-brainer for a great place to stay on your family vacation. Check out the reviews.
Swim in the outdoor pool with separate kiddie pool, walk through the Amish countryside with 23 acres of walking trails, farm animals, and fishing pond. Free breakfast served with goodies from the on site bakery. Eat at the Hershey Farm Inn Smorgasboard right there and let the kids burn of the carbs on the two playgrounds. Shop at the country store right there as well before you say goodbye to Lancaster County. Read the reviews.
This farm-based hotel offers farm tours, a game room, picnic pavilion and playground, lighted tennis courts, mini golf, outdoor and indoor pools, a hot tub and fitness room. There's even a petting zoo where kids are can feed the chickens every morning. If only the chickens drank Starbucks, we'd totally be there for that.
Also on the grounds is the Bird-in-Hand Family Restaurant & Smorgasboard. Order the homemade macaroni-n-cheese, and put your family to bed very full.
With 125 comfy rooms, an indoor and outdoor pool, game room, and playground, this will be hard to drag the kids away from after your Lancaster family vacation. Read the reviews of this family-friendly place to stay.
MORE: What's New In Newark For Kids
This article was originally published on