Things To Do in Laredo, Texas With Kids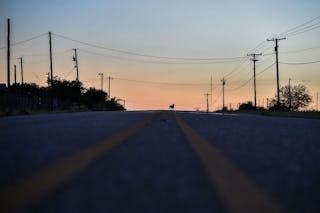 Getty Images
Laredo, Texas, is the perfect spot to explore the American Southwest. Sample some Mexican cuisine, visit a museum (including one designed especially for families), and relax after a long day in a luxurious outdoor pool. Here are our recommendations for things to do in Laredo with kids.
Kids Attractions in Laredo, Texas
Jett Bowl North is a 40-lane bowling paradise. If striving for strikes isn't your thing, they also have an arcade and plenty of pool tables.
Imaginarium of South Texas is dedicated to hands-on learning for kids. Young visitors can pull levers to learn about machinery, go on a pretend shopping trip, or play a giant game of chess.
Laredo Center for the Arts features galleries displaying the works of local Texas artists. They also host performing arts presentations, so check out their calendar for upcoming shows.
Laredo Water Museum allows visitors to learn about the Rio Grande River and the importance of water conservation. With a new and modern design, every piece of the museum from the exterior to exhibits is eye-catching.
The TAMIU Planetarium plays classic space-based programming, as well as a variety of family-friendly movies. All tickets are $5 and under, with deals for kids and seniors.
Best Restaurants in Laredo for Kids
La Finca Bruncheria & Cafe's menu is heavy with classic Mexican options. With a focus on brunch, they have a wide selection of waffles, crepes, and breakfast tacos.
Luby's features fresh chicken and fish options with plenty of sides to choose from. Plus, kids eat free on Wednesdays and Saturdays.
El Capataz is full of little interesting design touches, like chandeliers made from antlers, that really set the mood. The food can be a little spicy, but the staff can give you an idea just how bold you're going with each dish.
Trattoria Mia is the best spot to check out if you're craving Italian. Their kid's menu offers pint-sized versions of classics like chicken parmesan and fettucini alfredo.
Pat's Kitchen will give you serious nostalgia as you sit in their vintage '50s-style diner. Their milkshakes and massive banana splits are what make the meals.
Chopchop is a must-see if you've been wanting to try rolled ice cream. If you're not feeling adventurous, they also have boba tea and bubble waffles.
Ringo's BBQ and Burgers serves up all your Tex-Mex favorites. Their kids menu includes classics like chicken nuggets, cheeseburgers, and a sausage plate.
Best Hotels in Laredo, Texas for Kids
La Posada Hotel is a pet-friendly space with a beautiful outdoor pool. All rooms are outfitted with high-speed Wi-Fi, and they promise all their toiletries are "spa quality."
Best Western Plus Laredo Inn & Suites offers a complete complimentary breakfast for every guest. You'll need to leave your furry friends at home, though, as they aren't pet-friendly.
Embassy Suites By Hilton Laredo doesn't just offer free breakfast. They also provide free drinks and homemade salsa during their evening receptions.
La Quinta Inn by Wyndham Laredo I-35 features an outdoor pool lined by palm trees so you always feel like you're on a tropical vacation. The hotel also offers free parking, complimentary breakfast, and laundry service.
Outdoor Activities in Laredo for Kids
Lake Casa Blanca International State Park has a seemingly never-ending list of ways to explore nature. Take a trip up one of their hiking trails, have a picnic, or try to catch a fish by the lake.
Alexander Crossing boasts 18 holes of mini-golf on a rustic backdrop. They also have a full driving range for some golf time that's a little less mini.
Bookstores in Laredo Texas for Kids
Book Warehouse has an enormous and well-stocked kids section, with titles up to 80% off. They also host storytime to inspire young readers.
2nd & Charles is the perfect spot to pick up not just used books, but pre-owned games and DVDs as well. They host a variety of family-friendly events, like a Harry Potter birthday celebration and a superhero training camp.
MORE: Kids Activities in Virginia Beach
Fun Family Spots in Fresno, CA
The Best Kid-Friendly Attractions in Witchita, TX
This article was originally published on