Things To Do in Lincoln, Nebraska With Kids
by Erica Landis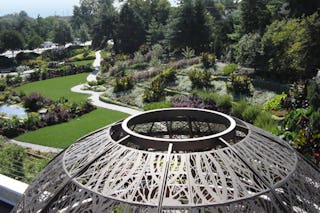 Lincoln.ne.gov
Lincoln, Nebraska, is one of the most welcoming cities on Earth. Don't be afraid to ask for directions or strike up a conversation at the local coffee shop.
Do your kids love to tell strangers very personal information about your family in run-on sentences? They'll fit right in on your visit to this friendly capital city of Nebraska. Here are our suggestions for family-friendly activities in Lincoln.
Best Kids Attractions in Lincoln, Nebraska
Lincoln Children's Zoo is as welcoming and family-friendly as the city of Lincoln itself. With over 400 animals, 30 of them endangered species, they are dedicated to conservation and education. They also created The Mom's Panel. Get to know the moms (and dads!) through their profiles and post any questions online you may have about a visit to the zoo or Lincoln with kids in general. Through donations and fundraising efforts, The Children At The Zoo (CATZ) program provides zoo passes to children who otherwise couldn't afford a visit.
Lincoln Children's Museum has three floors of exhibits for kids of all ages. A human prairie dog tunnel, outer space lunar lander play area, and even a spot for building with Lincoln Logs. Like really building. The museum was where the Guinness Book of World's Record was broken for largest Lincoln Log structure in 2013.
Lux Center for The Arts has kid friendly programs and classes for school age kids, and gorgeous artist space. With an active outreach program as well, they walk the walk of bringing art to the whole community of Lincoln.
Strategic Air and Space Museum in Ashland is really impressive. The children's learning center has hand-on exhibits explaining the principles of flight. Military aircraft and space exploration crafts are the focus here. For the flight-obsessed kids and adults, it's totally worth the 30-minute drive from Lincoln.
For a different kind of flight experience, take the family to Urban Air Trampoline and Adventure Park. They call themselves more than just another trampoline park, and they're not kidding. The family attractions include the slightly vicious but crazy fun ultimate dodgeball. There are areas dedicated to kids under seven, so this makes Urban Air a great attraction for families with kids of all ages.
Mueller Planetarium at The Nebraska State Museum is a full dome experience. Your family will be surrounded by constellations, sucked into a black hole, or dancing in your seats to a lazer show. With 60 seats, this is a favorite family-friendly activity.
Outdoor Attractions For Kids in Lincoln
Antelope Park is a lovely neighborhood park. Check out live music in the band shell, bring a comfort food picnic, walk it off on the tranquil trails, visit the Veteran's Memorial Garden, and watch the kids play on the all-ages playground. With the public bathrooms located near the playground, what more could you want from a kid-friendly park?
For a great family walk, Wilderness Park Trails is a 17.5-mile loop trail that gives your active family pretty river views and is good for all skill levels. There are fitness activities along the trail for you to impress your kids with your crazy mom strength.
Sunken Gardens is only a 1.5-acre plot of land but is home to more than 30,000 trees, shrubs, and flowers. With several fountains and other surprises throughout the gardens, it's a must-see on your trip to Lincoln. There are three gardens within this family attraction—stroll through them all.
The Healing Garden's design is a gathering of white blossoms meant to inspire calm, serenity and meditation. Especially beautiful on a moonlit summer evening, try to resist strapping your children to the benches here to soak in the calm.
The Perennial Garden features varieties of shade-loving plants including hostas, viburnum and hydrangeas. You know, the kind that are harder to kill. #NonGardeningMomsUnite
The Annual Garden has thousands of annuals planted—many by volunteers—corresponding to a different theme each spring.
Pioneers Park Nature Center is more than 900 acres in size, with hiking trails, plenty of open space, playgrounds for the kids, and The Pinewood Bowl amphitheater for concerts and events in the spring and summer months.
Pioneers Park and Nature Center is also home to an environmental education center and a wildlife sanctuary. The whole family will freak out when they see the roaming bison, elk and white-tail deer herds.
Admission to the Nature Center is free, but donations are appreciated.
Best Restaurants in Lincoln for Kids
Get a lead belly at Leadbelly in the over 130-year-old Seaton & Lea Foundry building in the Historic Haymarket section of Lincoln. Big portions and belly-filling food.
Lazlo's Brewery & Grill has a kid-pleasing kids menu (try the rainbow chicken) and a parent-pleasing drink and food menu. Nebraska's first brew pub, Lazlo's gave birth to Empyrean Brewing Company and still remains Nebraska's largest micro-brewery.
Honest Abe's Burgers and Freedom has fresh burgers, hot fries, fancy full-fat milkshakes, and a great sense of humor. Honestly, what more reason do you need to bring your gang to this family friendly establishment?
Ivanna Cone is an old time soda shoppe style ice cream parlor with ice cream geek technology. They even named their freezer. Lucy the freezer has been supplying ice cream to families in Lincoln for almost two decades. Ivanna go there right now.
Get your caffeine buzz at The Mill Coffee and Tea. Got a crappucino addicted teenager? Show them what real coffee tastes like. If you're going to stunt their growth, at least do it with the good stuff.
Ice cream from the UNL Dairy Store Lincoln is also a must-do in Lincoln. When they opened back in 1917, they proudly served all-you-can-drink milk for a nickel to those who brought cups. Back then it was called Varsity Dairy because they provided dairy products for the UNL dorms.
Today, it's a hands-on educational experience for UNL's food science students. Students invent and create products, study in laboratories, research dairy products and become future food industry problem-solvers. Sounds like job security to me. Start working on that college application for your kid.
Best Hotels for Kids in Lincoln
Comfort Suites University of Lincoln gives you midwestern hospitality with warm beds, an indoor heated pool, free Wi-Fi and a free hot breakfast.
Fairfield Inn by Marriott Lincoln is family-friendly because of its helpful employees, indoor pool, free breakfast, and endless free Wi-Fi for your family's beloved devices.
La Quinta Inn Lincoln will make your visit to Lincoln extra relaxing with their indoor pool, jacuzzi, fitness center, complementary breakfast, and a friendly face at the front desk for 24/7 assistance. Or if you just feel like talking. Lincoln Nebraska is that friendly.
More: Jacksonville With Kids
Early Rising (Again) In Phoenix With Kids
This article was originally published on