Things to Do in Long Beach With Kids
by Nikki M. Mascali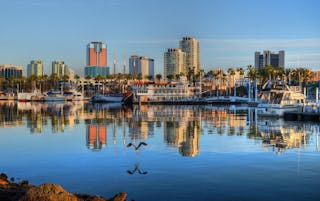 With the word "beach" in its name, it's a given that there's lots of seaside fun to be had on your family vacation in Long Beach, California. But there's much to see off the sand, too. So here are a bunch of ideas for things to do in Long Beach with kids.
Kid Attractions in Long Beach
One of the best things to do in Long Beach with kids is visit the Aquarium of the Pacific. With 11,000 animal exhibits, it's SoCal's largest aquarium, so you can easily spend an entire day there. Get cozy with sea otters, penguins, seals, sea lions and sharks with an hour-long Animal Encounter. These VIP experiences can be expensive, but the memories are sure to last a lifetime.
https://www.instagram.com/p/Byanzkflq-b/?utm_source=ig_web_copy_link
Teach the kids about history and life at sea aboard the Battleship Iowa Museum. They can join the ship's canine mascot, Victory, on a self-guided scavenger hunt as they explore. There are lots of other tours and exhibits to take in, too, like "Lost at Sea," about the explorations of Dr. Robert Ballard, who discovered the Titanic wreck.
The Museum of Latin American Art is the only museum dedicated to modern and contemporary art from Latin America. It has more than 1,600 artworks and a gorgeous 15,000-square-foot sculpture garden. Admission is free on Sundays.
Your family need a dose of creativity? Take a free Family ArtMaking Workshop at the Long Beach Museum of Art. You'll all work together to create a project inspired by current exhibits on the museum's lawn.
If you all need a day off from the sun and beach, hit Lakewood Ice. It offers public skate sessions for just $8 in summer (including skate rentals). Plus, its Cosmic Skate puts sound-reactive LED lights right on the ice. Cool!
Best Restaurants in Long Beach for Kids
The harbor views at Parkers' Lighthouse are as impressive as its seafood-filled menu. But, it does have land-based options, too. Its kids' menu is great, offering salmon, popcorn shrimp, chicken tenders and more, plus entrees include unlimited refills and ice cream or sorbet for dessert.
The Breakfast Bar offers family-friendly fare for breakfast and lunch. Plus, its ample menu means you won't have a hard time finding something for your pickiest kid.
Go authentic at Lola's Mexican Cuisine, which has a good kids menu and an even better selection of margaritas for mom at both of its Long Beach locations.
At Shoreline Village, grab a funnel cake, fundae or churro with all the fixings at The Funnel House. Or, get a quick hot dog, BLT or burger at boardwalk stand Tugboat Pete's.
Best Hotels in Long Beach for Kids
Hotel Maya is a lush, tropical resort on the Long Beach waterfront. It's close to lots of attractions, including the Queen Mary. It offers a family-friendly restaurant, beach resort area, and bike, kayak and Jet Ski rentals.
Courtyard by Marriott is centrally located near the beach in downtown Long Beach. There's a pool, and every room has a balcony and smart TVs with Netflix for when everyone needs an indoor timeout.
Outdoor Activities in Long Beach for Kids
The beaches in Long Beach are obviously a huge draw, and they are aplenty. Worried about the kids in SoCal's legendary surfing waves? Don't be— the breakwater prevents any "big ones" crashing onto the shore, so the water is generally calmer.
Let the kids burn off some energy at El Dorado East Regional Park. It boasts paved bike paths, playgrounds, pedal boat rentals, a nature center and lots of sports fields.
In addition, be sure to stop at El Dorado Frontier theme park. Here the family can learn about the Gold Rush in California on the El Dorado Express train ride and try panning for gold.
Nestled along Rainbow Harbor in Long Beach is Shoreline Village. This cute and charming area is made for Instagram. It offers waterfront dining, funky shops and entertainment. Play games or ride the carousel at Pelican Pier Pavilion, or get a family picture taken with exotic birds.
In addition, take a family ride via Wheel Fun Rentals at Shoreline Village. Not only is there a wide array of wheels to choose from, but they arm you with maps, helmets and locks. You can also rent strollers and wheelchairs here, too.
Teach the kids about women's efforts during World War II at Rosie the Riveter Park. Its tranquil three acres features a historical timeline honoring those who worked in the nation's shipyards and defense plants during the conflict.
Family Activities in Long Beach
One of the neatest things to do in Long Beach with kids is hop aboard the RMS Queen Mary. From 1936-1967, the ocean liner served as both a passenger ship and troopship during WWII. Today, she's a (possibly haunted) landmarked Long Beach attraction with restaurants, a museum and hotel that kids of all ages will love to explore. Or stay at — if you all dare.
Take a day trip from Long Beach to Santa Catalina Island with Catalina Express. The kids will love trying to spot dolphins on the trip over and back. On the island there are tours, beaches, mini golf, zip lines, a nature center, botanic garden and more.
4th Street Retro Row is an eclectic, creative enclave with lots of eateries and art to see. You can find vintage attire for the whole fam here, too. But, be sure to hit up Lil Devils Boutique for some truly unique threads, accessories, books and toys for the kids.
The Water Taxi is a great, affordable way to get to a lot great things to do with kids in Long Beach. For instance, take it to the Queen Mary, Shoreline Village or the Aquarium of the Pacific.
MORE: Family-Friendly Must-Dos in Sacramento
The Best Things to Do in San Jose With Kids
Kid-Friendly Things to Do in Honolulu
This article was originally published on