Fun Things to Do in Lubbock With Kids
by Nikki M. Mascali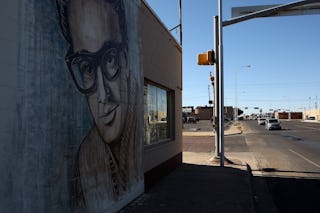 Ronald Martinez/Getty Images
Lubbock, Texas, is home to more than just Texas Tech University. It's the birthplace of music legend Buddy Holly and an area that is rich with art, culture and western heritage. More importantly, this big city with a small-town feel offers many family-friendly activities. So, here are some of the best things to do in Lubbock with kids any time of year.
Kids Attractions in Lubbock
Adventure Park is among the best things to do in Lubbock with kids. It has mini golf, zip lines, indoor and outdoor rock walls, mountain bike trails, go-karts and more. Above all, literally, you'll all want to explore the three-story Adventure Towers playground, which looks incredible.
The kids can get hands-on with more than 250 interactive exhibits at the Science Spectrum. Children 5 and under will love the Lubbock Children's Museum there, which has physical and sensory play areas. In addition, catch an educational flick on the 58-foot domed screen in the OMNI Theater.
At the Museum of Texas Tech University, art, science, anthropology, fossils and history meet for a great educational experience. You'll all be wowed by the laser show at the Museum of TTU's Moody Planetarium.
Lubbock Lake Landmark is a natural history and archaeological preserve that's part of the Museum of TTU. It has 4.5 miles of walking paths — and exhibits that unveil how humans have lived on the area's Southern High Plains for nearly 12,000 years.
Similarly, the National Ranching Heritage Center on the TTU campus pays homage to the nation's ranching past and present. A self-guided tour (via GPS-enabled app) takes your fam though dozens of historical ranch dwellings. In addition, there are activities you can download before going to intrigue the kids even more.
Joyland Amusement Park is another great family-friendly attraction in Lubbock. There are several kiddie- and family-centric rides. Plus there are thrilling rides and water rides for bigger kids. Note: Joyland is open seasonally, and mostly at night, so be sure to check its hours before going.
Best Restaurants in Lubbock for Kids
Even your pickiest eater will find something at Lubbock's Breakfast House & Grill, which has three locations in town. The ample menu honestly has everything for breakfast, lunch, dinner and dessert. But, the kids menu has usual suspects like pancakes, pb&j, chicken fingers, grilled cheese and mac-n-cheese.
There's also a lot for kids and adults to choose from at either location of the Caboose. The menus for both are huge. But the best part? The kids can run off to play midway games while you wait for your food to come. So, that means you can enjoy one of the extensive daily drink specials in peace.
Expedition Café will fuel the whole family for a day of fun at Adventure Park. Yes, there are standard goodies like hot dogs and fries, but also hummus, salads, sandwiches and smoothies. Plus, the camp fire s'more—a chocolate chip cookie with melted marshmallow and Nutella,—and beer and wine.
Best Hotels in Lubbock for Kids
Hyatt Place Lubbock has a variety of rooms, all with a sofa bed. There's a 24/7 market with grab-and-go bites, a coffee and cocktail bar, and free breakfast for World of Hyatt members. The pet-friendly hotel also has an indoor pool and free Wi-Fi and parking.
Overton Hotel and Conference Center has a heated outdoor pool and Jacuzzi, outdoor fire pits and free Wi-Fi. The on-site restaurant, Pecan Grill, serves breakfast (including Texas-shaped waffles), lunch, dinner and drinks.
MCM Eleganté Hotel & Suites has an on-site restaurant serving breakfast, lunch and dinner, plus a lounge serving Starbucks coffee and alcohol. There's a small indoor pool and several room options, some of which include a pullout couch.
Outdoor Activities in Lubbock for Kids
Lubbock has lots of parks where kids can run off some energy. Mackenzie Park has a playground, sculpture garden, disc golf course, equestrian trails and is home to Joyland. Be sure to visit Prairie Dog Town to watch the antics of these cute little rodents in their natural habitat.
Take the family on a self-guided tour of the First Friday Art Trail in the Lubbock Cultural District. Or, you can hop on a trolley to get a ride to participating galleries. There's also live music, restaurants and food trucks.
A unique thing to do in Lubbock with kids is visit the American Windmill Museum. More than 70 historic windmills are spread across 28 acres. Inside, there's a 6,600-square-foot model train landscape with windmills.
If visiting Lubbock with kids in September or November, the gigantic corn maze at At'l Do Farms is a must-do. Older kids will love the regular maze, while littler ones can enjoy the less-overwhelming Fairy Tale Trail. There's hayrides, farm animals, horse rides and campfires, too.
5 Other Things to Do in Lubbock With Kids
Make sure to pay your respects to late, great Lubbockite Buddy Holly. The Buddy Holly Center celebrates the singer who died in a plane crash in 1959 and other notable musicians from Lubbock and West Texas. The center also has the West Texas Walk of Fame and educational programming.
You're in luck if you're spending the 4th of July in Lubbock with kids. It's said to be the largest free festival in the state. Festivities include a parade, live music, catfish- and cobbler-eating contests, and, of course, fireworks. In addition, there's always a big area with inflatables, arts and crafts and more for kids.
The National Cowboy Symposium gallops into Lubbock every September. It celebrates cowboy heritage and culture through art, music, poetry, films, a chuck wagon cook-off and more. Plus, there's a bunch of fun activities just for kids.
During World War II, the majority of pilots in the American glider program trained in Lubbock. The Silent Wings Museum honors their place in history with exhibits, a multimedia theater and one of just a few restored gliders that still exist.
Last but not least, Texas Tech University is a big part of life in Lubbock. Visit its campus, which is filled with gorgeous Spanish Renaissance architecture — and lots of room for the kids to run around. Most importantly, try to attend any sports event, which makes this already vibrant city come to life even more.
MORE: Here's What to Do in El Paso With Kids
The Top Family-Friendly Activities in Houston
A Guide for Visiting San Antonio With Your Family
This article was originally published on