Things To Do in Maui With Kids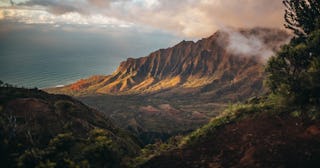 Roberto Nickson/Pexels
Maui, one of Hawaii's most beautiful islands, is the perfect place for a tropical family getaway. Explore its ocean life, sample authentic Hawaiian food, and relax on its beaches —but that's not all you can do. Here are our favorite things to do in Maui with kids.
Kids Attractions in Maui
Maui Golf & Sports Park features bumper boats, rock climbing, and mini-golf. Their x-treme trampoline lets guests get some serious air.
Fun Factory Games has all the arcade games kids could want from claw machines to DDR. Players also have the chance to win tickets to earn prizes.
Maui Ocean Center features exhibits like their turtle lagoon and tide pool. There are also several opportunities to learn more about Hawaii's history.
Maui Animal Farm is a petting zoo built to entertain the whole family. The animals in residence include mini horses, sheep, and goats.
Best Restaurants in Maui for Kids
Da Kitchen Cafe offers favorite dishes of the island including Moco and Hawaiian NY Steak. They also feature an entirely gluten-free menu.
Mama's Fish House boasts a menu full of fresh seafood. All their entrees are served with style, so you'll want to snap a picture of each dish.
Monkeypod Kitchen has two Maui locations that both feature eclectic menus with local cuisine, burgers, pizza, and salads. Kids can pick from options like Saimin and burgers off the children's menu.
Leoda's Kitchen and Pie Shop offers a wide selection of homemade sweet and savory pies. Open seven days a week, they also offer full meals, including burgers and sandwiches.
Island Cream Co. offers shaved ice with a variety of toppings. Their menu boasts over 40 different flavors including coconut-poi and chocolate orange.
Maui Sweet Shoppe offers a selection of in-house ice cream and baked good creations. You can mix and match the options, like pairing a waffle with a scoop of ice cream.
Best Hotels in Maui for Kids
Fairmont Kea Lani is a pet-friendly hotel that features an on-site spa. Their Keiki Lani Kids Club is an area where kids from five to 12 can play and create while being watched by hotel staff.
Grand Wailea offers a kids play area and a separate teen lounge complete with video game rooms. Their spa also features manicures, pedicures, and facials created specifically for kids.
Courtyard by Marriott Maui Kahului Airport features a pool and a fitness center. Unfortunately, it isn't a pet-friendly hotel.
Andaz Maui at Wailea Resort-a concept by Hyatt is a pet-friendly hotel that offers guests free Wi-Fi and four different infinity pools. Its biggest draw, however, might be its beachfront location.
Outdoor Activities in Maui for Kids
West Maui Parasail lets you see Maui from the air. Kids six and up can get airborne, but anyone under 12 needs to be accompanied by an adult.
Skyline Eco-Adventures offers zipline adventures for kids as young as eight, as long as they weigh at least 60 pounds. If you're nervous about ziplining, you can take comfort in the fact Skyline is the most lauded zipline company in the state.
Maui Mountain Activities offers guests the option of riding a horse or a mule. Kids as young as seven can explore the trails on horseback.
Fishpipe Maui bills itself as the "world's first rotating barrel ride." Riders are in charge of how fast the spinning goes, and if and when it needs to stop.
Best Beaches in Maui For Kids
Ho'okipa Beach Park is a go-to spot for surfers. For families without boards, however, the area offers opportunities to swim, relax on the beach, and even barbeque.
Kanaha Beach Park boasts picnic areas and a volleyball court. There are also public showers and restrooms.
MORE: The Best Things to Do as a Family in Chula Vista
Things To Do in Sacramento With Kids
This article was originally published on