Things to Do in Melbourne With Kids
by Amanda Svachula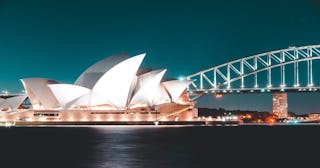 Rijan Hamidovic/Pexels
Visiting Australia for a family vacation? Melbourne is one of the largest cities in Australia, located in the southeastern state of Victoria. It's right on the coast, which means that it has a ton of beaches along with other kid-friendly outdoor activities. The city also is home to a diverse array of cultural attractions. Here are the best things to do in Melbourne with kids.
Family-Friendly Attractions in Melbourne
https://www.instagram.com/p/Bzy0VIGgPpa/
This is an aquarium unlike an other featuring animals from the Southern Ocean and Antarctic. If you're traveling to Australia from the United States, you definitely should come to this aquarium. It's also incredibly kid-friendly, with a ton of hands-on activities. Open Monday – Friday, 10 a.m. to 5:30 p.m. Open Saturday – Sunday, 9:30 a.m. – 6 a.m. Admission: $22.40, child; $33.60, adult. Read reviews of SEA LIFE Melbourne.
From a fantastic planetarium to hands-on STEM activities for kids, you can spend a full day here wandering around. There will be something to please everyone in the family. Open daily, 10 a.m. to 4:30 p.m. Admission: varies based on exhibition. Read reviews of Scienceworks.
This is one of Australia's favorite museums! It has a ton of kid-friendly hands-on exhibitions that cover science, history, nature and culture. Open daily 10 a.m. to 5 p.m. Admission: varies based on exhibition. Read reviews of the Melbourne Museum.
Sports-lovers in the family? Stop by the National Sports Museum for an overview of Australian sports. The museum includes the Australian Football Hall of Fame, 3D holograms and memorabilia. Open daily, 10 a.m. to 5 p.m. Admission: free, ages 5 and under;$18, ages 5-15; $35, adult. Read reviews of the National Sports Museum.
Kid-Friendly Restaurants in Melbourne
This Italian restaurant is a great option for a family dinner mostly because of its Bambino menu, which offers kid-sized portions of delicious pasta and pizza—like the Pollo Bambino—which has roasted chicken breast, tomato sugo, mozzarella and barbecue sauce. Open Sunday-Thursday, 5 p.m. to 9 p.m. Friday and Saturday, 5 p.m. to 10 p.m. Read reviews of Motorino.
For a relaxed breakfast, you have to try this Australian cafe. The Little Leroys menu is adorable. It has menu items including Baby Bears Porridge and a Kids Ham & Cheese Toasty. Open Monday – Friday, 7 a.m. to 4 p.m.; Saturday – Sunday, 7:30 a.m. to 4 p.m. Read reviews of Leroy's Cafe.
If you're looking for a great dessert, you should try this Italian bakery, loved by locals for its excellent coffee and bite-sized pastries. Hours vary based on location. Read reviews of Brunetti.
Located in a 1900s vintage building, this cafe has a great atmosphere along with the best Instagrammable brunch. From avocado toast to matcha waffles, you can find both the sweet and savory. Open, Monday – Friday, 7 a.m. – 4 p.m.; Saturday – Sunday, 8 a.m. – 4 p.m. Read reviews of Operator 25.
This classic pub is a great spot for a casual dinner after a long day of activities. The kids will love the coloring options on the kids menu, along with the fish and chips. It has a great vibe all-around. Open Monday – Tuesday, 4 p.m. to late; Wednesday – Saturday, 12 p.m. to late; Sunday, 12 p.m. to 11 p.m. Read reviews of the Railway Hotel.
Family-Friendly Hotels in Melbourne
This is a great kid-friendly affordable option in the northwest part of Melbourne. The two-bedroom family-themed rooms are a hit! They are filled with colorful decorations and include a set of fun activities and games. Read reviews of Pegasus Apart'Hotel.
In the heart of the city center, this boutique hotel has an elegant feel. All kids under 14 eat and drink for free in the Treasured Guest Lounge. The apartments have a ton of room for families and also free Netflix! Read reviews of Treasury on Collins.
This is the place to go if you're looking for a fantastic pool. It also has great food and a modern, contemporary vibe. Read reviews of Crown Promenade Melbourne.
This hotel is a great choice for many reasons— it has a children's play area, a heated pool, and it's close enough to the beach. Read reviews of Novotel St. Kilda.
Kid-friendly Outdoor Activities in Melbourne
These gardens are absolutely enchanting! It has more than 8,500 plant species from around the world, and a variety of walks, most kid-friendly. Open daily, 7:30 am to sunset. Admission: free. Read reviews of the Royal Botanic Gardens Victoria – Melbourne.
This is one of the most famous activities in Melbourne. You can watch wild penguins parade around on Phillip Island, about 90 minutes from Melbourne. Your kids will never forget this experience. On the island, you will also find the Koala Conservation Center. Open daily, Penguins walk at sunset. Admission: $13.20, child; $26.60, adult. Read reviews of the Penguin Parade.
This is a whimsical outdoor amusement park with plenty of fun rides and roller coasters that is definitely worth visiting. There are options for every age group. Open Saturday – Sunday, 11 a.m. to 6 p.m. Admission: $5+ depending on the rides you go on. Read reviews of Luna Park Melbourne.
Bring your family on this charming tram for a tour of Melbourne. It offers access to major attractions and great shopping. Plus, it's completely free! You can spend as long as you want on the tram. Open daily, hours vary. Admission, free. Read reviews of the City Circle Tram.
Best Beaches in Melbourne for Kids
Close to the city center, this 700-metre beach is a popular attraction for its water sports and its long pier. According to reviewers, Penguins can sometimes be spotted at this beach at sunset. Read reviews of St. Kilda Beach.
This is an iconic spot for its bathing boxes —82 colorful structures dating back to over a century ago. Walk along the beach and look at each one closely. Read reviews of Brighton Beach.
If you're looking to go off the grid, this beach is a little less crowded than others you will find in the city and more popular with locals. It's easily accessible by tram. You will see ships docked at a nearby pier, giving the whole scene a very nautical vibe. Read reviews of Port Melbourne Beach.
MORE: Things You Can Do Over Breakfast in Belfast
How to Have a Great Family Vacation in Houston
Best Places to Visit in Columbus With Kids
This article was originally published on