Things To Do in Mesa, AZ With Kids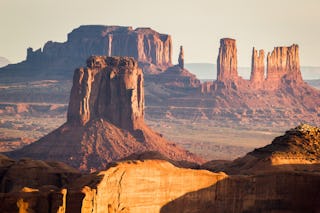 Francesco Riccardo Iacomino/Getty Images
Heading to Mesa, Arizona, means stepping into a desert with all the natural beauty it has to offer. It also means an opportunity to try local BBQ and, after a long day in the sun, you'll want to check out some kid-friendly, mercifully air-conditioned attractions. Here are some ideas for the best things to do in Mesa with kids.
Kid Attractions in Mesa, AZ
The Arizona Museum of Natural History lets you know it's an exciting spot from the moment you pull into the parking lot—dull places don't have dinosaurs bursting out of the walls. Inside kids can explore exhibits on archeology, paleontology, and the history of local Native American tribes.
At IDEA Museum kids will see pieces of art from around the world while they explore the Junkyard Jungle. Crafts and activities for all ages, like making collages and creating videos about the importance of recycling are also available.
Krazy Air Trampoline Park features a floor made up of more than a dozen individual trampolines, skate park-like trampoline structures, and a foam jumping pit. If jumping isn't enough, you can also check out the dodgeball course, sure to infuse your game with a little extra bounce. There's plenty to do here for hours, making it a great thing to do in Mesa with kids.
Jump Street is more than just a trampoline park. The amusement center also features a climbing wall and a Wipe Out style game. Pricing is by age and hour, though day passes are available.
As You Wish Pottery allows your whole family to become artists for the day. Pick a bowl, a picture frame, a tiny statue and add your own color scheme and designs. To get a glazed piece from the kiln you'll have to wait 3-5 days, but if you want to take your piece home the same day, you can paint the project with acrylic. This is a great thing to do in Mesa with kids on a really hot day.
Best Restaurants in Mesa for Kids
Morning Glory Brunchery features an all you can eat pancake breakfast every Tuesday ($8.25 a plate). Every day you can order a very special themed pancake off the kid's menu, however, shaped like Mickey and Minnie Mouse.
Bobby-Q is all about the BBQ, and the kid's menu is no exception. Young diners can choose from baby back ribs or a BBQ sandwich, while adults can taste inventive BBQ twists like smoked brisket tacos.
Sweet Thangs Bakery offers fancy cupcakes with creative flavor combinations like Blueberry Coconut and Chocolate Mint Oreo. Other treats include hand-frosted cookies and a Cookie Monster macron sandwich. If the shop inspires your culinary side, they also other cooking classes.
The Farmhouse Resturant devotes an entire section of their menu to comfort food, including meatloaf and roast beef sandwiches. While their omelet selection boasts 24 varieties, they're also willing to whip up your favorite concoction on demand.
Delicias Mexicanas is a family restaurant specializing in only the most authentic Mexican food. Choose from a selection of soft and hard shell tacos, tortas, and fajitas.
Best Hotels in Mesa for Kids
Hyatt Regency Scottsdale Resort & Spa at Gainey Ranch features a completely gorgeous outdoor pool bordered by palm trees and geysers (it also features a water slide). In addition to the spa, the hotel has a climbing wall, tennis courts, and a putting green.
Hampton Inn & Suites Phoenix East Mesa has plenty of options if you want to unwind outside. Their outdoor pool is heated, they have a fire pit and a whirlpool. They also offer a complimentary hot breakfast.
Residence Inn by Marriott Gilbert/Phoenix is a pet-friendly hotel that offers a free breakfast with every stay. If you like to eat in when on vacation, they also have room options with kitchenettes so you can prepare your own meals.
MOXY Phoenix Tempe is a modern hotel with design touches that look like they were stolen from your favorite Instagram influencer. With Netflix-equipped TVs, you don't have to pause your binge for your stay, and if you want to explore the area they have plenty of bikes for you to borrow.
Outdoor Activities in Mesa for Kids
The Rose Garden at Mesa Community College has the distinction of being the biggest rose garden in the Southwest. Guests of the garden can enjoy exploring the over 9,000 rose bushes, so while adults will love gazing at the beautiful flowers, this is also a great thing to do in Mesa with kids.
Saguaro Lake Ranch Stable offers horseback riding around the lake. As you ride, take in the view of the beautiful cliffs, as well as the desert landscape. Kids need to be at least seven to go on a trail ride, but pony rides are available for kids 2-6.
Salt River Tubing provides tube rentals so you can enjoy a lazy day gliding down the river. Kids need to be at least four feet tall and eight-years-old to float, and safety vests are available to purchase.
Desert Belle Cruises will give you one of the best views of the Arizona cliffs and mountains. You can choose options like the Narration Cruise, which will give you a rundown of the history of the area, or the Live Music Cruise where you can enjoy everything from pop to bluegrass as you go travel around the Saguaro Lake. This is not only a great thing to do in Mesa but a great thing to do in Mesa with kids.
Hiking Trails in Mesa for Kids
Hole-In-The-Rock is a trail and desert landmark in Papago Park. Because the trails in the area are mostly flat and not too jagged, it's a good place to introduce your family to trail hiking.
Wind Cave Trail offers stunning views of the desert landscape. You'll also find a place to fill your water bottle, or buy a drink where the trail begins.
MORE: Sights to See in San Antonio With the Whole Family
Best Things to Do in Scottsdale With Kids
Top Spots to Visit in Santa Cruz
This article was originally published on