Things to Do in Modesto With Kids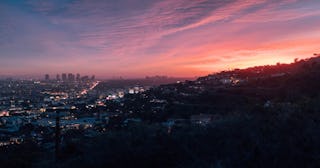 Roberto Nickson/Pexels
Looking for ways to get the most out of Modesto, CA, with your family? We've got you covered, with suggestions for eating, sightseeing, and even exploring the local farmer's markets. Here are our favorite things to do in Modesto with kids.
Family-Friendly Restaurants in Modesto, CA
Dogs may not be barking, but live music may be playing at the Barkin' Dog Grill. The restaurant supports local musicians and artists. The Grill specializes in burgers, from an avocado, bacon, and cheese one to one with chili. Don't want beef? You can get yours made from lamb, falafel or mushrooms. Oh, and the barking dogs refer to the edible kinds— the hot dogs.
If you feel that a diner meal is only enhanced by the presence of a carved bear statue and a woodsy feel, then settle in at the Black Bear Diner. Breakfasts are on the large side, with pancakes leading the charge. You can also try chicken fried steak, Portuguese sausage, and lots of omelets. Lunch brings burgers, sandwiches, and salads, which are basically tying to cram an entire meal on top of some lettuce. "Cubs" get their own choices, with "an eruption of delicious options"—and let's just hope they mean that metaphorically.
The Divine Swine doesn't just serve pork, although you can have it mixed with ground beef as a burger, in meat sauce on top of spaghetti, and citrus marinated in a tortilla. Other choices, ranging from jambalaya to shrimp pasta, are available, plus kids get their own menu. Parents: in addition to beer and wine, they offer a selection of rare and hard-to-find whiskeys.
At the Texas Roadhouse, one of the most raved-about items is the bread with cinnamon butter, so be sure to have some. You should also know that the names of the items don't necessarily indicate what they are—no rattlesnakes were harmed in the making of the rattlesnake bites, which contain jalapenos and cheese. Steaks, ribs, and chicken are the draw here, and kids can chose from their menu, which includes such goodies as steak bites and mac-n-cheese. Tip: go early for their $9.99 specials.
Skewers Kabob House serves Persian-inspired Mediterranean cuisine, but what your kids will be most excited about, of course, is the kebabs. Who doesn't love food on a skewer? You can choose from skewer-ables including shrimp, salmon, veggies, or chicken. Non-skewered food is also available, such as dips and salads, and you can choose from a variety of cool drinks like yogurt drinks and pomegranate green tea.
Family-Friendly Hotels in Modesto, CA
At the Holiday Inn Express & Suites Modesto-Salida, you get a free breakfast and complimentary coffee in the lobby, so things are already great. There's a fitness club plus an outdoor pool and whirlpool, where you can work off some of that breakfast, and guests also have access to another nearby gym. And prices, as befits the name, are indeed fairly modest.
With everything from a laundry facility to an outdoor pool (with palm trees!), the Microtel Inn & Suites by Wyndham Modesto Ceres offers a well-placed venue from which to explore Modesto and the surrounding areas. You get a free breakfast, a business center and meeting room—and it's pet-friendly.
If you stay at the Best Western Palm Court Inn, you can tour a nearby winery—or the Blue Diamond Almond Facility (yes, really.) You can also just hang out and enjoy the pool, spa and fitness room. Rooms are spacious, and you're also close to plenty of (non-almond-themed) local attractions.
Start off with their signature chocolate-chip cookie at the Doubletree by Hilton Modesto, then pop by the salon and spa, pool, business center, or the snack shop. There's a kids menu, but you're also close to area restaurants, a farmer's market, and cultural attractions. Face it, many people go for the cookie.
Close to downtown Modesto, the SpringHill Suites offer suites with separate living and sleeping areas for added room. You also get a mini kitchen area, complimentary breakfast buffet (in case your microwave skills haven't woken up), an outdoor pool and a fire pit.
Kids Activities in Modesto, CA
The Splashworks Pirate Ride, Spin Zone Bumper Cars, and The Teddy Bear Factory are just a few of the options kids can choose from at Funworks Modesto, a family entertainment center, and one from which you will most likely have to literally drag your kids away. Think: Build–A-Bear meets the arcade— and yes, they have arcade games. There's also Putt Putt golf, climbing wall and a pizza parlor.
There's no better way to learn about the history of Modesto than to visit the McHenry Museum. You'll see a recreated blacksmith's shop and a county recorder's office. Kids will especially enjoy the gold-mining and firefighting equipment. You'll also see examples of what a turn-of-the-century home might have looked like. Admission is free, and make sure to check out the gift shop.
Rockin Jump features a dodgeball arena, a slam dunk zone, and vertical ops (a climbing wall). But the main attraction is the open jump arena, which is like a trampoline on steroids. If your kids are fans of those Ninja-type obstacle course shows (of course they are), they'll probably enjoy Wipe Out, in which you have to avoid rotating sweeper bars. Yes—rotating sweeper bars. Make of that what you will.
Would your children like to come face (behind glass, of course) to face with a tarantula or a skink? At The Great Valley Museum in Modesto, which focuses on natural history and habitats in Central California, they can. They can also check out the planetarium, the dioramas, and the artifacts. You can go on your own or on a group tour. Don't miss Science on a Sphere, which projects images of real events like earthquakes and hurricanes.
There's a ton of hands-on stuff to do at the Hillier Aviation Museum: You can pilot a realistic flight simulator, build structures using foam blocks, or drop by the Invention Lab on weekends to explore aviation design (better for older kids). You'll also see aircrafts from helicopters to gliders. They also have special one-day events, like drone-building and flying workshops.
Family-Friendly Outdoor Activities in Modesto, CA
With play areas for older and younger kids, tennis courts, and a pool and a splash ground during the summer, Graceada Park is the kind of place you may just decide to plunk down and spend the afternoon. Or the evening—they offer free concerts. Grab a picnic basket and settle in.
A padded surface is just one of the factors that makes Freedom Park appealing. Throw in water features and a bike path, picnic areas and basketball court and you can probably please your whole family in one go. This is the place to go when you need a temporary respite from sightseeing and everyone just needs some time to chill.
Those who want to shoot hoops or play volleyball can do so at East La Loma Park, which also features disc golf and tennis. Fishing is also available, as are walking trails, so pretty much any form of athletic endeavor can be satisfied. Just grab your balls, rods, and racquets, and you're good to go.
Sunshine Rafting will provide you with everything you need for day out on the river, for beginners to more advanced groups. Certain trips are especially recommended for families with kids, so check that out ahead of time. Their best advice: most kids love the trip, but they don't love to paddle. Make sure you have two adults going.
You're not going crazy: there really are dozens of cats on the Tuolomne River Trail. The trail follows the course of the river, and meanders though river woodlands (we can't speak for the cats). Plenty of photo ops abound (with or without cats), and you can walk or bike.
Back to the Land: Modesto has been known primarily for its agriculture, something reflected today with the presence of the largest winery in the world, E&J Gallo Winery.
For a more family-friendly activity, check out some of the local farmers' markets, like the Modesto Certified Famers Market, at which you can buy fresh produce as well as baked goods, coffee, and cheese. At Sprouts Farmer's Market, which is more like a grocery store, you can get meat, wine, and prepared foods, in addition to fruits and veggies. And at Loretelli's Farms, save room for a pie in addition to your produce.
MORE: 25 Ways To Stop Dreading The Family Road Trip
Confessions Of A Traveling Parent
Rules For My Business-Traveling Spouse
This article was originally published on