Things To Do in Montreal With Kids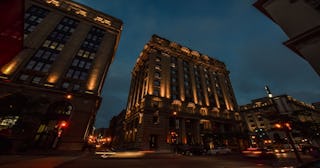 Nancy Bourque/Pexels
North America has its own less expensive and much closer version of France, just over the New York border in Canada. Give your family a taste of Europe without the airport headaches. Spend your next family vacation in Canada strolling the cobblestone streets of Montreal.
Kid-friendly patisseries and cafes are everywhere. Introduce your kids to chocolate crepes. Eat loaves of fresh bread as meals. Ogle the gothic architecture alongside the super modern glass and steel buildings. Yell at your kids in another country. Here are our suggestions for things to do in Montreal with kids.
Things to Do in Montreal With Kids
Rent bikes at Ca Roule Montreal, and bike along the Lachine Canal. Take the Young Family Bike Tour. Along with a certified guide, you and your younger kids will enjoy a totally safe family-friendly activity and unique tour on paths exclusively made for biking. Ice cream stop included!
Visit sites like Old Port, Old Montreal, Lachine canal, Moshe Safdie's Habitat 67, Alexander Calder's Immobilized Man monument sculpture, Jean Drapeau park, Buckminster Fuller's Biosphere and the Gilles Villeneuve's Formula One Race Track. Contact them for rates. Phone: 514-866-0633 Toll-free: 1-877-866-0633. Email: info@caroulemontreal.com. Tour reviews.
Everyone enjoys a planetarium visit. Cool and dark is always a welcome climate in our lives. Kids are much less prone to meltdowns. Families can watch immersive movies in one of two theaters, as well as play with hands-on displays in Exo, the electronic and multimedia area of the museum with touchscreens where your kids can do everything from transform themselves into an extraterrestrial to operate a robot on Mars. The planetarium is open Tuesday through Sunday. Admission: adults $20.50; children 5-17, $10.25; kids under 5, free. Planetarium reviews.
Are your kids excited by history? Do they also love stories that are creepy AF? Then the Old Montreal Ghost Walk is a must-do on your Montreal family vacation. This hour and a half guided tour will entertain your kids aged 12 and over with stories of the dark side of Old Montreal. After night falls, follow your guide through the hidden streets of Old Montreal and hear the haunted stories of Montreal and its spooky ghosts! You'll be entertained by legends of criminals, witchcraft and grim events that haunt the city streets. Price per person: adult (age 18+), $21.53; youth (age 12 to 17), $13.77. Reviews of the ghost walk.
This Canadian Six Flags park has plenty of rides for all ages. A French-speaking amusement park may sound like a nightmare to non-French speakers, but the employees here are more than happy to help with any language barriers. There are plenty of options whether your family wants Thrill Rides or slightly less terrifying family rides. If you've got small children, there's a whole section of Kiddie Rides to keep them having fun. While your family runs wild, grab an iced coffee and find a shady place. That's our favorite ride. Check their calendar before you go but the park is usually open 11 a.m.-9 p.m. Check out all the ticket package prices here. Read these reviews of the park.
Currently getting a makeover with a spectacular grand reopening planned for the Fall of 2019, this architectural wonder will surround your family in four different ecosystems. Animals, plants, climate, and irrigation systems all in a super cool space age maze. Designed so every visit is unique with various paths to follow, time your family trip to visit the newly madeover Biodome. We'd like a makeover as extensive as this Montreal family attraction is undergoing. Reviews of The Biodome
Must-See Spots in Montreal For Families
This open-air market has been in business since 1933, selling everything from fresh bread, produce, meats, cheeses, bakery items and chocolates. Fresh maple syrups and maple candy. Because Duh Canada. The family-friendly atmosphere is a strolling adventure with 150-plus vendors. In the warmer months, that number can double with farmers traveling from all around to sell here. In the winter, there are pop-up gift shops for soaps and handmade crafts. Buy your kids some giant baguettes and maple candy and wander amongst the locals at this Montreal landmark. Open Sunday, 7 a.m. – 5 p.m.; Monday – Wednesday, 7 a.m. – 6 p.m.; Thursday – Friday, 7 a.m. – 8 p.m.; Saturday, 7 a.m. – 6 p.m. Reviews of the Jean-Talon Market.
Walk the cobblestone streets of this once walled city. It's easy to imagine you've transported your family to a quaint European town. Old Montreal has been preserved in much of its original state, with the oldest buildings dating back to the 1600s. This is a safe and super cool area to bring the whole family to wander the narrow streets filled with cafes, shops, and historic landmarks and architecture. Reviews of Montreal's Old Quarter.
The Montreal Botanical Garden is recognized as one of the world's greatest botanical gardens. Over 22,000 plant species and year-round events, programs, and activities, its a great place to bring your family for some fresh air and natural beauty. There are 20 different themed gardens including a giant fantasy topiary garden that the kids will love! Read Reviews. Open 9 a.m.-6 p.m. every day. Adults, $20.50; children 5-17, $10.25; under 5 years old, free.
Devoted to showing how science and technology are shaping our lives often without us even realizing it, this cool steel building has tons of hands on exercises and activities for curious kids. The seven-story IMAX theatre is always a welcome break from the walking for little legs. Open everyday from 10 a.m.-5 p.m. Admission: adult, $32; teen 13-17, $24; child 3-12, $16; additional child, $13; children 2 and under, free.
The exhibitions showcase Montréal's history and archaeology, its French roots. Kids will love the creative family exhibits of pirates and dinosaur bones that also have a place in Montreal's history. Opened in 1992, the always changing exhibits will keep any "not another museum!" whining from setting in. Open every day, 10 a.m.-6 p.m. Adult, $22; ages 5-12, $8; teen 13-17, $15; under 5, free. Check out the reviews.
Possibly the most beautiful Gothic Revival Church in the world, this will not be your ordinary Catholic church service when you're in this architectural wonder. Pope John Paul II has visited here and this is where Celine Dion was married to Rene Angelil. Visit in the mornings to avoid long lines but bring the family back at night for an awesome music and light show. Read the reviews. For prayer: Monday to Friday, 7 a.m.; Saturday, 8 a.m.; Sunday, 7.30 a.m. For visitors: Monday to Friday, 8 a.m. to 4:30 p.m.; Saturday,8 a.m. to 4 p.m.; Sunday, 12:30 p.m. to 4 p.m.
Your family will find centuries worth of paintings, sculpture, decorative arts, furniture, prints, drawings and photographs. The big boys like Rembrandt, Picasso and Monet are here but the Canadian art is just as impressive. If you've got little kids, you probably won't see everything, unless they blissfully doze off in a stroller. The museum is actually contained over a few different buildings so plot your route accordingly. The museum also gets amazing traveling exhibits like a look back at French fashion designer Thierry Mugler. Spray on some of your Angel perfume and live the dream through this exhibit. Read museum reviews. General admission, $24; ages 21- 30; $16; ages 0- 20, free. Open every day 10 a.m.-5 p.m. (Wednesdays until 9 p.m.).
Best Restaurants in Montreal for Kids
Artisanal can be overdone these days. But at this chocolate shop, the artisanal shoe fits. Everything here is made with chocolate sourced from around the globe with the utmost care.
This is a cafe for chocolate lovers. Chocolate is served in all forms here, whether as a drink, a fondue or a dessert. The cafe's signature drink is the rich and creamy "Grandma's style" hot chocolate, but if you are a true chocolate gourmet, go for the dark vintage drinks that contain up to 75 percent pure cocoa. Please allow time for your sugared up children to float back down to earth after visiting one of the two locations of this Canadian favorite. Open every day from 11 a.m. to 11 p.m. Reviews of Juliet et Chocolat.
Fried foods for the kids? Plus beer and wine for the parents? This speedy service makes this a great family-friendly restaurant choice in Montreal. Try the Guinness-battered salmon and Tandoori popcorn shrimp. Resist slathering yourself in the homemade tartar sauce. You've probably embarrassed your children enough on your Montreal family vacation. Open 11 a.m.-midnight. Reviews of Brit & Chips.
If you want a taste of home, stop by this real American BBQ owned by Canadian brother-in-laws. You'll eat the best ribs, pulled pork, poutine, and the best Southern comfort food North of the border. It's addictive. The bourbon cocktails are classics, the service is warm and friendly with a casual at-home feel. Exactly what you need when eating with kids in Montreal. Especially the bourbon part. Reviews of this restaurant. Call for hours: +1 514-439-4555.
In 1942, newlyweds Hymie and Freda Sckolnick purchased Bancroft Snack Bar in the heart of Montreal's Jewish garment district. Everyone in the neighborhood started calling the luncheonette "Beauty's", after Hymie's bowling nickname. Freda created the Beauty's Special & the Mish-Mash, and the famous Beauty's brunches were drawing crowds from all over the city. Hymie kept the waiting customers happy with his trademark warmth and humor.
Most diners and breakfast spots in town are kid-friendly, but none have the landmark status of Beauty's. Bagel breakfasts, shakes, and its trademarked Mish-Mash™ omelette. It's a daytime spot, only open until 3 p.m. (weekdays) or 4 p.m. (weekends). Read these reviews.
The chef/owner is originally from Kentucky and it shows. Fried chicken, cornbread, sweet potatoes, mac & cheese, and mashed potatoes. You get the picture. There's a park across the street so if the weather is nice, order the picnic basket option off the menu and have a gourmet catered family picnic. Thursday -Monday, 11 a.m.–9 p.m.; closed Tuesdays and Wednesdays. Check out the reviews.
Best Hotels in Montreal for Kids
Plenty of restaurants within a short walking distance and an indoor pool, this big hotel is a great location for your for your family vacation in Montreal. Hotel reviews.
A reason enough alone to choose this hotel is the Omni Kids Crew program. When your family checks in, the kids receive a backpack filled with fun items designed specifically for them. Kids also get milk and cookies delivered to their room on the first night. #SwankyAF. A coloring menu is also available in the hotel restaurant, with crayons and an Omni Kids Crew cup. Kids and parents love swag. Backpack items include an activity book with stickers, crayons, 2-in-1 card games, binoculars, and a small tabletop game. Read the reviews.
The kids will go nuts for the multi colored glass exterior of this hotel. There's a cool glass bottom pool, large suites for personal space, an in-room refrigerator for all your leftovers of the great Montreal restaurants. This is a great choice for a kid-friendly hotel in Montreal. Reviews are here.
MORE: Go To Galveston With The Family
Pack Your Family Up For Green Bay
This article was originally published on