Things To Do in Newark With Kids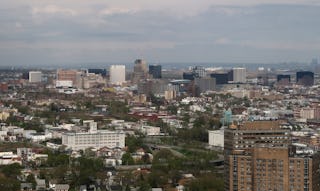 Gary Hershorn/Getty Images
The next time you find yourself enjoying a Mom's Night Out, drinking mediocre wine and singing karaoke, you may end up belting out the anthem "I Will Survive" by Gloria Gaynor. Fun Fact: Gaynor hails from Newark, New Jersey.
The vibrant, musical, and family-friendly city of Newark is not only the hometown of this legend, but also has tons of activities and attractions for kids. Put down the microphone (and the wine) and check out our suggestions for the best things to do in Newark with kids.
Kids Attractions in Newark
The Newark Museum has so much for the whole family. The small but mighty The Alice and Leonard Dreyfuss Planetarium seats 50 and gives that magical, first-time outer space experience to smaller kids as well as fond school trip memories to parents. The planetarium is not recommended for kids under four years old. Strollers are not permitted.
A great way to introduce the littles to the (air conditioned) joys of the museum is with their creative play program. Bring your three- to five-year-old twice a month for this kid-friendly experience in Newark.
Also wander through the exhibits of African art, American art, and much more. Don't miss the Museum Garden with not only shady trees, but also the 1784 Old Stone School House. The oldest standing school building in Newark, this one-room school educated students between 1784 and the early 20th century. Recently restored with a foundation built with sandstone from a local Newark quarry and floorboards sawed by hand from local trees. The kids will love the old cast iron stove that was used to heat the school. Ready for this? The kids had to provide the wood. A great way to illustrate just how good they've got it today. #RealLifeLessons
The Prudential Center is the home of the New Jersey Devils hockey team and the Seton Hall Pirates men's basketball team of nearby Seton Hall University. Easy to get to by public transportation and tons of concession choices, check out a family concert or event here on your visit. Ahem, Jonas Brothers.
Aside from the Jonas Brothers, the coolest family activity you can find at The Prudential Center is The Grammy Museum Experience. Rock out with hands-on, family-friendly exhibits featuring many Grammy winners, including the music of New Jersey's own Bruce Springsteen and Whitney Houston. This kid-friendly museum will have you singing your hearts out.
The museum's mission is to cultivate a greater understanding of music; the art and technology of the recording process— and the history of the Grammy awards. Don't miss this kid-friendly attraction with your little musician. No need to drag that trombone case this time!
The New Jersey Performing Arts Center (NJPAC) is another one of Newark's grand achievements showing the city's commitment to cultural diversity, top tier entertainment, and family friendly access. Check their schedule for shows and events -many are free! Show support for their impressive Arts Education program.
NJPAC is also home to the New Jersey Symphony Orchestra. If you have a struggling tween or teen, we highly recommend a visit to a performance. There's something about all that live music and some special time between parent and kid to open up the lines of communication. Priceless.
Outdoor Activities for Kids in Newark
Branch Brook Park is a 4-mile stretch of natural beauty in Newark. Betcha didn't know that this New Jersey park's Cherry Blossom Festival is even larger than the famous yearly event in Washington, DC. More than 4,000 cherry trees blossom during April with more varieties and trees than the Washington, D.C., display. In full bloom (pun intended) the Cherry Blossom Festival attracts over 10,000 people a day.
Visit historic sites such as the stone Prudential Lions, the Octagon Shelter and the park's unique bridges. Bike or walk on stroller-friendly pathways. Skate at the roller rink, watch a game of bocce, or play tennis or softball on the new fields and courts. Families love the free concerts and movies. Check the calendar for every season's unique experiences.
Newark Riverfront Park justifiably calls itself an urban oasis. You'll find so many family activities here on the banks of the Passaic River. From playgrounds, chess tables, basketball courts and soccer fields to free live music, art events, and family movie nights. The Newark Riverfront Revival Boat Tour launches from here with an educational, two-hour tour up and down a seven-mile stretch of river. One hour shorter than Gilligan's Island tour so no need to pack an oddly overfilled suitcase.
Military Park was a neglected space for many years. But the revitalization of this city is in full force. Military Park now attracts children, adults, local residents, office workers, and students to Newark's revitalized town square. Military Park's events calendar offers a great children's program with fitness activities, arts and crafts, lawn games and playgrounds. Visit the family favorite, The Chambers Family Carousel. For only $2 a ride, choose a horse modeled after some of Newark's historical horses.
Take your kids to the swamp. A 45-minute drive from Newark, The Great Swamp National Wildlife Refuge sits on 8,000 acres. Get back to nature with their outdoor family activities starting in the The Wildlife Observation Center. Follow along the one-and-a-half miles of boardwalk paths where you'll enjoy shushing your kids when they scream with excitement as they spot turtles, snakes, and frogs in early spring and summer. Many different birds can also be observed from along the boardwalks.
In addition to your own kids, there are other mammals to spot in this wild habitat as well. Some perhaps more lovable than your own mammal offspring, your family may see one of 39 species. Trying to spot white-tailed deer, red fox, raccoon, gray squirrel, coyote, river otter, and muskrat is a fun family activity at The Great Swamp.
While some species are common on the refuge, they are rarely seen due to their elusive tendencies. You know, like how you get when they need PTA volunteers? #ElusiveAF. Transient black bears have also been seen at The Great Swamp.
Best Places To Stay With Kids in Newark
Comfort Suites Newark Hotel keeps you in the heart of Newark, convenient to Newark Museum and Prudential Center. Load the family up on cereal and bacon at the free breakfast buffet from 6 a.m.-10 a.m. and then burn some energy exploring the heart of the city.
Courtyard by Marriot-Newark Downtown gets points for being modern and stylish. It's also a great place to stay with kids because of the convenient location within walking distance of the Prudential Center and New Jersey Performing Arts Center. Eat at The Bistro right inside the hotel. They've got Starbucks. Microphone drop.
TRYP by Wyndham Downtown is a 13-minute walk to The Prudential Center, give or take a minute depending on the size of your kid's feet.
DoubleTree Hotel at Newark Airport is just minutes outside of downtown but the hotel is an experience unto itself. Toss freshly baked chocolate chip cookies to the kids in the atrium while you handle check-in. After you get settled in, it's family fun time in the newly renovated pool.
Best Restaurants in Newark for Kids
Mercato Tomato Pie focuses on thin crust pizza. The kids can watch pizza dough flying in the air and then see their lunch emerging from the ginormous coal-fired oven. Kids who like big numbers will think it's cool that the oven reaches 1,000 degrees! Not in the mood for pizza? Choose a family-style bowl of pasta off the menu. Buttered noodles will always save the day.
Try something a little different. Burger Walla puts an Indian twist on the American beef burger and hot dog. They also serve chicken, lamb, vegan, and shrimp burgers on their creative, build-your-own-burger menu. Get the Sweet Potato Tots. In fact, get many Sweet Potato Tots.
Tops Diner serves over 15,000 hungry customers and proudly claims to serve "exactly what they want each week." Oh, Tops Diner, you know what I want? I want everyone to eat with smiles and napkins. I want no poking or kicking. I want to eat my own food without cries of Eww that's gross! or Can I taste yours? If you can deliver on that, along with your gargantuan heavenly menu, then Tops Diner is one of the best places to eat for families in Newark.
The name alone makes our next suggestions a great place to eat with kids in Newark. Dinosaur Bar-B-Que Dinosaur Bar-B-Que's Newark building has an awesome history. Built in 1890, it originally was Roehlich & Kohler Spirits & Fine Wines.
Then it morphed into a chandelier factory, a haberdashery, a penny arcade, and the boxing club where Rubin "Hurricane" Carter trained. Check out their dinosaur sized menu to decide before it's hangry time. Order the Big Ass Pork Plate loudly to simultaneously embarrass and delight your kids.
MORE: Tampa With Kids
Steeling Family Time In Pittsburgh!
This article was originally published on