Things to Do in Niagara Falls With Kids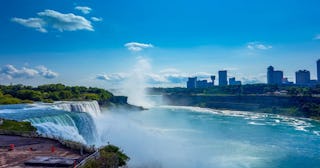 Salah Alawadhi/Pexels
Planning a trip to Niagara Falls? You'll find so many family-friendly activities, from getting the most out of the Falls to exploring the many parks and outdoor spaces. Plus you'll enjoy indoor water parks and great family-friendly restaurants. Let us help you fall for the Falls! Here are our favorite things to do in Niagara Falls with kids.
Family-Friendly Hotels in Niagara Falls
The Great Wolf Lodge in Niagara Falls, Ontario, isn't so much a place to stay as a way of being. It's non-stop family fun, with a definite Disney World vibe. It has characters to meet, non-stop activities, and of course, the attached water park. And oh, what a water park. It's got a water fort treehouse, a vertical fall into a loop, incredible slides, and wave pools. Oh—the rooms are cool, too. Check out the themed ones that have cave-themed sleeping areas.
The operative words in the name of the hotel Marriott on the Falls are, of course, "on the falls." It does indeed overlook the falls, giving guests access to the nightly fireworks and light shows. There are a ton of dining options, including a Starbucks in the lobby, pus an indoor pool and fitness center. Plus, you have a front-row view of the fall—which is why you're there, right?
At Sheraton on the Falls, you have a large interior shopping arcade, indoor and outdoor polls (both with views of the Falls) and a spa and fitness center. It's located right across from Niagara Falls, and it's connected to a huge indoor water park—North America's largest. See: definition of kid-friendly.
Water is the name of the game in Niagara Falls, and it even extends to your hotel. At the Skyline Hotel and Waterpark, you're connected directly to the water park—and that's most likely where you'll be spending 80 percent of your stay—it's as kid-friendly as it gets. You're within walking distance of lots of restaurants and attractions, and climate-controlled courtyards offer a place to sit and recharge. Then it's back to the water park!
The recently renovated Holiday Inn Niagara Falls—by the Falls is within walking distance of the Falls, and you're also close to other attractions, like Queen Victoria Park. Kids under 18 stay for free and up to four kids under the age of 11 eat for free at any onsite Holiday Inn restaurants so no worries about the child who will eat only plain pasta. It's also the only hotel in Niagara Falls that offers free parking. They also have indoor and outdoor pools for more family fun, and rates are reasonable.
Family-Friendly Restaurants in Niagara Falls
The Flying Saucer Restaurant is shaped like a flying saucer, and that's pretty much all you need to know. Known for its breakfasts and reasonable prices (they have a special deal from 6 a.m.-10 a.m.), diners can get a three-egg omelet or stuffed French toast, pancakes or Belgian waffles. Kids get their own menu ("we can almost guarantee they'll want Little Martian" pancakes), and side orders include everything from whipped cream to Polish sausage. And don't forget to take a saucer selfie!
If you're looking for a retreat from the main part of Niagara Falls, pop into the Third Street Retreat Eatery & Pub. They only have eight tables, and no reservations are taken. Parents: They have local beers and wine. You can get breakfast all day (omelets, French toast, fruit bowl), plus Pub Grub to Share (perfect for a family), like fries with bacon and cheese, chicken fingers, or chicken quesadillas. They also have "hand helds," like local favorite beef on wek (roast beef au jus on a roll) and a tuna melt.
Rock Burger is the place to go for creative stuffed burgers. You can get a French oops (stuffed with French onions and provolone, and topped with more French onions and mozzarella), a Macaroni trolley (stuffed with mac-n-cheese, topped with cheddar) or a Dorito Explosion (yes, they're stuffed with Doritos, someone please take a picture.) If those don't appeal, they have about 20 other varieties, plus Rock minis. Note: this one counts as an activity.
Sometimes you just want pizza. The wood-fired pizzas at Antica Pizzeria & Ristorante include toppings like grilled vegetables and goat cheese, plus there's a meat-lovers variety, a white pizza, and one where each quarter has its own topping. The kids menu offers pizza or pasta, and the regular menu also offers antipasti, Panini, soups, and salads.
Got a craving for a California roll or a steamed veggie dumpling? At Fuji Grill in Niagara Falls, you can start with dumplings (who doesn't love dumplings?), move on to sushi, or segue right into hibachi entrees. There's a reasonably priced kids menu with a lot of choices—in fact, the menu is quite large overall (they also offer teriyaki and other entrees), and if you can make it for lunch, the prices are even better.
Family-Friendly Outdoor Activities in Niagara Falls
If you're looking for a different view of the Falls, consider one 175 feet up. The Skywheel offers guests views of both the Canadian and American sides of the Falls, plus the Niagara River, local parks, and other landmarks. The gondolas are fully enclosed and include air conditioning and heating for various seasons. Rides last between 18 and 12 minutes leaving you plenty of time to enjoy the Falls from yet another perspective.
The Maid of the Mist Boat Tour is pretty much an intrinsic part of every Niagara Falls visit, and it's actually one activity on which your entire family will agree. Dating back to 1856, the iconic boat (not the exact same boat) takes poncho-clad visitors as close to the Falls as it's possible to get. Expect to get wet…and then wetter. The view (and the sounds of the water) are not to be missed—or, mist.
Right next the Falls you'll find Queen Victoria Park, a manicured oasis with a rock garden, rose garden, seasonal flowers, plants from round the world, hanging baskets, and more. The garden provides a calm refuge (and a dry one) from the wildness of the Falls. It makes a nice family outing—you'll find plenty of benches and endless photo ops.
The Floral Clock right outside Niagara Falls is, in fact, an actual clock. Yes, it is made of flowers. Yes, it is actually a clock. The designs are created with up to 16,000 plants, and are changed twice a year. An actual mechanism is inside the clock (to, you know, make it a clock) and the tower at the back of the clock has Westminster chimes that make themselves known on the quarter hour. Fun Fact: If the door into the tower is open, you can peek inside and see the clock's mechanism, as well as photos that show the various clock faces going back to 1950. It's one of those things that should be seen, because, well, it exists.
Nothing like playing golf while being pursued by a T-Rex (now, that's family fun). When the urge to play mini-golf strikes (and it will), head to Dinosaur Adventure Golf. It offers two 18-hole courses, with decorative ponds, rapids and bubblers, and a 50-foot-high steam-erupting volcano (Yes, you get to enter it.). Oh—plus 50 life-sized dinosaurs. To complete the prehistoric vibe, jungle and nature sound effects fill the air. Now, that's an afternoon.
Family-Friendly Activities in Niagara Falls
Bird Kingdom, the largest indoor aviary in the world, offers families a chance to explore a multi-level aviary—it's home to 400 birds representing almost 80 species from around the world. You'll also have a chance to meet animals face to face, from chameleons to parrots and snakes. You don't have to come face to face with them if you don't want to. Don't miss the Night Jungle—owls, bats and other nocturnal creatures are on the prowl here. But not for you—they have their own food.
One of the many ways to experience Niagara Falls is behind it—the Journey Behind the Falls takes visitors literally behind the actual Falls. After descending 125 feet, visitors can explore (on their own, it's unguided) the 135-year tunnels cut into the bedrock, and also view the Falls from viewing portals cut into the rock. Oh, and you'll get wet. That's all you need to tell your kids to have them roundly endorse the activity. Expect to be damp pretty much the entire time you're in Niagara Falls, truthfully.
When you need a break from rushing water, the more-than 80-year-old Niagara Parks Botanical Gardens spans 99 acres of planted gardens, from a rose garden (2,400 roses) to rhododendrons, azaleas, and more. While you're there, check out the Butterfly Conservatory on the grounds, which showcases more than 2,000 butterflies.
If you like your meal with a side of magic, Wild Magic at the Greg Frewin Theatre offers up a magic show for all ages, with real tigers and exotic birds. Think: David Copperfield wanders into the rare animal section of the zoo. It combines illusions, close-up magic, audience participation, and an ongoing story. You can get lunch or dinner before the show, during which you will spend a lot of time wondering how Greg Frewin is doing what he's doing.
Marineland offers a mini marine park with beluga and killer whales, dolphins, and sea lions; a splash park (translation: your kids can get wet); and several land animals, such as bison, elk, and red deer. You can also try out the amusement park rides, and attend the presentation about marine mammals. It's like someone mushed together little bits of Sea World, Coney Island, and your local zoo.
When in Niagara Falls…Get Wet
Niagara Jet Adventures takes visitors on a whitewater and boating experience (yes, it's safe for kids). You can also stand on a hurricane deck within feet of Bridal Veil Falls in the Cave of the Winds experience. And the trailhead Niagara Gorge Hiking Trail offers great views (and your best opportunity for staying dry).
MORE: A Family Vacation Vs. A Real Vacation
10 Commandments Of Traveling For Toddlers
Dad Writes Viral Post About Traveling With A Baby
This article was originally published on