Things to Do in Norfolk With Kids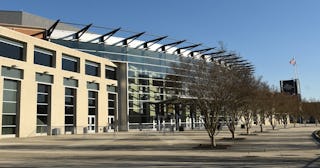 Mitchell Layton/Getty Images
If you're taking a trip to Norfolk, Virginia, be prepared for gorgeous views of Chesapeake Bay and historic attractions, like the world's largest naval base. If neither of those are your thing, don't worry — there's so much more to see and do with your family. Here are a few things to do in Norfolk with kids.
Kid-Friendly Attractions in Norfolk
Above all, when visiting Norfolk, you have to visit the Naval Station Norfolk with your family on its 45-minute tour. Your kids will love seeing the aircraft carriers and destroyers, and you'll learn a lot of great trivia facts about the history of Naval Station Norfolk.
If you need a break from the sun, another option is the Chrysler Museum, a worldly art museum known for its delicate glass collections, photography and ancient artifacts.
Norfolk also has a great selection of attractions for your kids to learn about science. The Virginia Zoo has behind-the-scenes tours for your family to see animals, like sloths and giraffes, up close. Another great option is the Children's Museum of Virginia, which currently has a running exhibition called "Healthyville" which teaches health and wellness lessons to children.
Family-Friendly Hotels in Norfolk
As the surrounding areas are also vacation destinations, there are plenty of hotels in Norfolk, most of them family-friendly. Hilton Norfolk The Main has the city's first rooftop garden with views of the Elizabeth River. Similarly, the Sheraton Norfolk Waterside Hotel has gorgeous views of the river.
If you're heading to Norfolk for a beach vacation, you should stay at the Best Western Holiday Sands Inn & Suites which has its own private beach. Bring fishing poles if that's your thing, as it's noted as an especially great spot for fishing.
The Courtyard Norfolk Downtown is a classic option for your stay with a sophisticated vibe.
Family-Friendly Restaurants in Norfolk
https://www.instagram.com/p/ByNJhu5g_kJ/
If you're heading to Norfolk, you will find no shortage of delicious breakfast and lunch options at the Handsome Biscuit. You and your kids will love how the decadent biscuit sandwiches taste and look – towering high with toppings. Get the Bleu Blazer for yourself, fried chicken with spicy pickled red cabbage and bleu cheese dressing, and the PB&JB for your family, peanut butter, mixed berry jam and salted butter on a warm, fluffy biscuit.
Doumar's Barbecue is a world-renowned dinner spot – it once made an appearance on "The Rachael Ray Show" as the Home of the World's First Ice Cream cone. Grab some North Carolina barbecue and limeade to cool off on a hot, Virginia day. Another casual dinner restaurant is the No Frill Grill. It lives up to its name with its chill vibe!
You should also go to the Grilled Cheese Bistro because it will fulfill any comfort-food craving you have.
Kid-Friendly Outdoor Activities in Norfolk
There are a plethora of other outdoor activities to either accompany or replace a beach day in Norfolk. The Norfolk Botanic Garden has a new garden set aside for children – World of Wonders – a 3-acre children's adventure garden. Or catch a Norfolk Tides game for a trip to the ballpark.
After walking around in the garden, you might want to cool off in the summer heat at TowneBank Fountain Park. Especially after touring the naval base, your kids might really want to ride a boat. You're in luck – the American Rover is a 135-foot schooner with three masts.
Best Beaches in Norfolk
If you visit Norfolk, you have to visit the area's beaches in Ocean View right on Chesapeake Bay. There are a few main beach parks.
Relax under the sun at Community Beach Park, located at one end of the long stretch of beaches. Meanwhile, Ocean View Beach Park is right in the middle, and hosts a ton of summer activities like backyard barbecues and family movie nights. Sarah Constant Beach Park is on the western tip of the stretch of sand.
MORE: Best Kid-Friendly Activities In Tampa
Things to Do in San Francisco With Kids
Things to Do in Chula Vista With Kids
This article was originally published on