Things to Do in North Las Vegas With Kids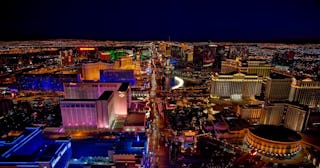 Pixabay/Pexels
If you're not impressed by the sheer size of Las Vegas or the bright lights of the strip, you may be impressed by how many things to do in Las Vegas with kids there are. Some say that Las Vegas is not child-friendly, but this is not true because there are so many families that call this place home. From Las Vegas shows made just for kids to tons of warm weather activities for family and outdoor activities for kids, it's a wonderful family vacation destination.
If you are planning to visit Las Vegas with family, spring or early winter may be best to avoid the extreme heat. Summer is long and akin to living inside a hair dryer with no off switch. Need some ideas for things to do in Las Vegas with kids? Here are some of our favorites.
Family Photo at the Welcome to Las Vegas Sign
One of the first things you should do when visiting Las Vegas with kids is arguably the most Instagrammable. Commemorate your family vacation with a photo in front of the infamous "Welcome to Las Vegas" sign (which actually reads "Welcome to Fabulous Las Vegas"). The landmarked 25-foot-tall sign designed by Betty Willis turns 60 in 2019. It can be found at 5100 Las Vegas Boulevard South. The photo opp — and parking for it — is free.
Best Kids Attractions in Las Vegas
There are a surprising number of kids attractions in Las Vegas. And many of them will actually be fun for the whole family.
One of the best things to do in Las Vegas with kids is Adventuredome theme park at Circus Circus. It has rides for thrill seekers and kids of all ages. Plus, there are arcade and midway games, roller skating, rock climbing and other family-friendly activities. Warning: Being that you're in a circus-themed casino resort, there will be clowns.
Satisfy your family's need for speed without leaving the Strip. This indoor go-kart track offers walk-in races for kids and adults, and you can reserve time slots online, too. Note: Kids must be at least 48-inches tall to race, and close-toed shoes are required. But, you can rent socks and shoes at the track. Helmets and other safety equipment are provided before you start your engines.
Find everything from Egyptian treasures to live snakes, lizards and spiders to a roaring T-Rex at this Smithsonian affiliate museum. There are also two curator-led tours you can book in advance. One of them gets your family a behind-the-scenes peek at its collections, too.
We bet your kids have never ridden a roller coaster like the Big Apple Coaster. This thrilling ride at New York New York Hotel & Casino goes 67 mph high above the Strip. For extra fun, add the VR experience for a 4-D battle with aliens and monsters. Kids must be at least 54 inches to ride.
If someone doesn't want to ride the Big Apple Coaster, the Big Apple Arcade is nearby. As an added bonus, New York New York offers a few packages that include coaster tickets, arcade credits, gifts and free hot dogs. The kids will love that as much as you'll love not hearing them say, "I'm bored" for a good long time at these two family-friendly Vegas attractions.
Yes, seriously. Las Vegas has some serious park offerings, and they are all open late to accommodate for the summer heat. Many of the best parks in Las Vegas include separated play structures for toddlers and older children, splash pads and walking paths.
Craig Ranch Regional Park is one of the best parks in Las Vegas for kids. It has a skateboard park, a lake with ducks, covered picnic areas and even a community garden. It's 170 acres of converted golf course, so there are a lot of places with shade from mature trees to get out of that hot Vegas sun. The play structures are really inventive and include things like a giant spider and a field of oversized metal daisies.
You can't miss the half-scale replica Eiffel Tower at Paris Las Vegas. Take its glass elevator 46 stories up to see amazing views of Sin City's skyline day or night. In addition, the family attraction also has free, choreographed light shows you can see from the Strip every night.
Everyone knows about Siegfried & Roy's famous tigers and big cats. But, did you know the duo has a dolphin habitat at the Mirage, too? In addition to watching the animals, the kids can learn about the facility's conservation efforts. There are also several experiences that take you behind the scenes and frequent family-friendly events.
Ethel M Chocolates is a little out of the way. But, it's worth the visit and promises free samples and a factory tour of the chocolatier's production site. The "tour" is more like a walk down a hallway lined with windows looking into the factory and then a sweet old lady passing out a sample at the end.
We don't recommend visiting just for this tour unless you are looking for a chance to show your kids what a factory looks like. But, this is a great place to visit during the winter season. The family can grab a cup of hot chocolate and visit the cactus garden. If you're not a Christmas person, it's nice in spring, too. As a side note, the building also houses an M&M's store that is a lot less crowded than what's on the Strip.
Get up close and personal with the wax counterparts of your family's favorite celebs at this family-friendly attraction at The Venetian. Take pics with Marvel superheroes, music icons and more. Plus, relive your youth at the new '90s exhibit that features the Spice Girls, Biggie and the denim-clad Britney and Justin.
Vegas Indoor Skydiving makes your kids' superhero dreams come true — and yours, too. You can all float, fly and freefall amid wind speeds up to 120 mph at this thrilling family-friendly Vegas attraction. Kids must weight at least 40 pounds to participate, and everyone undergoes a safety training class beforehand.
The Discovery Children's Museum is designed for learning, but who are we kidding — it's a giant indoor playground in Las Vegas. Both older and younger children can find a lot to do here. There is an area called Toddler Town that features a crawl zone where babies can safely explore with a seating area for parents. I also like Water World, which teaches about where our water comes from and includes working models of the Hoover Dam. Kids can play with the water features so the museum has waterproof smocks and hand dryers available.
The museum has many other regular exhibits and also traveling exhibits to keep the place fresh. This can be a pricey visit since adults and children are charged the same rate, but it's worth checking out for an afternoon free of, "Don't touch that!" A yearly membership is available that can save large families a lot of money and allows for unlimited trips to the museum. Visitors are encouraged to pack a lunch and eat in designated snack areas. There are also vending machines and sometimes even food trucks available.
Even today's tech-savvy kids will be wowed by the Pinball Hall of Fame. But, we bet they'll like that they can play every lovingly restored pinball machine in this 10,000-square foot facility even more. You, on the other hand, will love that gameplay costs $1 or less depending on machine.
Even if no one in the fam wants to be the next PGA star, Topgolf at MGM Grand is still a fun family activity in Vegas. This high-tech range has climate-controlled hitting bays, an esports gaming lounge, two pools and great food, including a nice kids' menu and adult beverages.
Free Things to Do in Las Vegas With Kids
You may think that everything has a price in Sin City, but that isn't necessarily the case. There are a bunch of free family attractions in Las Vegas. So, here are a few of our favorites.
Seeing the Fountains of Bellagio on TV or the internet is nothing like seeing them in person. Their enchanting dance set to music is absolutely spectacular. It's such an incredible sight, it's hard to believe it's completely free. Be sure to check the fountains out day and night for two completely different experiences.
The kids will have a blast watching the Mirage volcano eruption. See its free fiery blast every day at 8, 9 and 10 p.m. right from the Strip. Before or after, head inside to check out the 20,000-gallon saltwater aquarium behind the front desk. It has about 450 fish and an indoor coral reef.
This is a pretty awesome family attraction on the Strip. Not only is it fun to see what a flamingo looks like in person— it's free! It's located outdoors at the Flamingo Casino near the parking garage and swimming pool. It can get pretty crowded here with so many tourists trying to get the perfect bird shot, but there are multiple places to stop and spy on animals. They also have turtles, koi fish and other big birds.
Yes, the Forum Shops is a technically a shopping mall, but no one will complain when they take in this free animatronic show. There are fireballs, heat and sound waves, huge talking statues and a 20-foot dragon, of all things!
Springs Preserve is located on land that historically was a river here and welcomed some of the first settlements in Las Vegas. Hundreds of species of wildlife live inside of this preserve in the heart of our city. This attraction is constantly offering special events, classes and galleries, with many exhibits geared towards families with children. There are botanical gardens full of desert plants, hiking trails and a forthcoming butterfly habitat.
This 117,000-gallon reef aquarium at the Silverton Casino Hotel is one of the best free attractions in Las Vegas. It boasts thousands of fish, sharks and other marine life. Plus, it's the only place your family can watch a live mermaid show in Sin City.
There's a good reason our Public Library System won awards. There are 2.7 million items in its collection, which amounts to almost 20 times the number of slot machines in Las Vegas. Every branch has different family-friendly offerings, so check the main website to find free puppet shows, movie screenings and art viewings. Take advantage of the children's section where kids can play with toys and puzzles. Some libraries have play meetups organized where you can meet other moms with babies.
One of the most unique things to do in Las Vegas is visit Downtown Container Park. First, the open-air shopping complex is named such because it's made from repurposed shipping containers. Second, a huge metal praying mantis that shoots flames welcomes you to the park. Third, it has lots of kid-friendly restaurants. Fourth, the whole family can shop till they drop in its many boutiques. More importantly, there are two awesome family-friendly attractions. The Dome at Container Park offers a 4-K entertainment experience that immerses you in movies or music as you relax in a reclining seat. But, the treehouse play area is the big draw for kids. It has a 33-foot-tall slide, an interactive light game and foam blocks. Note: After 9 p.m., no one under 21 is admitted to Container Park.
The games on the Circus Circus Carnival Midway aren't free, but the circus acts that take place throughout the day are. Unless someone suffers from coulrophobia, you'll all love watching jugglers, acrobats, trapeze artists and yes, clowns.
Kids Activities in Las Vegas
There are so many kids activities in Las Vegas it can be daunting to know where to start. Luckily, that's where we come in.
You and the kids can live out your Marvel Avengers fantasies at Marvel Avengers S.T.A.T.I.O.N. (Scientific Training and Tactical Intelligence Operative Network). This immersive experience at Treasure Island has you training to be an agent and assembling files on Captain America, Iron Man, Thor and Hulk. Plus, you get to see their coolest equipment. Truly a must-see for any superhero wannabe!
Wander through The Venetian with your family, and you might forget you're not in Venice, Italy. But, its indoor and outdoor gondola rides are a fun family attraction in Las Vegas. Coast down the Grand Canal in an authentic gondola, complete with a singing gondolier. Be sure to check out the indoor march of singing gondoliers at 9:50 a.m. and 4:20 p.m. every day.
We'll never know just how many M&M's are in the four-story M&M's World in Las Vegas. But we do know there's a lot and the kids will love seeing them throughout this vibrant store. Commemorate your Vegas family vacation with personalized M&M's. They print in about two minutes, and you can choose between 16 colors and lots of images, including 14 Vegas-specific ones.
The family will literally be high rollers on this 550-foot high observation wheel at The Linq. Settle back and take in the spectacular views from a spacious cabin during the 30-minute rotation. Bonus: This Las Vegas attraction also has open-bar cabins for those 21 and older to have an unforgettable happy hour high above the Strip.
WestWind is one of the few remaining drive-ins — and one of a few theaters you could bring your children and not worry about whether or not they can sit still or be quiet the whole time. Tickets cost less than a traditional cinema, and you can watch a double feature most of the time. The exception being some new movies.
The centrally-located store features an arcade, movie snacks and drinks. The restrooms are pretty clean and the drive-in even includes a playground. If you're concerned your car battery won't survive, know that they will jump you if you need after the movie ends.
Immerse your family in this underwater world in the middle of the Nevada desert. Its 14 exhibits feature thousands of sharks, turtles and other marine creatures. Plus, there's a Touch Pool where you and the kids can get handsy with some of the creatures.
Kids of every age will enjoy picking their own produce here. We're not exactly sure what kind of magic the orchard are employs to grow so much fantastic food here. During the holidays, it offers pumpkin patches and hayrides. Make sure to check the website or Facebook page for current hours and offerings.
You normally might not let the kids house soda, but as they say, what happens in Vegas … And besides, when else might you be able to taste-test 16 different Cokes from around the world? Just be sure everyone takes tiny sips to keep from conjuring any sugar-high monsters. And don't forget to snap a pic with the Coca-Cola polar bear for your 'gram.
If you've never been to a place like this, then think of Mario Kart in real life. There are go-karts for adults and children, small roller coaster rides, an arcade and a jumbo slide. Younger children can ride with a parent on one of the race tracks. Cheap pizza and finger foods are available to eat. Families like to host birthday parties here because the prices are more reasonable than Chuck E. Cheese.
Best Outdoor Activities in Las Vegas for Kids
You can't spend all day inside feeding slots when you're on a family vacation in Las Vegas. So, here are some of the best outdoor activities in Las Vegas for kids — and adults.
Pun intended, but this is a really cool kids attraction in Las Vegas. As unbelievable as this sounds, there was no water in park Las Vegas for quite some time. It could be because July is so hot that it is liable to dry up, so you can imagine all the excitement surrounding the opening of this place a couple of years ago. Among its 25-plus slides and attractions is a lazy river, wave pool and a play area designed for kids that dumps giant buckets of water over their head. They give out free sunscreen, too.
You can save some money by entering the park after 2 p.m. but the park still closes pretty early at 6 p.m. Rumor has it that more rides will be added in the future.
One of the neatest and most historic things to do in Las Vegas with kids isn't in Las Vegas. It's the Hoover Dam, which is less than an hour from the Strip. It's truly a sight to see from above, and it's even cooler from below. A Pink Adventure Tours not only takes you to and from your hotel, shows you the dam and shares its history. It also includes a 90-minute boat ride on the Colorado River so you can see this massive American landmark up close. Tours include admission, lunch, snacks and water.
For a family-friend desert attraction in Las Vegas for kids, check out Red Rock Canyon. Go on the 13-mile scenic one-way drive, take a family-friendly hike, camp and more. But, be sure to introduce yourselves to Jackson, Red Rock Canyon's very popular and very handsome adopted burro.
Valley of Fire State Park might look like Mars thanks to its red Aztec sandstone, but it's just about an hour from Vegas. Hike, camp and learn about its history, geology and ecology in the visitor's center. Tell the kids to keep their eyes peeled for petrified trees and petroglyphs carved into the rocks that date back more than 2,000 years.
Desert Off Road Adventures takes the family off the beaten path and far into the desert surrounding Las Vegas. It has guided two- or three-hour excursions with you driving your own two- or four-person UTV (utility terrain vehicle) through the mountains, dunes and washes. The provided helmet circulates fresh, cool and dust-free air. The tour includes bottled water during your ride, and snacks, cold drinks and a souvenir bag after.
SunBuggy Rentals is another chance to leave civilization behind on your family vacation in Las Vegas. Its shuttle will pick you up at your hotel and whisk you off to your desert ATV or UTV adventure. While its wild Baja Chase is what it's famous for, SunBuggy has a family romp and other excursions that allow you to go your family's pace. Kids need to be at least 4-years-old, and bring their car seat if they use one because it can be used in the buggy.
SlotZilla is in downtown Las Vegas and offers two thrill rides. Sail seven stories above Fremont Street for two blocks on the seated zip line. Or, fly superhero-style 11 stories up for five blocks on the zoomline.
Kids want to go even higher? Take them to the 50-story tall Rio Zipline between the Rio Hotel and Casino's towers. Travel more than 800 feet at 33 mph on this exciting family-friendly Vegas attraction. Then you get to do it backwards on the way back. All riders must be at least 48-inches tall to participate, and you can fly solo or in tandem.
For the ultimate sky-high thing to do in Las Vegas with kids, book a Grand Canyon Helicopter tour with Sundance Helicopters. Yes, it will be pricey AF, but it'll be an unforgettable family vacation memory. Sundance offers several versions, and all include free pick up and drop off at your hotel. Most have meals and land so you can explore the natural wonder from the ground, too.
MORE: Things to Do in Miami With Kids
Dallas Spots You Can't Miss on Your Next Family Vacation
Get Lost in Los Angeles With These Fun Family Activities
This article was originally published on