Things To Do in Oakland With Kids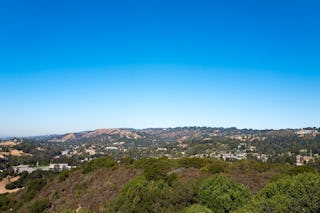 Smith Collection/Gado/Getty Images
While San Francisco may get all the glory, its sister city of Oakland is where many locals choose to raise their families. This family-friendly feel makes Oakland a great choice for your next trip to northern California with tons of things to do in Oakland with kids. Here are our suggestions for a fun visit to the city that gave us Tom Hanks. That fact alone makes Oakland practically sacred ground.
Best Kids Attractions in Oakland
Children's Fairyland was one of the inspirations for Walt Disney's Disneyland. Since 1950, Children's Fairyland has been drawing families to its over 60 storybook-themed attractions. Best for children under eight years old, there are no thrill rides. Just gentle throwback rides like the Jolly Trolley and the Flecto Paint Company Carousel.
The puppet shows are all original works based on classic fairy and folk tales. Opening its curtains in 1956, this is the oldest continuously operating puppet theater. Take your young thespians to the main stage called Aesop's Playhouse where local child actors perform classic storybook tales. Bring your autograph books! It is California, after all.
MOCHA Museum of Children's Arts has open studio hours four days a week. Offering a hands-on, quality art experience for kids and their families alike. Make room on the refrigerator or mantle for some handmade keepsakes of your visit to Oakland. Support their beautiful mission of using art as a fundamental part of the lives of all children.
The Oakland Museum Of California is a great place for your whole family. One of the largest collections of early photographs from the Gold Rush of 1849 will impress your young photographer. The Gallery of Natural Sciences is for your conservationist kid. Painterly landscapes of California will interest your moody art student kid in the classic art galleries.
This museum loves families and has the family activities to prove it. Don't miss Friday Nights at OMCA. Live music, arts 'n crafts, dance lessons, story time, and food trucks! Wet wipes will be needed—come prepared.
Ok, here's an offbeat family activity. Take a 20 minute tour of the The Oakland Fortune Cookie Factory. Opening their doors in 1957, they are the oldest fortune cookie makers in the Bay Area, going back three generations. They still make their fortune cookies entirely by hand…in bed. Get it? In bed?
Chabot Space and Science Center has it all for the space-crazed kid. Exhibits, telescopes, and a planetarium located in the serene Redwoods Regional Park of Oakland. Whether your kids are old enough or not to understand the humor of the planet Uranus, everyone will enjoy themselves at this family attraction.
Best Outdoor Attractions With Kids
You've probably called at least one of your kids "an animal" within the last 48 hours. So follow through with a visit to The Oakland Zoo during your trip. Managed by the Conservation Society of California, they are dedicated to the conservation of wildlife, both locally and globally. Over 700 native and exotic animals live in the zoo. Opening their gates in 1922, Oakland Zoo is often recognized for outstanding animal care, particularly their elephant care program, and its state-of-the-art veterinary hospital. The zoo offers special family activity options like behind the scenes tours of the veterinary hospital, or early morning "Be a Zookeeper" visits.
Ahh, the American pastime of baseball that keeps you busy washing uniforms, driving kids around, and investing in bug spray. There's still nothing like a live baseball game. Take the family to see The Oakland A's play. Known for being the most family-oriented team in the MLB, they even have a summer reading rewards program on their Summer Family Fun roster.
Visit the primitive Sibley Volcanic Park on the land of an extinct volcano. There are several trails in the preserve, most restricted for exploring on foot and horseback only. There are no campgrounds or picnic areas in the preserve so this is only a good place to visit if your family really likes roughing it. You may prefer the baking soda and vinegar volcano you can make at home when unclogging your sink.
Oakland's Frog Park is a testament to what a community can do when they come together. Built by over 1,300 volunteers in 2001 and maintained by volunteer and donations, you can feel the love here. Bring your little ones to play at this popular park. Show your older, future community organizers what can happen to a once weed-filled vacant lot.
Lake Merritt is a three-mile long oasis on a heart shaped shoreline. Check their very filled calendar for tons of family activities like biking, boating, rowing, croquet games, and scooter riding. Colorful playgrounds and great bird-watching, too. Future Master Gardener in your family? The community-maintained gardens are beautiful as well.
Bustling Jack London Square is the place to take your family on a free harbor tour! From May to October of 2019, the port of Oakland sponsoring free harbor tours operated by the Blue & Gold Fleet, the primary ferry provider for all things San Fran Bay. The tours will be held twice a month and each harbor tour will take about 90 minutes. If the closest your kids get to sailing is a Chips Ahoy cookie, then they'll really enjoy this.
Best Restaurants in Oakland for Kids
Homeroom Mac + Cheese was founded by Erin Wade, a young overworked woman with a late night mac 'n cheese craving. That fact alone should send you running there. Erin brought out her father's classic childhood recipe, hung up her lawyer clothes, kicked ass raising money on Kickstarter, and opened the doors on Valentine's Day of 2011. With a funky schoolhouse décor and an insanely delicious mac 'n cheese menu, just pile into any form of transportation and go here for a family-friendly dining experience.
The Fat Lady Restaurant has a colorful history. Filled with authentic Victorian and San Fran saloon decor, you'll feel like you've gone back in time. Bring your family to Sunday brunch here for a civilized treat. Oh, hey, FYI this was once a brothel. Spice it up with the husband remembering the delicious Mama Pat's hotcakes once you get back home.
Zachary's Pizza has won over 200 Best Pizza awards. Serving thick or thin crust pizza, checking out a city's pizza scene is a family-friendly activity. It's practically a sport in most families.
Just as scoping out pizza should be a family sporting event, so should ice cream. The ice cream at Fentons Creamery starts with the cow. Using only the best high-calcium, high-protein, sweet and rich cream from happy California cows, their ice cream flavors are classic and creative. But don't come to Fentons just for dessert. Their food menu is about the most kid-friendly menu you can find. Go ahead, get crazy. Eat dessert first for a family memory the kid's won't soon forget. Judgey Joan from the drop-off line isn't here. It's okay.
Fun Fact: the kids will love that Fentons was even spotted in the Pixar movie "Up."
Best Hotels in Oakland for Kids
Nothing is inexpensive in the Bay Area. Including hotels. So just suck it up and book a room or suite at one of these comfortable choices.
The Comfort Inn and Suites in Oakland is conveniently located and is a good value for your buck. Comfortable, clean, with all the basics. Just tell them to go to sleep already.
The Radisson Hotel at the Oakland Airport has free shuttle service, a pool, a restaurant, and the suites have two 50-inch TV's. You still probably won't ever get control of the remote.
Now let's get funky at the Z Hotel Jack London Square. With rock star amenities, this boutique hotel is walking and crawling distance to tons of waterfront attractions. One less car ride, one less kid who has to pee, one less "are we there yet?" makes this place worth it.
More: Bring Your Kids To The Twin Cities
This article was originally published on