Things to Do in Oklahoma City with Kids
by Amanda Svachula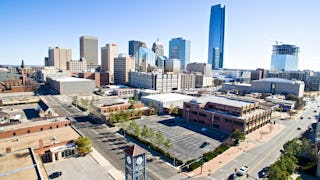 Dustin Gwin / EyeEm/Getty Images
Oklahoma City, the largest city in the state of Oklahoma, has unique activities and an interesting history your family will enjoy discovering. Here are a few things to do with kids in Oklahoma City.
Best Oklahoma City Attractions for Kids
There are plenty of fun attractions to check out in Oklahoma City, OK. The Oklahoma City Museum of Art is a kid-friendly attraction that the whole family can enjoy. There are "kid labels" on various pieces of art, which serve as helpful guidelines to take you through the museum.
The Museum of Osteology is a unique educational (and fun) attraction, featuring over 800 real skeletons, from tiny mice to a large humpback whale.
If your kids are the right age and you feel comfortable exposing your children to the history of the Oklahoma City bombing, you should visit the Oklahoma City National Memorial Museum. It's a somber, but beautiful place.
The National Cowboy and Western Heritage Museum is a great cultural resource and the kids will love it. Explore a selection of cowboy boots and Native American artifacts. On Saturdays, the museum holds fun family-friendly events, like one showcasing traditional Native American games.
The train-fanatic in the family will love the Oklahoma Railway Museum, which offers train rides for kids on certain days of the month. On a rainy day, you can go to Brickopolis Entertainment, located in the tourist district of Bricktown, for laser tag, a pizza buffet and mini golf.
Best Kid-Friendly Restaurants in Oklahoma City
There are plenty of restaurants with diverse options in Oklahoma City. If you're hungry for a big breakfast, go no further than the cute Sunnyside Diner. Order Silver Dollar Pancakes or the Hungry Kid platter— you won't regret it.
Kitchen 324 offers more of an elevated dining experience for the whole family. Kids can order grilled cheese on sourdough, while everyone can try out one of the restaurant's craft pastries.
For an easy group dinner in Oklahoma City, Ok., try The Wedge. It has some of the best pizza in the city. You can pick a pie for the whole table and sit on the outdoor patio.
Best Outdoor Activities in Oklahoma City
The Myriad Botanical Gardens in Oklahoma City offer a ton of kid-friendly activities depending on the day. These activities include a twig-engineering workshop and a summer children's garden festival. Another great outdoor attraction is the Oklahoma City Zoo, which offers early childhood exploration programs. Sign your kids up before your trip!
Riversport has outdoor activities for kids, including a zip line and a cloud bounce, while the Bricktown Water Taxi takes you for a trip along the Bricktown canal.
Best Hotels in Oklahoma City
Located in Bricktown, one of the most bustling neighborhoods, the Hilton Garden Inn Oklahoma City Bricktown has an indoor pool and is close to shops and restaurants. The Colcord Hotel is housed within a historic building and offers a more luxurious hotel experience.
Best BBQ in Oklahoma City
You can't leave Oklahoma City without trying its barbecue. There are several famous restaurants you can visit in the city. Iron Star offers an urban take on barbecue, with plenty of kid-friendly options with fun names like the Buckaroo Sandwich and the Little City Slicker.
Swadley's is a world-famous family-owned restaurant in Oklahoma City, with a barbecue method pioneered over 80 years ago. Back Door Barbecue has a rustic vibe, and serves a ton of different combination plates your family can share.
You can get meat by the pound at Earl's Rib Palace, which also has a Kid's Rib Dinner.
MORE: Places to Bring Your Family in Pittsburgh
Great Activities for Toddlers in Galveston
Best Places for Kids in Knoxville
This article was originally published on