Things To Do in Orange County With Kids
by Erica Landis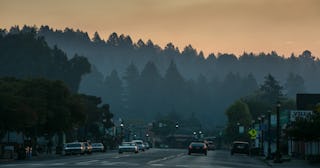 George Rose/Getty Images
Orange County is home to every kid's dream destination and every parent's budgeting goal—Disneyland. But Orange County is also where you'll find 42 miles of beaches, family attractions, kid-friendly restaurants, and that special brand of suburban California fun. Over 3 million people call "The O.C." home. Families love the weather and friendly people. Here are some of our favorite things to do in Orange County with kids.
Family Attractions in Orange County
Knott's Berry Farm has rides for younger kids and older thrill seekers as well. The Old West theme with a hefty dose of lovable Charlie Brown's Peanuts gang has live music and entertaining shows for everyone. Impress your little stuntmen and women with the live Wild West Stunt Show.
The cool moms will ride rollercoasters like Xcalerator, the Silver Bullet, and the wooden Ghostrider. But the cool moms will also order a boysenberry cocktail at the famous Mrs. Knott's Chicken Dinner Restaurant after a wild day of crazy family fun.
There's so much to do here that we'd recommend staying at The Knott's Berry Farm Hotel to take advantage of a vacation package. And another one of those boysenberry cocktails. It is an actual berry farm, after all.
Don't miss Soak City waterpark right next door with nine rides and 17 different water slides.
"The Little Theme Park That's BIG On Family Fun" is known as Adventure City in Anaheim. Fantastic for families with younger children- there's over 17 rides and a very family-friendly staff. You'll also enjoy how affordable the day will be.
If any amusement park over-stimulation or spinning nausea sets in, take a break for some calming animal therapy in the sweet petting zoo. Moms first, please. We need some quality time with that goat more than anyone.
LEGOLAND California is everything you'd expect from your favorite small evil piece of plastic that has maimed parental feet for years. Except LEGI is getting bigger and wilder. Visit the Legoland Waterpark for their awesome wet rides for kids of all ages.
LEGOLAND Sea Life Aquarium is another addition to LEGOLAND. Active hands-on learning and up-close encounters with sea creatures including sharks, octopi and rays!
Take the Balboa Island Ferry across to Balboa Island for an art show or music festival. See where Old Hollywood celebs like Humphrey Bogart would dock their yachts.
Newport Beach Whale and Dolphin Watching Cruise is a really fun and educational family activity. Watch for whales and dolphins off Newport Beach aboard a double-decker catamaran with 360-degree views, eliminating shouts of "I can't see!" Various marine wildlife thrives in this protected area just outside Newport Bay.
This is the best way for the whole family to get their faces out of their devices. Don't take your eyes off the water. You may see humpbacks, gray whales, finback whales, blue whales, seals, and several species of dolphins. The boat has a 96% success rate spotting whales or dolphins.
Hop on and off the Laguna Beach Trolley as you explore all the beaches and parks. There are so many things to do with kids in Laguna Beach.
Crystal Cove State Park has beautiful beaches, 18 miles of hiking trails, and tidepool exploration. Tidepools allow you to get a peak inside the ocean when the tide creates small pools with ocean sea creatures right under our noses. No collecting mussels, pet hermit crabs, or sea urchins. This is a protected area.
Visit the Pacific Marine Mammal Center where their mission is to rescue, rehabilitate, and release seals and sea lions. Your young conservationists and marine biologists will learn a lot. There's no admission charge but your contributions are appreciated and put to great use. You'll want to empty everyone's piggy bank after seeing this wonderful place. Virtually adopting one of their adorable residents is the best souvenir of your family vacation to Orange County.
Indoor Activities in Orange County for Kids
The Discovery Cube Science Center of Orange County's mission is to inspire, educate, and impact all our young scientists and educators. Through exhibits like The Boeing Rocket Lab , Planetary Research Station, and The Eco Challenge, kids will have hands-on fun in this popular school trip destination.
The Laguna Art Museum is the museum of California art. Collections and exhibits of art created by California artists or represent the life and history of the state. Impressive and innovative exhibitions and programs for families with a family friendly admission price make this a great museum for kids. The air conditioning is almost as beautiful as the artwork.
The Lahabra Children's Museum is inside a historic 1923 Train Depot. As if that weren't cool enough, the museum also provides outreach activities to disadvantaged children that include free school tours and classroom visits, community festivals, family workshops and educational programs. Their mission to enable all children to learn through exploration, interaction and play has been going strong since 1977.
There are seven hands-on galleries and an outdoor dinosaur garden and historic 1942 caboose. Children can ride a kid-sized carousel, take a walk in T-Rex's footprints, pump gas, drive a bus, dress up and perform, and dig for fossils all in one afternoon!
Kids love pirates. Moms love Johnnie Depp—and dinner. Find yourself on common ground at The Pirates Dinner Adventure. in Buena Vista. This 18th century replica pirate ship is anchored in a 300,000-gallon indoor lagoon with night sky lighting. Surrounding the lagoon is a six-sided showroom of six additional ships where the audience is seated and enjoys their casual pirate dinner.
Your family will cheer with the actors, singers and stunt performers in this family friendly show. There's cool cannon blasts, pyrotechnics and plenty of laughs to keep everyone interested. Plus, if you're game, your family may end up in the show.
Best Places to Eat in Orange County With Kids
Angelo's & Vinci's has been voted year after year "Best Italian Restaurant" for not only their food, but their over the top décor. Something to see in every corner including photos of Hollywood celebs enjoying their giant menu. Named as a No. 1 kid-friendly restaurant as well, kids love the surprises in every corner. Fairy lights abound under cathedral ceilings with smiling faces looking down. There's colorful Sicilian puppets, the carnival masks and canals of Venice, and the romance of Romeo & Juliet.
Beach Pit BBQ Newport-Mesa is where you'll find the best BBQ in Orange County. Check out the menu beforehand and get your family ready for some wet wipe action. No, we're not making preschool handprints. We are eating BBQ at this casual family-friendly restaurant. It's the southern smoke done California style.
Bucca di Beppo has a family style menu so the kids can all eat their buttered noodles while you choose your own dinner. No you can't try mine. Stand your ground.
Nothing says family time more than hamburgers. Well, that may not be true but play along. The Counter in Irvine is a create your own burger place with a super fun menu. There are vegan, gluten free, low carb, and mini burger options. The is a great place to hone your children's decision-making skills. So much to choose from in a sleek but comfortable atmosphere. Oh, and one more thing—there's milkshakes.
Do you need a beer? The Lazy Dog Restaurant & Bar in Irvine can read your mind. Order one or two of their inventive microbrews. Order some food. Watch the kids get excited over the kids menu. Don't leave without joining their beer club to take some of this good family meal experience home with you.
Best Places to Stay in Orange County With Kids
Anaheim Marriot Suites is one mile from Disneyland and so many more attractions in Anaheim. There's a family friendly pool. All the rooms are suites with sitting areas. Translate: room for all your crap and plenty of personal space. Yes, there's never really enough personal space, so sneak down to the Starbucks right in the lobby.
Country Inn & Suites Santa Ana is only 11 miles to Disneyland but even closer to build sandcastles or play in the surf at nearby Newport Beach. Free Wi-Fi and a free, hot breakfast every day of the week.
Right Across the street from Newport Beach, you could stay at the Hotel Solarena- Best Western Premier. Take a break from the ocean with a swim in the outdoor heated pool. Fill the family up on a deluxe free breakfast ever morning before hitting the California sun.
Marriott Residence Inn Anaheim Hills-Yorba Linda has apartment-style suites that are 50 percent larger than your average rooms. That's more space to keep squabbling siblings away from each other and more space between you and a snoring spouse. Sounds good to us. Free hot buffet breakfast, high speed Internet and evening socials on select nights. Suites with kitchenettes available too. Walking distance to shopping, restaurants, and even a movie theatre makes this feel like a home away from home for your family vacation.
MORE: Best Of Florida For Special Needs Families
Charlottesville's Charm For Families
This article was originally published on