Things to Do in Palm Springs With Kids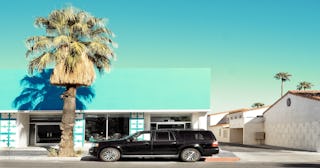 Martyn Goddard/Getty Images
Looking to vacation in Palm Springs, California? Located in the Sonoran Desert, the city is a hot travel destination (for many reasons) with plenty of kid-friendly activities, attractions and hotels nearby. There is something to do for everyone in the family, from the Living Desert Zoo to a jeep tour. Here are the best things to do in Palm Springs with kids.
Kid-Friendly Attractions in Palm Springs
There are plenty of kid-friendly attractions in Palm Springs. Choose from our list to get started.
Above all, this is one of the most popular kid-friendly attractions in Palm Springs. Feed a giraffe with the kids or they can ride the Endangered Species Carousel. Plus, there are a ton of interactive experiences inside, like Gecko Gulch, an interactive outdoor play area. Seasonal Hours: Open daily. October 1 – May 31, 8 a.m.- 5 p.m. Summer Hours: Open daily. June 1 – September 30, 8 a.m. – 1:30 p.m. Read reviews of the Living Desert Zoo and Gardens.
Remember the dinosaurs in the cult-classic "Pee-Wee's Big Adventure?" You can find them at this unique stop in Palm Springs. It features over 50 types. Children under the age of 2 get free admission. Open daily, 9 a.m.-8 p.m. Admission: $13 for ages 13-54, $11 for ages 3-12, free for ages 2 and under, $10 for ages 55+ and members of military. Read reviews of the Cabazon Dinosaurs.
With over 80 hands-on exhibitions, you will not run out of things to do at this museum. The exhibitions focus on science experiments involving the world around us. Open Monday through Saturday from Mid-November through Labor Day, 10 a.m.-5 p.m. Open Tuesday through Saturday from September through Mid-November, 10 a.m.-5 p.m. Open Sunday 1 p.m.-5 p.m. Open third Wednesday of the month, 10 a.m.-8 p.m. Admission: $9.95, Ages 1+. $7.95, active military members. $5 after 5 p.m. on the third Wednesday of the month. Read reviews of the Children's Discovery Museum of the Desert.
The museum is home to one of the world's largest collections of flyable Word War II aircrafts. It also has artifacts from the Cold War, Korean and Vietnam wars. Your kids will loving touring the interiors of planes. Open daily, 10 a.m-5 p.m. Admission: Free, ages 5 and under. $10.50, ages 6-12. $15.50, ages 13-17. $17.50, ages 18-65. $15.50, age 65+ and retired military members. Read reviews of the Palm Springs Air Museum.
Kid-friendly Outdoor Activities in Palm Springs
"Farm" is deceiving here. This is a 160-acre family fun destination. You absolutely have to take a trip here because it has something for everyone in the family—a range of amusement park rides, a waterpark, and Mrs. Knott's Chicken Dinner Restaurant. Open daily, hours change seasonally. Admission: $53+. Read reviews of Knott's Berry Farm.
Animal-lovers in the family? Stop by this stable to ride horses on over 150 miles of trails. Right near the beautiful Indian Canyons, you can do hour or daylong trips. Closed for summer, hours vary based on weather and scheduling. Cost: $60+. Read reviews of Smoke Tree Stables.
The world's largest tramcar is at your fingertips in Palm Springs. Jump on for a 2.5-mile ride complete with sweeping views of the Chino Canyon in Palm Springs. Once you get to the top, you'll find two restaurants, a cocktail lounge, observation decks, a natural history museum, two theaters and over 50 miles of hiking. Summer Hours (May 24-September 1): Monday-Thursday, first tram up at 10 a.m. Friday-Sunday, first tram up at 8 a.m. Sunday-Thursday, last tram up at 8 p.m., last tram down at 9:45 p.m. Friday & Saturday, last tram up at 9 p.m., last tram down at 10:30 p.m. Regular Hours (September 2-May 23): Monday–Friday, first tram up 10 a.m. Saturday, Sunday and Holidays, first tram up 8:00am. Daily, last tram up at 8 p.m., last tram down at 9:45 p.m. Admission: $16.95, ages 3-10. $26.95, adults. $24.95, 65+.
If you're sick of hiking and just want to sit down, an open-air red Jeep tour is a great option. You can choose from a selection of tours—the San Andreas Fault Jeep Tour is considered the signature activity. Open daily, 8-6 p.m (hours may vary based on which tour you book). Cost: $115+. Read reviews of Red Jeep Tours & Events.
Kid-Friendly Restaurants in Palm Springs
Complete with a Kid's Minnow Menu (with safe options for picky eaters like noodles and butter), this is a great Palm Springs spot for seafood. You can order baskets of fried jumbo shrimp for the whole table or the Hawaiian Combo (grilled salmon, jumbo shrimp, and mahi mahi glazed in teriyaki and topped with pineapple) for yourself. Open daily, 11 a.m.-9 p.m. Read reviews of Fishermans Market and Grill.
This is a classic option for great Mexican food. The family-owned restaurant has resided in Palm Springs for over 60 years. Open Sunday-Thursday, 11 a.m.-9 p.m. Friday & Saturday, 11 a.m.-10 p.m. Read reviews of Las Casuelas.
For a casual dinner, try this burger joint that serves up a simple but potent selection of burgers and sandwiches. The kids will love the milkshakes and root beer floats. Open Monday-Saturday, 11 a.m.-4 p.m. Closed July 1-August 30. Read reviews of Tyler's Burgers.
Craving corned beef, lox, and pastrami? This restaurant serves a sophisticated brunch filled with traditional Jewish food. Open daily, 8 a.m.-3 p.m. Read reviews of Wexler's Deli.
For a more casual breakfast, try Elmer's. It's a classic family breakfast spot, with an extensive kids menu featuring fun menu items like the Mac & Ham, Kraft Macaroni & Cheese with diced hickory smoked ham and the Cub Cake, pancakes in the shape of a bear. Open daily, 6 a.m.-9 p.m. Read reviews of Elmer's Restaurant.
Top Kid-Friendly Resorts:
This huge resort (around 20 minutes from Palm Springs) spans 45 acres. Surrounded by mountains, it has several pools, including a kid-friendly 60-foot waterslide. If you're looking to steal away from the kids for a day, it also has a special program for kids called Camp Hyatt. For guests ages 3-12, indoor and outdoor activities include scavenger hunts, mini golf, nature walks and movies. Read reviews of the Hyatt Regency, Indian Wells Resort and Spa.
This is another option which is pretty close to the Palm Springs airport. In particular, this resort has the best pool. It resembles a sandy beach, which the kids will love. Read reviews of the Renaissance Indian Wells Resort & Spa.
A truly picturesque resort, the Westin is a great kid-friendly option with gorgeous amenities. Like the Hyatt Regency, it has a waterslide, among other activities. Read reviews of the Westin Mission Hills Resort & Spa.
Generally a more budget-friendly option, this Hilton is a great option close to restaurants and shopping. It also has a nice outdoor pool. Read reviews of the Hilton Palm Springs.
Best Parks in Palm Springs
You can't go to Palm Springs without going to Joshua Tree, by far the most popular hiking spot in the region. Filled with boulders and interesting-shaped trees, your family will love coming here for either a camping trip or a hike. There will be plenty of family photo options! Everyone will find something intriguing. Open daily, 8 a.m-5 p.m. $15, individual weekly pass. $30, vehicle permit. Read reviews of Joshua Tree National Park.
Six miles from Palm Springs, the canyons are tribal lands rather than traditional state parks. It's closer to the city than Joshua Tree. Despite having a small entrance fee, it's definitely worth checking out. Open daily (Oct. 1-July 4), 8 a.m.-5 p.m. Open Friday-Sunday (July 5-Sept. 30), 8 a.m.-5 p.m. Admission: $5, ages 6-12. $9, adults. $7, adults 65+. Read reviews of the Indian Canyons.
This option is also close to Palm Springs. The park has 54 miles of hiking trails, including parts of the Pacific Crest Trail. Open daily, 8 a.m.-4 p.m (hours subject to change based on season.) Admission: Free, parking fee of $10. Read reviews of Mount San Jacinto State Park.
MORE: Take Your Toddlers on a Trip to Tampa
Places That Will Captivate You and Your Family on Captiva Island
Best Things to Do on Hilton Head Island With Kids
This article was originally published on