Things To Do in Portland, ME With Kids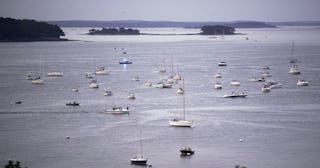 Getty Images
Portland, Maine, is a seaside city perfect for families looking for a beachy vacation. But the city also offers a variety of indoor activities for families to enjoy. Here are our favorite things to do in Portland with kids.
Kids Attractions in Portland, ME
The Portland Museum of Art has an extensive collection of paintings and sculptures. Part of their permanent collection is a selection of Winslow Homer's work. The museum's offerings go beyond visual art into the realm of performing art. They'll often host film screenings and dance events. Open Monday- Wednesday, 10 a.m. – 6 p.m.; Thursday – Friday, 10 a.m. – 8 p.m.; Saturday – Sunday, 10 a.m.– 6 p.m. Admissions: adults pay $18; all guests under 21 get in free. Read reviews of the Portland Museum of Art.
If you and your family are bigfoot believers or skeptics, you should check out the International Cryptozoology Museum. This spot can answer, or really pose, all the questions you could have about creatures that may or may not roam our world. While visiting you can see fossils, hair samples and other artifacts that are being used to investigate these creatures. There's also a gift shop so you can pick up some accessories for your new interest in cryptozoology. Open daily, 11 a.m. – 6 p.m. Admissions: adults pay $10, kids 12 and under pay $5. Read reviews for the International Cryptozoology Museum.
Maine State Aquarium showcases the kind of animals you think of when you think of the ocean around Maine. One of its biggest attractions is a giant lobster named Neptune. They also host a touch tank where kids can pet certain sea creatures. They also have a fully stocked gift shop so you can bring a little piece of the ocean home. Open daily 10 a.m.- 5 p.m. Admissions: adults 13 and up pay $7, kids 3-12 pay $3. Read reviews for Maine State Aquarium.
This children's museum is dedicated to letting kids guide their own fun and learning. They can play pretend in an exciting setting like a kid-sized movie studio. They can get active on the museum's playscape. Then it's time for for a show; the theater puts on kid-friendly productions like "The Little Prince." Open daily, 10 a.m. – 5 p.m. Admissions: $12.50 per person, kids under 17 months are free. Read reviews for Children's Museum and Theater of Maine.
If you want to see a piece of Portland's history, head to Portland Head Light. Known as Maine's oldest lighthouse, the park is full of plenty of exploration options beyond the lighthouse. Visit the Children's Garden, that was developed to help kids become one with nature. You can also take in the sights on one of their many bus tours. Open daily from sunrise to sunset. Read reviews for Portland Head Light and Fort Williams Park.
Best Restaurants in Portland, ME for Kids
The Great Lost Bear has tons of vegetarian and vegan options to choose from. Though their focus is burgers (and veggie burgers) they also offer a wide selection of salads, wings, and nachos. There is also a gluten-free menu available on request. The atmosphere is casual, with plenty of Instagramable murals making up the decor. Open daily, 11:30 a.m. – 11:30 p.m. Read reviews of The Great Lost Bear.
The High Roller Lobster is dedicated to bringing patrons fresh, local food. Not only is their seafood sourced locally, but their rolls are also the product of local bakeries. Patrons can customize their lobster rolls with exciting sauces like hot relish and lime mayo. They also offer some unique desserts, including maple miso and blueberry sweet corn ice cream. Open Monday – Thursday and Sunday, 11 a.m. – 11 p.m.; Friday and Saturday, 11 a.m. — 1 a.m. Read reviews for The High Roller Lobster.
This diner offers a wide selection of classic diner food. They have an entire section of their menu dedicated to comfort food. Entrees include hot turkey plates and baked macaroni and cheese. Guests can top off a meal with a sweet treat from their menu of milkshakes, malteds, and rootbeer floats. Open Sunday-Wednesday, 7 a.m. – 3 p.m.; Thursday – Saturday, 7 a.m. – 8 p.m. Read reviews for Miss Portland Diner.
This ice cream spot offers small-batch, homemade ice cream. As they explain of their commitment to details, "If we make a vanilla bean ice cream, we scrape the beans, if we make a lemon sorbet, we squeeze the lemons, one at a time." Some of their unique flavors include Pretzel Toffee Swirl and Nordic -Style Salty Licorice. They also offer a variety of non-dairy options. Open daily, 11 a.m. – 11 p.m. Read reviews for Mountain Desert Island Ice Cream.
Captain Sam's Ice Cream bills itself as Portland's only "premium" ice cream made in the city. They do make the ice cream buying experience whimsical, from the ice cream-eating crocodile statue out front to their beach-themed mural. Their ice cream flavors reflect both Sothern and New England heritage. Their flavor options include blueberry and salty caramel. They also have non-dairy sorbet. Open daily, 11 a.m. – 11 p.m. Read reviews of Captain Sam's Ice Cream.
This small seafood spot has a reputation for delivering great food in a simple setting. They offer all the seafood classics you'd expect, from fried clams to seafood chowder. They also have sweet options for dessert, like whoopie pies. If you have a picky eater who isn't into fish, they also offer some "landlubber" staples like hot dogs. Open Monday – Saturday, noon – 7 p.m.; Sunday, noon – 6 p.m. Read reviews of Miller Brother's Seafood.
Best Hotels in Portland, ME for Kids
AC Hotel by Marriott offers all guests free high-speed Wi-Fi. They also offer the things you might have forgotten to pack, from cribs to playpens. Their fitness center is fully stocked, though there is no pool. Make note, this is not a pet-friendly hotel. Read reviews of AC Hotel by Marriott Portland Downtown/Waterfront.
Union Bluff Hotel has a long history, serving guests for over 100 years. Its biggest draw is probably its on-the-beach location. All rooms are air-conditioned and come with free Wi-Fi. Their on-site restaurant features kids meals, and guests are able to explore not just the beach bordering the hotel, but also their surrounding gardens. Read reviews of Union Bluff Hotel.
Newagen Seaside Inn is the perfect place to stay if you're looking for a more casual, cottage vibe. Each room is styled in a different, beachy way, so each stay is unique. There are even opportunities to have a whole freestanding cottage to yourself. Best of all, almost every stay includes an ocean view. Read reviews of Newagen Seaside Inn.
This pet-friendly hotel offers rooms that come equipped with things like large "soaking" tubs and luxurious beds. Guests are able to borrow bicycles to explore the city for free. If you want to get some exercise inside, they also have a fitness center. And the concierge also offers a roster of available nannies. Read reviews of Portland Harbor Hotel.
Outdoor Activities in Portland, ME for Kids
Funtown Splashtown USA is more than just a waterpark. The entertainment center also offers bumper boats and multiple rollercoasters. They also offer a selection of kiddie rides for younger kids, including bumper boats specifically created for the youngest boaters. They also feature more than 15 separate areas to get snacks and meals. Open May — September, hours vary. Read reviews of Funtown Splashtown USA.
The park is a great place to discover wildlife native to Maine. They also feature a few non-native animals, including peacocks. Beyond the animals, there are also trails and gardens to visit. When you're ready for a break, there's also a picnic area where you can eat and grill. Open daily from 9:30 a.m.-4:30 p.m. Read reviews for Maine Wildlife Park.
Schooner Miniature Golf bills itself as "Maine's largest 18-hole miniature golf course." The course is decorated with all the classics, from ships to lighthouses. There's even a hole that takes place on the ship! They also boast a full-service ice cream shop. Open April — Labor Day, call for hours. Admissions: Over 13 pays $9, 5-12 pays $8, and 4 and under pays $5. Read reviews for Schooner Miniature Golf.
Best Bookstores in Portland, Maine for Kids
Letterpress Books is full of cozy and quirky designs. Their extensive children's section includes fiction, nonfiction, and activity books. They also host a variety of events for kids. Recent events have included reading's from local children's book authors and a Where's Waldo themed party. Open Monday – Saturday, 9 a.m. – 6 p.m.; Sundays, 10 a.m. – 5 p.m. Read reviews of Letterpress Books.
Longfellow Books is a charming indie bookshop with an impressive kids book selection. They regularly host events for kids like picture book readings and meet and greets with children's book authors. Recent events for kids include a meet and greet with illustrator Chris Van Dusen. Beyond books, the shop also carries things like kids clothing and stuffed animals. Open Monday – Friday, 9 a.m. – 7 p.m.; Saturday, 9 a.m.- 6 p.m.; Sunday, 10 a.m.- 6 p.m. Read reviews for Longfellow Books.
MORE: The Best Things To Do With Kids in Gatlinburg
Fun Family Vacation Ideas in Maui
Kids Activities You Need to Try in Garland
This article was originally published on