Things to Do in Reno With Kids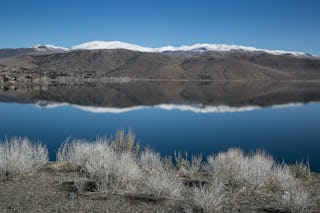 George Rose/Getty Images
Located right near the famously beautiful Lake Tahoe, Reno, Nevada, is a great family vacation spot. You will find many kid-friendly attractions and stunning hiking trails surrounded by vast expanses of desert and mountains. This is also a casino hotspot, where you can steal away for some adult fun. Here are a few things to do in Reno with kids.
Top Kid-Friendly Attractions in Reno
The National Automobile Museum has more than 200 cars from the late 19th century and 20th century on display.
About a 30-minute drive North of Reno, you will find Animal Ark, a huge wildlife sanctuary and nature center. The kids will love watching employees feed the bears. Above all, you have to see Poppy, a beautiful tiger.
Need an escape from the desert heat? First, wander through the hallways of the Nevada Museum of Art. Second, see a show at the Fleischmann Planetarium at the University of Nevada, Reno. "Perfect Little Planet" is a great show to see with kids because it takes you through the whole solar system.
Another obvious attraction to visit is the Tracy Lee Wells Nevada Discovery Museum. Founded as a children's museum, the space expanded into a full science center. However, it still has plenty of hands-on, educational experiences for kids.
Best Family-Friendly Resorts in Reno
Reno is home to huge resorts, many of them jam-packed with amenities and activities for the whole family. Peppermill Reno has a Tuscan Italian theme, and a huge game lab to keep the kids occupied. If they win 500 tickets, they can get a free gelato.
Notably, the Grand Sierra Resort is another kid-friendly option. It hosts the largest arcade in all of Reno called "Fun Quest," right within the hotel, which has laser tag and bumper cars.
Best Restaurants in Reno for Kids
Peg's Glorified Eggs n Ham has a quirky vibe true to its name. Go there for a variety of comforting breakfast food, most with a touch of Southwestern influence.
Frequently voted the best pizza in Reno, Pirate's Pizza is an easy dinner option. It has a variety of inventive pizza offerings, like the Japanese pizza, which has Teriyaki Chicken, pineapple, red onions, green peppers and tomatoes.
Furthermore, you should put Pinocchio's Bar and Grill on your list. It has classic American food and a solid kid's menu.
Top Outdoor Activities in Reno for Kids
There are countless outdoor activities and attractions in Reno, Nevada. First and foremost, you have to spend some time at the crystal-clear Lake Tahoe, a short drive away from Reno. If your family is into skiing, Mt. Rose is a must-visit, as one of the closest ski resorts to Reno. Don't worry if you're kids have never skied before – there are lessons offered on the mountain.
The Reno Riverwalk District is a great place to explore when you first arrive in the city. For a more hiking-heavy Riverwalk, visit the Truckee River Walk, a scenic 2-mile loop. The Sierra Safari Zoo is a small walkable zoo, but also the largest zoo in Nevada.
With a botanic garden, arboretum and a museum, the Wilbur D. May Center is a fun place to go for an entire day, or at least for a few hours in the morning or afternoon. Learn about rancher and philanthropist Wilbur D. May, and wander through the large expanses of nature.
Greater Nevada Field, the home of the Reno Aces, is a fun spot to catch a baseball game at on a breezy day.
Best Parks in Reno for Kids
For even more nature viewing, there are plenty of parks to bring the family to in Reno. Rancho San Rafael Regional Park has a wetland habitat and a historic ranch house that will transport you to the past.
Bartley Ranch Regional Park is a sweeping 56 acres. Pack a picnic and head to one of its four picnic areas or reserve a horseback-riding session.
Idlewild Park is one of the most beloved parks in the city, for its duck pond and summer events. On Fridays during the summer, over 30 food trucks line up near the park.
MORE: 20 Best Things to do in Atlanta With Kids
Things To Do In Pittsburgh With Kids
Best Things to Do in Memphis With Kids
This article was originally published on