Fun Things to Do in Riverside With Kids
by Nikki M. Mascali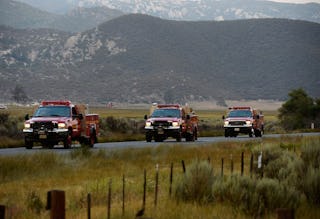 Kevork Djansezian/ Getty Images
Riverside, California, doesn't have the beaches or theme parks Southern California is known for. But, it is a beautiful, historic city where the state's citrus industry was born. So, don't skip over it when looking for another family-friendly destination in SoCal. To get you started, here are our picks for the best things to do in Riverside with kids.
Kids Attractions in Riverside
Castle Park is one of the best things to do in Riverside with kids. There are 28 rides, four 18-hole mini golf courses, carnival games and a huge arcade. In addition, cool off in the hot SoCal weather at Buccaneer Cove. This water playground has five slides, tunnels, spray cannons and more.
Walk among dinosaurs at Jurupa Mountains Discovery Center. Admission to the botanical garden where the hulking metal dinos are is free. But, there is a nominal fee for the Earth Science Museum, where Chinese dinosaur eggs are among the exhibits.
Kiddos 101 is an indoor play area for kids under 6. It's designed to encourage them to not only play, but learn and imagine, too. You will have to buy Kiddos 101-specific grip socks for $2.50 before letting your littles loose.
Everyone will love Glo Mini Golf, a 27-hole, glow-in-the-dark indoor course. Add 3-D glasses for even more trippy fun. Plus, there is an arcade and gaming rooms for Xbox and VR.
Your wannabe pilot will love the March Field Air Museum. There are more than 70 aircrafts and artifacts on display. Most importantly, there's a children's play area where they can dress like an aviator, sit in a mock cockpit and let their imagination take flight.
You'll be as fascinated as your kids at the Mission Inn Museum. A 75-minute tour will teach you all about the history of Riverside's famed — and gorgeous — Mission Inn hotel.
While in the Mission Inn District, visit the Riverside Art Museum. You'll find a mix of contemporary and traditional art as well family-friendly activities and classes.
Best Restaurants in Riverside for Kids
There is so much to look at The Old Spaghetti Factory that the kids won't remember to bicker. Ask to sit in the train car to occupy them even more. In addition, every meal in this Italian eatery is three courses, and there is a vast kids menu.
Similarly, there's a ton of eclectic folk-art to take in at Tio's Tacos. Which is good because there's usually a wait, but the fresh and authentic Mexican fare is worth it.
Simple Simon's has a great menu for any dietary preference. Plus, they have a wide array of delicious, homemade baked goods.
Be sure to pop into Afters Ice Cream. There you'll find funky flavors like milk and cereal, cookie butter and peanut butter s'mores. Or, create your own Milky Bun. That's a glazed bun stuffed with ice cream and then heated for a unique hot-cold treat.
Best Hotels in Riverside for Kids
The Mission Inn isn't just beautiful architecture and a museum. It's also a fantastic family-friendly hotel and spa. It has a heated outdoor pool, lots of dining options (including a cupcake boutique), and the kids will love exploring every nook and cranny. In addition, I highly recommend treating yourself to the yummy cactus rose margarita in the Presidential Lounge.
At the Hyatt Place Riverside/Downtown, all rooms come with a sofa bed, which is convenient if you've got a big bunch. Or, if you just want to have a bed to yourself, of course. There is breakfast, a cocktail bar and 24/7 market with grab-and-go drinks and bites.
Marriott Riverside at the Convention Center is centrally located downtown. It offers breakfast, a Starbucks coffee bar, plus an on-site bar and restaurant. There's also an outdoor pool and whirlpool.
Outdoor Activities in Riverside for Kids
California Citrus State Historic Park celebrates the area's history. In fact, a replica roadside fruit stand, complete with a giant orange, is at the entrance. There are 250 acres of citrus groves, plus museums, tours and trails for biking and hiking. You can't pick any fruit, but you may get a chance to taste some fresh-picked goodies on tours.
Your family could spend a whole day at beautiful Fairmount Park. Its 250 acres boasts three lakes, paths, boats, a rose garden and an incredible 25,000-square foot fully accessible playground with splash pad.
For more outdoor activities in Riverside for kids, visit Hidden Valley Wildlife Area. There are miles of hiking, biking and walking trails in this park along the Santa Ana River. Plus, kids can get hands-on with animals and reptiles in the nature center.
Check out the amazing views of Riverside and beyond from Mount Rubidoux. There are stroller-friendly paved paths and dirt ones, too. But be warned: some paths are steeper than others, and there's not a lot of shade, so dress accordingly.
Activities in Riverside for Kids
No, it won't be the drive-in movie experience of your colorful youth. But, the Van Buren Drive-In Theatre makes for a great — and affordable — family-friendly attraction in Riverside.
Get a pic of the family in front of the World's Largest Paper Cup. To clarify, it's actually concrete, but it's a fun photo opp nonetheless. Find it at 800 Iowa Ave. in Riverside, at the site of a former paper cup factory.
Another regional treasure perfect for Instagram is Pumpkin Rock. Yes, it's a giant rock painted like a jack-o'-lantern. It can be seen for miles atop a big hill in nearby Norco. Warning: the climb gets a bit tough, but the views are worth it. What's more, you'll get a great pic and the kids will definitely be too tired to fight. And maybe talk. Bonus!
MORE: The Top Things to Do in Anaheim After You're Over Disneyland
What to Do in Long Beach With Your Family
A Kid-Friendly Guide to Fresno
This article was originally published on