Things to Do in Rochester, NY With Kids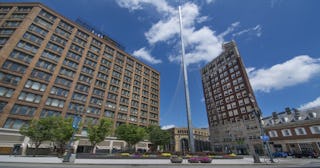 Getty Images
Looking for ways to get the most out of your time in Rochester, NY? We've got suggestions for everything from places to stay to how to sample the city's famous "garbage plate." Don't know what that is? Don't worry, read on. Here are the best things to do in Rochester with kids.
Family-Friendly Hotels in Rochester, NY
Where to stay in Rochester? Whether you want to splurge or save money, we've got the hotels to check out (and then check in).
The Strathallan Rochester Hotel & Spa DoubleTree by Hilton offers a pool, spa and fitness center. They also offer babysitting services, a children's menu, and high chairs and playpens, plus their signature chocolate chip cookie upon check in. It's right in the heart of the city's cultural and historic districts, plus you're close to the Blue Cross Arena and the Museum of Play, as well as the Erie Canal and University of Rochester. Rooms are large—see if you can snag one with a balcony.
Looking for a splurge? Woodcliff Hotel & Spa offers free airport pickup and drop-off, so you can start and end your stay with less stress. They also offer a nine-hole golf course, indoor and outdoor pools, a spa, and an on-site Starbucks. Once you're fueled and ready to go, you're close the Finger Lakes, several wineries, and a number of museums. Rooms have different themes, from Art Deco to Southwestern and NYC Loft. We're not sure what to make of that.
The Hyatt Regency Rochester is located right on the Genesee River; it's the tallest hotel in the Finger Lakes region. Guests are near wineries, golf courses, and ski slopes. If you're feeling really flush, get the suite with the pool table. No? You can still take advantage of the pool and fitness center.
Hampton Inn & Suites Rochester is centrally located—you're close to the thruway, the airport, and lots of area attractions. You can enjoy a free hot breakfast, or grab one of their breakfast bags to go, Monday-Friday. There's also a fitness center and pool. And check out their complimentary shuttle to the airport and nearby attractions.
If you're looking for a small, boutique hotel experience in Rochester, the Inn on Broadway (which used to be the University Club, in 1929) fits the bill. It has 25 rooms, plus restaurants, museums, and shops are a short walk away. It's well located in the East-End Theatre District. Also, breakfast is complimentary, so dig in!
Family-Friendly Restaurants in Rochester, NY
It's dinner time! Or breakfast, or lunch. When you're with kids, it's almost always time to eat something.We've got suggestions for whatever food-related time it may be.
Jines is the kind of place you go when you're craving pancakes at noon or a hamburger at 8 a.m. They serve breakfast, lunch and dinner all day. Eggs are served at least a dozen different ways, and you can also get waffles and hotcakes, as well as crème brulee oatmeal. If lunch is what you're craving, try the Greek specialties or the Club Sandwich. Read reviews here.
When in Rochester, go for the garbage. One of the city's signature meals is the garbage plate, which offers a combination that generally includes something like a cheeseburger, macaroni salad, French fries, and baked beans, all mushed together. Two restaurants in particular offer this as their specialty: First off, there's Henrietta Hots. You can get this speciality in several different versions, and there are also other items on the menu, like sandwiches. There's also a kids menu. But if there was ever a time to embrace the whole "When in Rome" thing, this would be it. Read reviews here.
The second place to try the garbage plate is Nick Tahou Hots, which bills itself as "Home of the Garbage Plate." It was, in fact, the first, and it dates back to 1918. The base starts with a combo that might include French fries, macaroni salad, and baked beans, topped with hamburger meat, onions, and mustard and hot sauce, which may contain even more meat. You can also choose your own additions. You can also get sandwiches if you lose your nerve. Read reviews here.
Rochester, New York may not be synonymous with barbecue in your mind, but Dinosaur Bar-B-Cue, which has several locations, manages to make it work. Try a sampler platter to start (shrimp boil, fried green tomatoes, deviled eggs, or perhaps what seems to be yet another version of the garbage plate—the dino poutine, which mixes fries, pork, beef gravy, pimento and onion). A combination plate is probably the way to go for your entree, with ribs, pork, brisket and chicken; there are also sandwiches, for those who want to commit sacrilege and order something like a BLT. Read reviews here.
Dogtown offers hot dogs with a choice of 18 toppings, all named for dogs, thank you very much, all served on French bread. (There are other options for non-hot-dog lovers.) You can get an Irish Setter (topped with corned beef, sauerkraut, Russian Dressing and melted Swiss), a Boston terrier (bacon, baked beans, special sauce) or a German Shepherd (sauerkraut, onions, mustard), among others. You can also get sandwiches and vegetarian options, as well as chili and, yes, their version of a garbage plate. Read reviews here.
Family-Friendly Activities in Rochester, NY
From zoos to museums, there are plenty of ways to enjoy family activities in Rochester. See what we suggest, below.
The Seneca Park Zoo may be small, but there's plenty to see. Amphibians and reptiles, mammals (we're partial, but don't miss the red panda) and invertebrates (like a rose tarantula, a weird mix of the elegant and the deeply scary), birds and fish (check out the big mouth bass). The zoo offers a bunch of cool family programs, from Kinderzoo (programs for the littlest zoo visitors) to Bunk with Beasts, a zoo sleepover. Read reviews here.
The Strong Museum is about…play. They've got the National Toy Hall of Fame—did you know 68 toys have been inducted, including the Frisbee and G.I. Joe? They've also got the World Video Game Hall of Fame—look for favorites like Super Mario Bros and Tomb Raider. Interactive exhibits like "The American Comic Book Hero: The Tale of Good vs. Evil" tests out vistors' balance, memory, and strength, while an old-fashioned carousel and train lets you travel the old-fashioned way. Read reviews here.
If you're looking for a screen-free afternoon for your kids, the Ontario Play & Café offers 14,000 feet of everything but electronics. Parents can hang out and snack (sandwiches, pizza, coffee) and socialize or work, while their kids hang out at the playground (sliding, jumping spinning), a water play area, and a sensory play area. Read reviews here.
RocVentures Climbing Gym offers two kinds of climbing—top-rope (roped climbing with a partner) and bouldering (no ropes, no partner needed). Classes, camps, birthday parties and even a kids' night out are offered—parents can drop off kids ages 6 and up for supervised climbing, and either watch them or have their own night out.
The Rochester Museum & Science Center offers a variety of cool science-based programs and exhibits for kids. In the Electricity Theater, for instance, you'll see bolts of lighting just a few feet away (indoors.). It's part of Science Alive, a series of live-action science experiments. You can also check out the Strasenburgh Planetarium, with shows on the solar system; and the Cumming Nature center (fermentation, anyone?) Read reviews here.
Family-Friendly Outdoor Activities in Rochester, NY
Parks (both manmade and natural), ponds, and lighthouses–just a few of the ways to have outdoor fun in Rochester, NY. See what we've rounded up, below.
Seabreeze Amusement Park (if you're in the know, just call it "Seabreeze") offers more than 70 attractions, from kiddie rides (mini roller coasters; kiddie boats) to thrill rides, which include the Jack Rabbit, the oldest continuously operating roller coaster in America (it dates back to 1920.) You can also try out the Water Park, family rides, and various stage shows. Read reviews here.
Highland Park offers 150 acres of outdoors for Rochesterians (Rochesters?) that includes an array of memorials and gardens. The former includes the Vietnam Veterans Memorial and the Workers' Memorial, while the latter includes the Lamberton Conservatory, open year round. Various events are held there throughout the year, like the Lilac Festival in May. During the winter, you can pretend you're Laura Ingalls Wilder and skate on the pond. Read reviews here.
Dr. Martin Luther King Jr. Memorial Park at Manhattan Square is right next to the Strong Museum. Within its five acres you'll find a skating rink in the winter, plus a kids' playground with a sprinkler, and a music venue. It's a good post-museum stop, or one when you just need a respite from…everything.
Located on the shores of Lake Ontario, Ontario Beach Park offers swimming and boating in the summer, plus a pier. There's also a historic carousel, Big Band Dances in the spring and fall, seasonal food sellers, and, for six months out of the year, pickleball—a mix of tennis, badminton, and table tennis. Read reviews here.
A visit to the Charlotte-Genesee Lighthouse, the oldest operating lighthouse on Lake Ontario, should include both the lighthouse and the historical society. They offer public tours of the keepers house (which includes interesting historical artifacts) and the lighthouse—bring your camera to snap some of those great views. Read reviews here.
Photo Op: The George Eastman Museum is one of the places that gives Rochester its claim to fame—it's located on the grounds of George Eastman's estate—he's the one who pioneered both photography and motion picture film. To see where his invention has taken us, stop by the Image City Photography gallery for a look at contemporary photography—it's in the middle of ArtWalk, an area that has the highest concentration of visual and performing arts in upstate New York.
MORE: Why I Travel When My Kids Are Young
Why A Staycation Makes The Best Vacation
Ways To Survive The Summer Roadtrip
This article was originally published on