Things To Do in Sacramento With Kids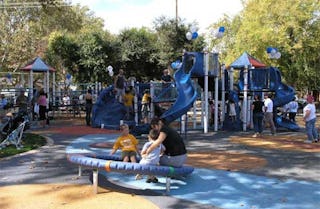 CIty of Sacramento
If you're heading to California's capital with the family, there are plenty of kid-friendly attractions in Sacramento sure to keep even the youngest in your group busy. And even though the Northern California city is landlocked, that doesn't mean you can't have some fun on the water.
Kid Attractions In Sacramento
Sacramento Children's Museum features plenty of opportunities to explore art, science, and nature. A hanging collection of pool noodles to run through and a twisting maze of tubes are a few guest favorites.
Funderland Amusement Park boasts free admission and free parking—you'll just need to pay for tickets to experience the rides, like the carousel and the flying dragon (an ages two and up rollercoaster). With nine rides, a concession stand, and plenty of photo-op spots, you can definitely make a day of it here.
Visiting Fairytale Town will make your kids think story time has come to life. As you walk along the park's path you'll come across nearly 40 spots to explore that range from nursery rhyme-themed jungle gyms to a full children's theater.
Urban Air Adventure Park has a seemingly endless collection of attractions to keep kids moving—and having the time of their lives. There are arcade and amusement park classics like bumper cars and a rock climbing wall, as well as more unique offerings like a course for Ninja Warrior wannabes, and a virtual reality gaming hub.
Sacramento Pipe Works boasts over 100 climbing routes and 9,000 square feet of bouldering. Kids under 14 need to be with a parent at all times, but the space is kid-friendly with special belay classes and even a climbing team just for kids under 18.
Best Restaurants in Sacramento for Kids
The Waffle Experience is your go-to destination if you know waffles transcend breakfast. Try one of their sandwiches with a seasoned waffle bun, and make sure you order their organic fresh roasted coffee. The kid's menu will impress with elevated sides like pesto potatoes as well as a healthy fresh fruit option.
Leatherby's Family Creamery first opened its doors in 1982, and since then it's been making enormous, mouthwatering ice cream creations from the classic banana split to massive milkshakes. And if you fall in love with their homemade chocolate or caramel sauce, you can even order a jar shipped to your home.
Burger Patch is the perfect spot for vegetarian and vegan options. Their burgers, shakes, fries, and nuggets are all animal product free. Burgers come in adorable farm stand style containers that aren't just super Instagrammable, they're also made of recycled material and ready to compost.
If you aren't sold on Roma II Pizzaria's four-and-a-half star rating on Yelp, you can take comfort in the fact the pizza place has Food Network's stamp of approval. The network dubbed the restaurant "one of America's best big city pizzas." You can even sample their famous pies with your own bottle of wine—just pay a $10 corkage fee.
The Old Spaghetti Factory lives up to its name, serving old school Italian in classic digs for 50 years. Their famed three-course meals guarantee you get to try an appetizer, entree, and dessert, even if you're ordering off the kid's menu.
Best Hotels in Sacramento for Kids
The Greens Hotel is the perfect place to stay if you want to spend as much time outdoors as possible (while still sleeping in a comfy bed inside). You can enjoy your lunch at the hotel's private picnic spot, or take a dip in the outdoor pool, which is (gasp!) heated.
Amber House Inn provides a B&B vibe with each room offering a slightly different experience, all named after famous composers and authors that really captures the stately, old-world feel of the decor. Breakfasts are complimentary, gourmet, and with two-course options can definitely fuel you up for even the busiest itinerary.
Kimpton Sawyer Hotel features only the most modern decorating flourishes and plenty of little touches that make it perfect for active families—yoga mats are provided, bikes are available to borrow, and pets are more than welcome. Their outdoor pool is surrounded by greenery and features food service.
The Citizen Hotel is a must-stay for architectural geeks, who'll appreciate the hotel's design by George Selland. Pet-friendly, guests can also enjoy the lauded in-house restaurant and the on-site fitness center.
Outdoor Activities in Sacramento for Kids
Alpacas All Around is just as magical as the name would suggest. Wander around the alpaca farm guiding your own adorably fluffy alpaca (teens 14 and up can do their own leading, anyone younger has to be accompanied by an adult). All alpaca tours are private, and pricing depends on the size of your group.
The Sacramento Zoo has been introducing kids to animals from across the globe for over 90 years. Guests are able to hand feed the giraffes, explore the reptile house and laugh with the lemurs. And if you get your fill of live animals, you can always take a break with the quieter creatures on the zoo's carousel.
Capitol Park is a collection of gardens surrounding the State Capitol Museum. Check out the international collection of trees and spend a moment by the several war memorials before heading into the museum.
Water Activities in Sacramento
Boarding on the Lake provides guided horse rides along Folsom Lake for riders as young as 10 (all kids will be given helmets). A little over a thirty-minute drive from Sacramento, the trail offers a unique experience for even veteran riders.
Billed as the "closest whitewater to the Bay Area and Sacramento," Whitewater Adventures offers day rafting trips for under $100 (lunch included). Just don't watch "The River Wild" beforehand.
SeaQuest is the perfect place for anyone who wants to get up close to some sea creatures—really close. Pet a stingray, touch some coral, feed a shark close.
More: The Best Things To Do In NYC As a Family
How To Experience Paris With Kids
Your Must-See List For Family Attractions in Boston
This article was originally published on