Things to Do in Salt Lake City With Kids
by Nikki M. Mascali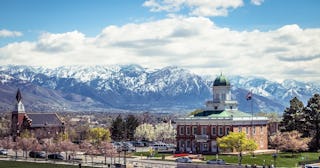 Lukas Kloeppel/Pexels
Forget what you know—or think you know—about Salt Lake City, Utah. This capital city should be on your radar if you're looking for a super-fun, year-round vacation destination. There's much to do inside and outdoors, and it has a vibrant nightlife, 30 craft breweries and an incredible food scene. But, you should also consider taking a family vacation in Salt Lake City. With so many kids attractions and places for family fun, you'll wonder why you didn't visit sooner. Read on for the best things to do in Salt Lake City with kids.
Kids Attractions in Salt Lake City
One of the best kids attractions in Salt Lake City is the Natural History Museum of Utah, which turns 50 in 2019. It's full of fascinating earth science and regional exhibits, but we bet everyone will roar about the dinosaur gallery.
If you want to see real, live animals, head to Hogle Zoo. It has giraffes, zebras, bears, otters, tigers, elephants and more. Take a train ride through the African Savanna and a spin on the Conservation Carousel, which just begs to be Instagrammed. And just in time for 2019's revamp of "The Lion King," the zoo's meerkats and warthogs like Timon and Pumbaa recently moved near each other. Hakuna Matata!
Salt Lake City is the world headquarters of the Mormon Church, which founded the city in 1847. See what life was like for those first settlers at This Is the Place Heritage Park. It's a great family-friendly attraction in Salt Lake City—regardless of your religious beliefs. In addition to a cool history lesson, it has pony and train rides, farm animals, gemstone mining, a Native American village and more.
Fit in some hands-on fun with a side of learning on your family vacation in Salt Lake City at Discovery Gateway Children's Museum. There are tons of interactive exhibits, including a real helicopter outside.
The whole family will love spacing out at Clark Planetarium. You can stargaze, take in a laser light show and get handsy with the science and space exhibits.
Before you and your family head out, consider taking public transportation in Salt Lake City. Its buses and light-rail line TRAX gets you anywhere you need to go, including the ski resorts in Salt Lake City.
Best Hotels in Salt Lake City for Kids
The Grand America Hotel is stunning and, more importantly, very kid-friendly accommodations. Its Families First program provides kids amenities and even babysitting services if you want to take advantage of SLC's nightlife without them.
Across the street is Little America Hotel, its more wallet-friendly sister hotel. It, too, is lovely with spacious rooms, beautiful pools and great views.
Kimpton Hotel Monaco is a funky and fun place to stay in Salt Lake City with kids. In addition to providing cribs and playards, Hotel Monaco gives them a welcome gift, kid-friendly restaurants and even their own happy hour.
Outdoor Activities in Salt Lake City For Kids
Bordered by Great Salt Lake and the snow-capped Wasatch Range means there are tons of year-round outdoor activities in Salt Lake City for kids. In fact, one of its nicknames is Ski City. So, there are plenty of family-friendly ski resorts just a quick jaunt from downtown. Get a customizable Ski City Super Pass for discounted lift tickets for the family for Alta, Brighton, Snowbird and Solitude resorts. You can skip the ticket line and head right to the slopes. In addition, it includes free transportation on UTA ski buses and TRAX.
For a truly unique outdoor activity in Salt Lake City with kids, go to Great Salt Lake State Park. It's on the largest saltwater lake in the Western Hemisphere. And the water's so salty the kids won't sink if they swim, which is sure to blow their minds. There's hiking, sailing, fishing, camping and more here, too.
Red Butte Garden has themed gardens, including one just for children, and miles of nature trails. There's also a bunch of activities for kids and concerts in summer.
See where the bison roam at Antelope Island State Park. Deer, bobcats, birds and its namesake also call this park home. Plus, there's a historic ranch house, camping, hiking, biking and horseback riding.
Let your family vacation in Salt Lake City be for the birds—in a good way—at The Tracy Aviary. There are hundreds of species and lots of "Nose to Beak" experiences for the family to get hands on with them, too.
Other Things to Do in Salt Lake City With Kids
Utah Olympic Park, where the 2002 Winter Olympics took place, is 25 miles away in Park City and it's definitely worth making the trip from Salt Lake City with kids. Not only can they learn all about the 2002 Winter Games, but there's extreme tubing, zip lining, bobsledding and more. They can also watch Olympians in action as it's also an official U.S. Olympic Training site.
You don't have to be religious to appreciate historic and majestic Temple Square. The downtown headquarters of the Mormon Church is an architectural site to see—and the most-visited attraction in Utah. The temple itself isn't open for tours, but you can tour the grounds. Also, Christmas at Temple Square is a magical family attraction in Salt Lake City.
If you're looking for more family-friendly events in Temple Square, check out the free rehearsals by the acclaimed Mormon Tabernacle Choir. They take place every Thursday night. In addition, there are 30-minute organ recitals every day, and the kids will be wowed by the organ, which has 11,623 pipes.
Another great thing to do in Salt Lake City with kids is attend a Utah Jazz NBA game. Or, if MLS soccer is your family's kicker, Real Salt Lake plays in nearby Sandy.
Best Restaurants in Salt Lake City for Kids
With countless things to do in Salt Lake City with kids, you're bound to work up pretty big appetites. Luckily, you'll find your fill at one of the city's many eateries. One of the best restaurants in Salt Lake City for kids is Red Rock Brewery. And not just because it's a craft brewery, which mom is sure to enjoy. It has a great menu, including one for kids. While you tip back a cold brew, they can down fresh Red Rock root beer or cream soda. And fear not—the sodas are caffeine-free without high-fructose corn syrup.
Ruth's Diner is a quintessential American diner—and the second-oldest restaurant in Utah. With such an ample menu, no one in your family will leave hungry. But save room for Ruth's chocolate malt pudding and save us a bite, too.
While there's no specific kids menu, they'll find something delicious at Pig & A Jelly Jar. It serves scratch-made southern brunch every day of the week. Its cocktail menu is pretty tasty, too.
Another great restaurant for kids in Salt Lake City is The Roof Restaurant. This gourmet buffet is on the 10th floor of the Joseph Smith Memorial Building in Temple Square. Its views are just as delicious as its famed desserts.
MORE: The Best Family-Friendly Activities in Denver
What to Do in North Las Vegas With Kids
A Kid-Friendly Guide to Boise, Idaho
This article was originally published on