Top Things to Do in Santa Ana With Kids
by Nikki M. Mascali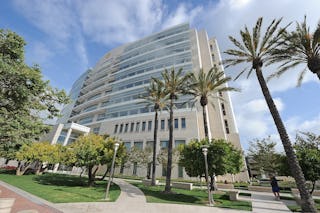 Robyn Beck/Getty Images
Santa Ana, California, isn't just Orange County's largest city. It's also a cultural hub filled with art, funky shops, lots of restaurants and more. Plus, its proximity to theme parks makes this a great family-friendly destination in SoCal. So, here is a list of things to do in Santa Ana with kids.
Kids Attractions in Santa Ana
With more than 80 species of critters, Santa Ana Zoo is one of the top things to do in Santa Ana with kids. Challenge yours to find all 50 monkeys that are required to be on the grounds at all times per its founder's wishes. Likewise, ride the Zoofari Express train, Conservation Carrousel and Fifty Monkeys Ferris wheel.
Mix indoor exercise and fun by hopping into Rockin' Jump Trampoline Park. The kids will love the open jump, climbing walls, stunt bags and slam-dunk zones. There are even special times during the week just for toddlers. Note: you will have to buy Rockin' Jump's specialty socks for $3.50.
You might think the Main Place Mall is more for you to shop till you drop. But, it's actually another family-friendly attraction in Anaheim. The complex has designated family parking spots, a vibrant play space and family lounges with private nursing areas, changing stations and kid-centric TV shows and toys. After that, catch a reasonably-priced, current flick at Picture Show.
Want to sneak in some learning while in Santa Ana with your family? Discovery Cube Orange County has 100 interactive and educational exhibits that are great for kids of all ages.
If you have a budding firefighter in the family, check out the Santa Ana Fire Department Museum. Set in a working fire station, there's vintage and modern equipment on display, and they can get handsy with a fully-restored fire engine from 1921.
Kids are always climbing on something, amiright? So, let them get it out at Sender One Climbing. Kids and adults will love Sender City with its buildings, towers and huge drop slide. Most importantly, your small ones in a harness and helmet a foot or two off the ground in toddler park will be too cute to handle.
Best Restaurants in Santa Ana for Kids
Here are just a taste of some of the best restaurants in Santa Ana for kids.
If you want healthy and delicious family-friendly food in Santa Ana, Gypsy Den has both. And, there are vegan and vegetarian options as well. Certainly mom will love its equally vast cocktail menu, too.
The whole family will love 4th Street Market. This food hall is housed in the former Santa Ana Swap Meet and has 15 vendors, incubator kitchens, and lots of family-friendly events like movie nights.
Grab a quick bite at Tacobar for breakfast, lunch or dinner. Feed the kids first, then let them play on the eatery's playground so you can have a peaceful nosh.
Sure, you can get tasty salads and sandwiches. But, leave room for dessert at Hans Homemade Ice Cream. This 1950s-themed parlor has all the classics, but also yummy signature flavors like Nutella krunch, pineapple or watermelon sherbet and hand-dipped frozen bananas.
Hit up Chunk N Chip for one of their infamous ice cream "sammiches." Ice cream and cookies are handmade in small batches, and flavors range from classic to far-out. Plus, they have gluten-free and vegan options.
Best Hotels in Santa Ana for Kids
Room rates at the Courtyard Santa Ana include high-speed internet, Netflix and Hulu. Plus, each room has a mini fridge, and some rooms come with a sofa bed to accommodate families of any size.
DoubleTree by Hilton Hotel Santa has on-site laundry service, a kid-friendly restaurant, pool and cribs. Most importantly, there are chocolate chip cookies.
A hearty breakfast is included at the Country Inn & Suites by Radisson. In addition, there's a pool, hot tub and laundry facilities. It's also close to several eateries for lunch and dinner.
Outdoor Activities in Santa Ana for Kids
There are a lot of outdoor activities in Santa Ana for kids. What's more, they're pretty great for adults, too.
Head to Downtown Santa Ana the first Saturday of the month for the Artwalk. The event features dozens of galleries, vendors, bars and restaurants. In addition, there are live street performances, kid-friendly activities and free trolley rides across DTSA.
Similarly, download the app for a self-guided Discover Santa Ana Public Art tour. Put the kids on the lookout for the other graffiti, sculptures and artwork they may spot along the way, too.
After visiting Discovery Cube Orange County, head to Santiago Oaks Regional Park across the street. There are paths for biking, hiking and horseback riding, playgrounds, a scenic overlook and more.
Other Things to Do in Santa Ana With Kids
Take the family back in time at the Heritage Museum of Orange County. Explore buildings from the 1890s, including the Kellogg House, which oddly has a ship mast smack in the center of the home. The kids can play with vintage toys, dress up in Victorian costumes and visit a working blacksmith shop.
Add some culture to family time in Santa Ana by visiting the Bowers Museum. There are more than 91,000 artworks from all over the world. And it offers family festivals where you can all make art and learn about other cultures, too. Note: its renown Kidseum is currently closed for renovations.
If you've got a gamer or two in the family, check out Esports Arena. The 15,000-square-foot facility hosts daily competitions as well.
MORE: What to Do in Anaheim With Kids After Disneyland
A Kid-Friendly Guide to Long Beach
All The Things You Must to Do in San Jose With Kids
This article was originally published on