Things to Do in Sedona with Kids
by Amanda Svachula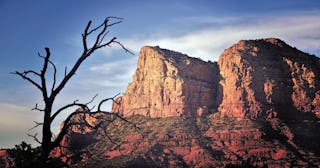 Tim Mossholder/Pexels
Taking a family vacation to Sedona, Arizona? Sedona is a desert town surrounded by canyons, the red rocks and pine forests. Given its spot in nature, there are a ton of outdoor activities to do with kids, along with a long list of cultural activities to tap into. We've compiled a list of kid-friendly activities, attractions and more, that are sure to make your trip to Sedona amazing. Here are the best things to do in Sedona with kids.
Kid-Friendly Attractions in Sedona
Although Sedona is packed with nature and hiking, there are also a few notable kid-friendly attractions. If you tire of nature, these attractions are especially great to visit.
This museum calls itself the "caretaker" of Sedona area history. Besides displaying unique artifacts and treasures from the past, it also holds fun events. In July, it holds an event to celebrate the National Day of the Cowboy. Open daily, 11 a.m.-3 p.m. Admission: $3, children under 13 with audio guide. $10, adults with audio guide. $7, adults self-guided. Read reviews of the Sedona Heritage Museum.
A little bit of a drive from Sedona, this zoo and wildlife center is truly worth traveling to. It transports you to Africa with its exotic selection of animals. Your kids will love watching zoo employees feed a tiger. Also, you will definitely want to sign up for the African Bush Safari Tour. Open daily, 9:30 a.m.-5 p.m. Admission: $23.95, ages 3-12. $38.95, age 13+. $31.95, active or retired military members. $36.95, ages 65+. Read reviews of Out of Africa Wildlife Park.
This is a great place to re-energize after a long day of hiking. As one of the largest art galleries in the world, exposures has a ton of gorgeous paintings, jewelry and other artwork on display that your kids will find whimsical and intriguing. Just remember to tell them, "don't touch." Open daily, 10:30 a.m.-5 p.m. Admission: free.
Kid-Friendly Restaurants in Sedona
A true Southwestern city, Sedona is home to all different types of cuisine. Check out the most family-friendly restaurants in Sedona.
The restaurant's motto is "here you're family." What more could you ask for? Your kids will love this place because of its delicious Neapolitan pizza you can share with the whole table. Try the Sedona White, Ricotta-Parmesan cream sauce, fresh wild mushrooms, fresh basil, fire roasted tomatoes and Vermont white cheddar cheese, topped with arugula. Open Tuesday-Sunday, 3-9:30 p.m. Read reviews of Gerardo's Italian Kitchen.
For a quick lunch pitstop, look no further than Sedona Memories. Decorated in American attire, the cute restaurant serves up delicious sandwiches and sweets. Open Monday-Saturday, 10 a.m-2 p.m. Read reviews of Sedona Memories Bakery & Cafe.
Visit this classic dinner restaurant for its excellent steak, inventive seafood dishes and other American fare. There's also a great kids menu. Open Monday-Thursday, 11 a.m.-8, Friday, 11 a.m.-8:30 p.m., Saturday 8 a.m.-8:30 p.m., Sunday 8 a.m.-8 p.m. Read reviews of Golden Goose American Grill.
This is a great casual Italian restaurant for dinner – and it is truly a hideaway! The selling point is its deck which offers gorgeous views of the canyon and creek in Sedona, especially at sunset. Plus, it has an extensive menu filled with Italian classics like lasagna and chicken parmesan. Open Sunday-Thursday, 11 a.m.-9 p.m., open Friday-Saturday, 11 a.m.-10 p.m. Read reviews of the Hideaway House.
Get some Southwestern fare with a view of the famous red rocks at this cantina. There are tie-dye margaritas for you (yes, you read that right), and handhelds like quesadillas and tacos for the little ones. Open daily, 11:30 a.m.-8:30 p.m. Read reviews of the Javelina Cantina.
This no-frills restaurant has been around since the 1950s. It is located near a rock formation called Coffee Pot Rock (hence its name), and is great for breakfast or lunch. Open Monday-Saturday, 6 a.m-2 p.m. Read reviews of the Coffee Pot Restaurant.
Family-Friendly Hotels in Sedona
As a vacation destination, Sedona has many places to stay. Most have great kid-friendly pools – perfect for cooling off in the desert heat. Check out our list of kid-friendly hotels and resorts in Sedona.
This is a great option with scenic views of the red rocks you can take in while sitting at one of its two outdoor pools. It's also located in the heart of the city – easily accessible to other activities and attractions. Read reviews of the Arabella Hotel Sedona.
This is a standout because of its Camp Coyote program. The program offers activities for guests ages 4-12. These activities include nature walks, pottery making, star gazing and scavenger hunts. While you explore the more adult activities the city has to offer, your kids will still be entertained. Read reviews of the Enchantment Resort.
A budget-friendly option, this hotel is no-frills, but still has a heated pool and free breakfast. It also has a nice terrace with scenic views. Read reviews of the GreenTree Inn Sedona.
In an area called Oak Creek Canyon, between Sedona and Flagstaff, Arizona, this inn offers a quieter, more outdoorsy getaway than the other traditional resorts. You can rent one of its cabins, and explore its gorgeous garden. Read reviews of the Butterfly Garden Inn.
Outdoor Activities in Sedona
From tours of the countryside, to activities like horseback riding, you won't run out of things to do outside in Sedona.
https://www.instagram.com/p/Bzv4OCbHDp2/
Look pretty in pink while exploring the nooks and crannies of Sedona's landscapes. You can choose between quick trips and all-day excursions, depending on how long you want to be out on the terrain. Open daily. Prices vary, $59+. Read reviews of the Pink Jeep Tours.
This is a Roman Catholic Church that was built into the rocks of Sedona. It was commissioned by a local rancher and sculptor who was inspired by the construction Empire State Building in the 1930s, and wanted to build a church. Visitors love its unique architecture and stunning views. Open daily, 9 a.m. -5 p.m. Read reviews of the Chapel of the Holy Cross.
This company calls itself "Sedona horseback riding heaven." If your family enjoys horseback riding, you'll love one of the ranch's rides through its private trails in the desert countryside of Sedona. Prices and hours vary based on ride. Read reviews of the M Diamond Ranch.
Best Hiking in Sedona
Furthermore, when you're in Sedona, you have to pack up some water, slather the family in sunscreen, and go on at least one hike. And there are plenty of kid-friendly trails.
Above all, if you're traveling to Sedona, you have to go to Red Rock State Park. It's pretty kid-friendly for how big of a state park it is. It has a series of flat hikes that aren't too steep. Open daily, 8 a.m.-5 p.m. Admission, $5. Read reviews of Red Rock State Park.
This trail checks in at around 3.6 miles. You'll get great views of Bell Rock, Courthouse Butte and other really great landmarks. Its an easy to moderate trail, so very family-friendly. Open daily, 8 a.m.-5 p.m. Admission (Red Rock admission), $5. Read reviews of the Bell Rock Pathway.
A heavily trafficked-trail, this is another great option to visit with children. It's said to be one of the best trails in Arizona, and even the United States. There are a few stream crossings, which are absolutely gorgeous. Open daily, 8 a.m.-5 p.m. $10, vehicle. $2, walk-ins. Read reviews of the West Fork Trail.
20. Little Horse Trail
This trail has a ton of wildflowers that your kids will love to play with. It's a pretty easy route, and has scenic views. It ends in an area called Chicken Point. Open daily, 8 a.m.-5 p.m. Admission (Red Rock admission), $5. Read reviews of Little Horse Trail.
In case you're going to be flying with kids, we've got some advice on traveling with kids by plane.
MORE: Top Things to Do While Visiting Captiva Island With Family
Why Hilton Head Island is a Great Place to Visit With Kids
Best Spots to See in Tampa With Children
This article was originally published on