Things To Do in Spokane, Washington With Kids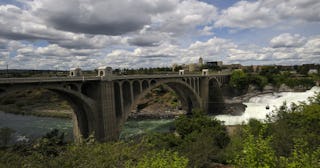 Wolfgang Kaehler/Getty Images
Spokane, Washington, is a city of the Pacific Northwest that often just overshadowed by Seattle and Portland. But if you're looking for hiking, good local food, and some quaint bookshops, Spokane might be the perfect, quieter option. Especially if you're traveling with family. Here are our favorite things to do in Spokane with kids.
Kids Attractions in Spokane
Mobius Science Center hosts labs that let young scientists experiment with chemistry and biology. At the center, kids use arts and crafts and other hands-on exhibits to learn about science.
Mobius Children's Museum features exhibits like Bubbleology and Kid's Market, which lets kids take charge of the grocery shopping duties for a little while. Make a note: the museum is closed on Mondays.
Valley Bowl Spokane boasts 20 lanes, including eight with bumpers. This summer, all kids who sign up on the spot's website get to play two games a day for free.
HIVE Virtual Reality Spokane lets you really get into your favorite video games. They welcome gamers as young as seven, and parents can vet what kind of games their kids have access to.
Laser Quest offers basic games for only $9 per person. Beyond the lasers and mood music, they also offer fog to make your mission seem even more exciting and mysterious.
Best Restaurants in Spokane for Kids
The Scoop has plenty of unique ice cream flavors to try, from basil to key lime pie. Their Liege Waffles are their most beloved treat and they're made fresh daily.
Frank's Diner has been making classic diner food for over one hundred years. Known for their breakfast menu, there are plenty of creative twists on morning favorites, like orange cranberry French toast and purple oatmeal.
Fire Artisan Pizza features a wide variety of personal pizzas with truly imaginative toppings, including sweet chili sauce, honey, and dates. Create your own or choose from one of the restaurant's whimsically-named creations, like the Honey Badger.
Mary Lou's Milk Bottle is worth a visit for the giant milk bottle that houses their ice cream place. After you've snapped your pictures, try one of their burgers or try to keep things balanced with an entree off their light menu.
Wisconsinburger has racked up a ton of "best ofs" over the years, including Best Burger by Gonzaga in 2017 and 2018. Though there's no official kids menu, they do have a selection of sliders for smaller hands and appetites.
Best Hotels in Spokane for Kids
Hotel Ruby2 offers unique amenities like free access to bicycles and a family game room. Enjoy a free breakfast at the hotel, or pick up a $5 voucher to grab breakfast at a local restaurant.
Montvale Hotel is a historic spot with all the old fashioned architectural and design details to make you feel like you've stepped back in time. Their pet-friendly rooms feature mini-fridges and microwaves.
Holiday Inn Express Spokane-Downtown is a low-key pet-friendly hotel with a free airport shuttle. They also offer a fitness and business center.
The Historic Davenport, Autograph Collection features only the fanciest details, including marble tubs in the rooms. To really relax, check out their spa, which also offers a range of services especially created for kids.
La Quinta by Wyndham Spokane North offers free breakfast to all guests and access to an indoor pool. Pet-friendly, the hotel also has on-site laundry.
Outdoor Activities in Spokane for Kids
Gaiser Conservatory is a collection of international plants housed in a massive greenhouse. Admission is free, and the collection is often switched up, so multiple trips will mean multiple experiences.
Wonderland Family Fun Center is full of attractions including mini-golf, go-karts, and bumper boats. You can get a kid's day pass for $25.99 to get all-day access to laser tag, the rock wall, and more.
John A. Finch Arboretum is a beautiful wooded area perfect for a walk or a picnic. Trees are labeled so kids can go on a kind of arboreal scavenger hunt.
Bookstores in Spokane for Kids
Auntie's Bookstore has been uniting readers with their favorite new books for over 40 years. Their kid section is well-stocked and packed with recommendations.
The Corner Door Foundation and Books is a combination bookstore and soda fountain. Though they have an extensive collection of books, they're best known for their puppets.
MORE: The Best Things To Do in New York City With Kids
Family Attractions in Pittsburgh
The Best Family Activities in Irvine
This article was originally published on