Things to Do in Stockton With Kids
by Amanda Svachula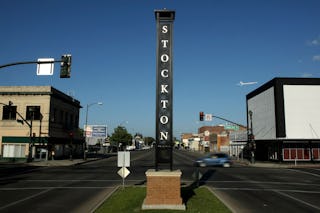 Justin Sullivan/Getty Images
Headed to Stockton, California? The central Californian city has a ton of fun activities for everyone in the family and a rich culture. Here are some of best things to do in Stockton with kids.
Kid-Friendly Attractions in Stockton, CA
If you catch yourself with a a rainy day, first stop by the Children's Museum of Stockton, which has over 40 interactive exhibits to spark creativity.
The Stockton Cambodian Buddhist Temple has colorful, bejeweled statues, while the Haggin Museum has a collection of old magazine covers. Your kids will love looking at both! If you're in need of a science lesson instead, visit the World of Wonders.
If your family is willing to sit down for a few hours, you should definitely catch a show at the Bob Hope Theatre, listed on the National Register of Historical Places.
Family-Friendly Restaurants in Stockton, CA
There are plenty of family-friendly restaurants in Stockton, California. Adalberto's has some of the best Mexican food in the city. Angelina's Spaghetti House has great Italian food.
Craving a burger or a fried chicken sandwich? FORK IT is a popular, casual family-friendly burger and sandwich stop. When you're on the lookout for a fancier meal, the Kitchen at Stonebrier is a great choice. Its menu has family-favorite dinners and its kids menu has all the staples, including grilled cheese.
For an ice cream pit stop, Midnight at Burnies Drive-up has a cinnamon toast shake with drizzle you won't be able to get enough of.
Outdoor Activities in Stockton for Kids
If your kids like make-believe, go no further than the Pixie Woods Amusement Park. It has a fantasy vibe because of its vintage merry-go-round and Pixie Express Train. You can all walk through its enchanted forest and magic pathways. The park itself is great for photo opportunities!
The Downtown Stockton Marina is a nice place to just walk around on a sunny day. The Weber Point Event Center has a children's play area near there.
Another fun thing to do is watch a race at the Delta Speedway.
Best Family-Friendly Hotels in Stockton, CA
There are a lot of family-friendly hotels in Stockton. You will especially want to check out the ones near the water, like the University Plaza Waterfront Hotel.
The Hilton Stockton has an outdoor pool and whirlpool. Another more modern option is the Courtyard Stockton.
Best Parks In Stockton
Because it's right on the San Joaquin River, the city has plenty of parks and outdoor spaces. Oak Grove Regional Park is one of the biggest at 180 acres. It has fishing, paddle-boating and picnic areas.
Victory Park has a more vintage vibe. The American Legion Park has a beautiful new playground.
MORE: Take Your Toddlers on a Trip to Tampa
Places That Will Captivate You and Your Family on Captiva Island
Best Things to Do on Hilton Head Island With Kids
This article was originally published on