Things to Do in Toledo With Kids
by Evan Levy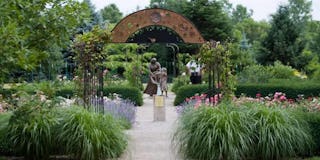 Toledo Botanical Gardens
There are so many great things to see and do in Toledo — it's actually the perfect place for a fun family vacation. Looking for ways to get the most out of your time in Toledo, Ohio, with kids? Check out the suggestions, below, for ideas on where to dine, play, shop and stay in Toledo. Here are our favorite things to do in Toledo with kids.
Family-Friendly Attractions in Toledo, Ohio
At the Toledo Zoo & Aquarium, you can work your way from viewing the smallest inhabitants (leaf cutter ants, butterflies) to the largest (elephants, bears). In between, you can check out the skinks and flamingos, the koalas and sloths. The zoo offers a ton of fun programs for kids as well. Adults, there's also plenty for you to do. And don't forget their behind-the-scenes offerings to get even more up-close-and-personal with the animals.
Would your kids like to design and race a (miniature) car, or perhaps create an animated cartoon? If you said no, you haven't been in proximity of a child lately. At the Imagination Station in Toledo, they can do both, plus explore energy, find out what fuels us, and even defy gravity riding a bike 20 feet above the ground. Parents: You can stop pouting—these activities are for everyone.
The Toledo Museum of Art's impressive collection includes paintings, decorative arts, glassware, sculpture, and works on paper. The Family Center offers drop-in workshops for kids 1-10 and their adults, and don't forget about lectures and public events. Also: admission is free. Huzzah!
Despite the fact that it sounds like a snack food ("would you like mustard with that Funagin?") the indoor entertainment center Funagins actually offers Laser Tag, an arcade, paintball, and a roller rink. There's even a playground—or, play sky might be more accurate—it's a 35,000 cubic-foot climbing maze.
Toledo's National Museum of the Great Lakes has more than 300 artifacts, 40 hands-on, interactive exhibits, and a variety of audiovisual displays. The role of the Great Lakes in events from fur trading in the 1600s to the Underground Railroad in the 1800s and more is highlighted here: you can even take a self-guided tour of an actual ship (Not the Star Trek kind, sadly.)
Family-Friendly Hotels in Toledo, Ohio
With an indoor pool, a fitness center, picnic areas, and a shuttle to a local shopping center, you can shop for snacks, eat them by the pool, and then work them off at the Radisson Hotel at the University of Ohio. You're also close to area attractions, and if you don't feel like leaving the hotel for dinner, there are on-site restaurants, plus an in-room microwave and fridge.
Now, this is cool: At the well-appointed Renaissance Toledo Downtown Hotel, there's an underground walkway that links it to the Imagination Station Science Museum. The hotel is in downtown and on the waterfront, so you're close to a ton of stuff. Many of the rooms have river or city views, and feature huge flat-screen TVs and 24-hour room service.
The free hot breakfast will have your kids lining up in the wee hours at the Hampton Inn & Suites Toledo/Westgate. Have them fuel up, because you're close to a lot of activities, from the Toledo Museum of Art to a host of stores and restaurants. Great idea department: You can also grab a free Hampton on the Run breakfast bag (Monday-Friday) if you want your meal to go.
The lobby at the Courtyard by Marriott Toledo North may be one of its coolest features: It offers flexible work/hangout spaces, plus dining options and Go Board technology, which offers access to news, weather and airport conditions. Oh, and there's a fitness center and indoor pool…if your kids can tear themselves away from that Go Board.
With decent prices, free breakfast (you had us at free breakfast), and easy access to local attractions, the Holiday Inn Express Toledo North offers a convenient stopping place in Toledo. Plus there's a guest laundry, a fitness center, and an indoor pool, and you're close to area attractions like the zoo and the Botanical Garden.
Family-Friendly Restaurants Toledo, Ohio
Follow the yellow brick walls—they'll lead to you to Schmuckers, an old-school diner. Whatever you're there for, homemade pie is pretty much mandatory. You can have your pick from flavors like vanilla peanut butter, caramel apple walnut, and Scutterbotch. Leave room for your entrée—from chicken and biscuits to burgers and seafood, they've got you covered.
Despite the name, diners seem pretty content at Grumpy's. They're known for their garbage salad (their name, not ours) which includes mixed greens, chicken, and four kinds of cheese. They also have a vegan garbage salad and a garbage cookie, so there seems to be some kind of theme here. An odd theme, but a theme. In between, you can have a sandwich or a wrap, plus your choice of vegan entrees. The salad may be garbage, but it's not…garbage.
Shorty's True American Roadhouse This the place to go for a shake and some barbecue, served in a straightforward setting. Feast on brisket, pulled pork or ribs, seasoned with a dry rub and cooked for up to 18 hours. Don't forget sides—maybe mac -n-cheese or coleslaw—and finish up with a double chocolate brownie sundae. Oh, and you can still have that milkshake, of course.
Is it pizza night? Isn't it always? Then head to PizzaPapalis, which offers a choice of deep dish, thin crust, or pan pizza. Topping varieties are plentiful (olives, Canadian bacon), calzones, strombolis, and subs are also available, and the lunch menu offers fabulous deals. Oh—and if you can order a "papatizer" with a straight face, you get a bonus point.
If you're craving Mexican food but you're not sure if you want to eat out or cook in, San Marcos gives you both options—it's both a restaurant and a Mexican grocery store. Try a burrito or an enchilada—portions are plentiful—or snap up the ingredients to fashion your own.
Outdoor Attractions in Toledo for Kids
The largest of Toledo's metro parks, Oak Openings is a nature preserve that is mostly an oak savanna ecosystem. It also contains sand dunes and some rare plants. In the winter, visitors can cross country ski, and there's a great playground for kids, plus plenty of places to explore.
Pinkies up, or sneakers on the ground? At Wildwood preserve, you can both visit a historic house and explore the great outdoors. The Georgian Colonial-style Manor House has free tours and monthly events, like a series of teas, while the park offers a series of trails, and is bisected by the Ottawa River. You'll often see nesting birds in the spring, and prairie grasses and wildflowers during the summer.
The Toledo Botanical Garden offers more than 50 acres of gardens and plant collections, with sculptures scattered throughout, while the Artisan Village showcases demos, open studios, and crafts and plants for sale. Lots of kids' activities take place in the Garden, while the summer brings concerts. Community gardeners take note: you can get advice and suggestions about your own garden as well.
There are drive though fast-food places, and there's a drive-through safari. At the African Safari Wildlife Park, camels, giraffes, bison and more are waiting for you with open mouths (literally—you can feed them). There's also a walk-though safari, as well as other animal feeding experiences. Ever fed a porcupine? Well, now you can.
The riverfront Side Cut Metropark was the original metro park—and it has a little bit of everything—fishing, kids' play areas, and places to barbecue. Plus it has Windows on Wildlife—mini viewing and feeding stations. Oh, and if you were wondering—the name comes from the side cut extension of the Miami and Erie canals.
Glass Art In Toledo
Once known for its glassblowing industry, you can still glimpse part of the tradition in the city at the Gathered Glassblowing Studio. You can shop and also take classes there. The Toledo Museum of Art also has glassblowing demonstrations, and at the Copper Moon Studio, you can take classes in fused glass making.
MORE: 7 Spring Break Destinations for Families
The Most Iconic Family Vacation in NYC
A Lazy parents Guide to the Great Outdoors
This article was originally published on