Top Things to Do in Tulsa With Kids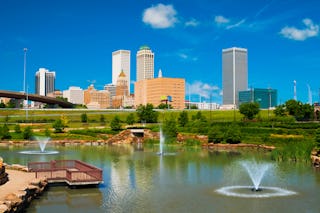 Davel5957/Getty Images
If you're planning a trip to Tulsa, Oklahoma, you may not hear the wind whistling down the plains, but you'll find affordable places to stay, great outdoor activities, and some amazing architecture. Here are some of the best things to do in Tulsa with kids.
Best Attractions for Kids in Tulsa
Have you ever wondered what to do with leftover packing tape? Did you ever consider making a slide with it? At the Tulsa Children's Museum Discovery Lab, someone had that idea, because over 16 miles of tape was used to make a giant slide, which was created with suspension bridge engineering. While you're there, don't miss The WorkShop (a hands-on space for designing) and Zoo in You (a 2,000-square-foot bilingual exhibit about the microscopic world of what's inside each of us).
At the Tulsa Zoo, you can visit a variety of habitats, from the Chimpanzee Connection to the Lost Kingdom, a haven for some rare Asian species, including Snow leopards, Chinese alligators, and Komodo Dragons. While you're there, make sure your Downward Dog is ready for prime time, and check out "Yoga at the Zoo." The $12 kids session includes yoga, storytime, singing, and admission to the zoo.
The Tulsa Air and Space Museum and Planetarium (TASM) focuses on Oklahoma's history in the space industry. You'll see an aircraft commissioned by J. Paul Getty, and a rare Navy training helicopter. There's a recreation of an art deco airport terminal (think: photo op), and some cool interactive exhibits, including one that lets visitors step into a real hot air balloon basket (think: another photo op).
Despite the name, you might want to caution your kids to perhaps go mildly rowdy rather than ballistic at the Go Ballistic! Kids Play Center and Party Place. Designed for kids ages 1-10, the center features a toddler play area, a multi-level foam-ball shooting area, and bounce houses. The $8.50 entry fee gets them all-day play.
Oklahoman Woody Guthrie's legacy lives on at the Woody Guthrie Center, which serves to illustrate the life of the famed folk singer ("This Land is Your Land") for both fans and newbies. You can listen to his music, see some of the instruments he played, and even take a stab at writing lyrics, then submit them to the center's database. Stop by the gift shop for cool merchandise.
Best Restaurants for families in Tulsa, OK
Hideaway Pizza is a bit of a misnomer since everyone seems to know (and rave) about it. Their very first pizza is still a favorite: the ATW (around the world). It features a host of toppings, from black olives to pepperoni and mushrooms. You can build your own, and there's also the Hideaway special: a different topping on each slice.
At Burn Co BBQ, they go through 2,300 pounds of charcoal, 9,000 square feet of foil, and 900 pounds of BBQ ribs every week. Choose from brisket, pulled pork, and ribs—but if you're feeling adventurous, you can also get bologna, The Fatty, or The Frankenstein (a three-meat sandwich). Burgers can be had, as can a variety of sausages, and sides include the classic mac and cheese and potato salad. Can someone please order the "Lil Girly Man?"
Does the phrase "Mac and Cheese Skillet" entice you? How could it not? At Bread and Butter Kitchen, you can choose from comfort foods as well as heathy options—or the former, there's also wings and potato skins. Should you be feeling virtuous, you can select a salad or healthy sandwich option, and kids can opt for burgers or chicken (they could probably make a meal just out of the sides). Best dessert option: Birthday Every Day cake.
Looking for somewhere down to earth and not fancy? Of course you are—you're with your children. Brownie's Hamburger Stand has been around since 1956, and is known for their burgers, homemade root beer, and extremely reasonable prices (many items are under $5). Daily specials include Frito Pie (pop by on a Monday) and their breakfast specials. Best part: You can get an ice cream refill in your float for 50 cents.
Charleston's knows that even if your kids want chicken tenders (face it, they probably will) the adults might want fresh fish or a kale and quinoa salad with a glass of wine. You can all start with flatbread pizza, and more than likely finish with chocolate cake. They've got plenty of veggie options, too.
Best hotels for families in Tulsa, OK
At the Hyatt Regency in Tulsa, you'll be right in the middle of downtown Tulsa, with access to plenty of shops, restaurants and attractions. The hotel also looks onto some scenic gardens. There's a fitness center and indoor/outdoor rooftop deck pools, plus—ta da—on-site washer and dryers. Literally nothing is better than when you're traveling with kids.
Forget the rooms, the Wi-Fi, or the restaurant: this hotel features Leapin' Louie's Lagoon, an indoor children's water play land. Adults: the Wyndham Tulsa also features a theme-free outdoor pool, plus a free airport shuttle and free parking.
The boutique Ambassador Hotel is definitely more of a splurge, but it's located in a historic building, and there's a business center and fitness center, plus free Wi-Fi and amenities like a whirlpool in the bathroom and 24-hour room service. Note: Many people rave about the Chalkboard, the on-site American restaurant.
Located right in downtown Tulsa, the Best Western Plus Downtown Tulsa is pet-friendly, reasonably-priced, and mini fridges and microwaves make it easy to prepare snacks and quick meals at the hotel. Breakfast doesn't need to be one of those meals—there's a free hot breakfast, plus on-site parking.
Once a hotel that hosted the likes of John F. Kennedy and Bob Hope, The Mayo Hotel fell into disrepair in the 1980s, until it was completely renovated in 2009, with a nod to its art deco past (check out that lobby). The rooms are sleek and stylish, and come with amenities that will make you feel like a celeb yourself—starting with bottled water and robes.
Best Outdoor Attractions for Kids
The Tulsa Garden Center at Woodward Park offers both a historic mansion and a series of gardens—probably best to steer younger kids to the latter. Definitely visit the rookeries, which include fairy gardens, a grotto, and lagoons. While you're there, figure out how to get your green thumb going and visit the Linnaeus Teaching Garden—it's part Home Depot, part public park.
The more than 192 acres that make up Chandler Park offer rock climbing, playgrounds, an 18-hole disc golf course, and picnic shelters. Lighted volleyball courts and Oklahoma's largest splash pads are also underway. It also offers great views of Tulsa and Sand Springs, a Tulsa suburb. If you need some "they need a while to be kids" time, check this one out.
LaFortune Park is nestled right into midtown Tulsa—270 acres that includes a pool, 5K trail, tennis, playgrounds, picnic tables, a restaurant, and fishing. It's a great stop when your kids need to blow off some steam, and you need to let them.
Center of the Universe is a great thing to do in Tulsa with kids. It's not literally the center of the universe, and it sort of sounds like an episode of "The Twilight Zone." It's a small circle made of concrete within a larger brick circle—you stand in the center and speak, and you'll hear your voice hugely amplified. Anyone standing outside the circle supposedly won't be able to hear it. Why? No one seems to be sure. Calling Mulder and Scully…
At The Gathering Place: Tulsa's Riverfront Park, kids can explore a five-acre playground that includes Skywalk Forest, which floats 20 feet above the ground, the Spiral Connectors, seven towers that encourage physical play, and the Fairyland Forest, a series of tiny houses. Don't forget Charlie's Water Mountain during the warmer months—it includes several innovative ways to get wet (no doubt your kids will find them all), from a water lab to a mist area.
Architecture in Tulsa
Did you know that Tulsa, OK, has one of the country's best collections of art deco architecture? Start at the Tulsa Historical Society (a fun stop in its own right) to track them all down.
Head to the Boston Avenue Methodist Church in downtown Tulsa, one of the best examples of ecclesiastical art deco architecture in the country—even kids will find the sight of the building pretty amazing. And if you're in need of some potting soil or a tape measure, pop into the Home Depot that hides behind the face of the Warehouse Market, which boasts a beautiful art deco façade.
MORE: Travel with Kids When They're Young
Traveling Can Be Hard For Breastfeeding Moms, This Could Help
This Is The Hardest Part Of A Spouse Traveling For Work
This article was originally published on