Things to Do in Tupelo With Kids
by Lindsay Ferrier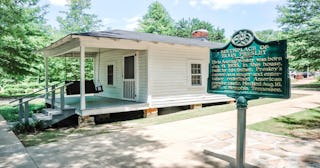 Planning a Tupelo family vacation? You're in for a treat. There are tons of things to do in Tupelo with kids, from Elvis encounters (Tupelo is his birthplace, after all) and animal safaris to a charming downtown and a burger that's been named the best in America. Take a few days to savor Tupelo's slower pace and explore this sweet southern city for yourself. Here's our curated list of the very best Tupelo activities for families.
Kids Attractions in Tupelo, MS
No trip to Tupelo is complete without a pilgrimage to the home where The King was born and raised. The Elvis Presley Birthplace includes his first home, his childhood church, a small museum, and a very large gift shop. Much of the history here centers on Elvis' childhood, which your kids will find interesting. Be sure to look for his grade school report card while you're in the museum!
Elvis's influence is everywhere in historic downtown Tupelo. Duck into Tupelo Hardware to see where Elvis bought his first guitar — they still sell guitars there today. Take a few minutes to wander through the ginormous Reed's Department Store. Open since 1905, it includes clothing for the entire fam, a bookstore, and a gift shop, as well as many pictures of a young Elvis Presley. The beautiful Lee County Courthouse holds special significance to Elvis fans — he sang here on a weekly radio show.
But there's more to downtown than the man who wore blue suede shoes. May through October, the downtown Farmers' Depot is where you'll find local produce, baked goods, and flowers on Tuesdays, Thursdays, and Saturdays. And you'll definitely want to make time for a family photo at the Greetings from Tupelo mural, located at 202 W. Main Street. Go just before sunset, when the golden sunlight makes downtown look its very best.
Looking for a shopping experience everyone in your family can enjoy? Relics Antique Marketplace occupies two gigantic, light-filled floors of the historic Tupelo Garment Company building and you could easily spend a few hours wandering through its many vendor stalls. There's truly something special here for every taste and budget.
If you have smaller children, HealthWorks! is a must for your Tupelo to-do list. This edu-tainment center teaches kids how to be healthy through games, fun interactive exhibits, and imaginary play. It's a great way for your kids to burn off energy and perfect for a rainy day. Admission is $5 per person.
Outdoor Activities in Tupelo for Kids
The best spot for an Elvis photo in Tupelo is at Fairpark, a small city park with the fantastic Elvis Presley Homecoming Statue as its centerpiece. Even better as far as your kids are concerned, the park also has a playground and a splash pad. Your littles surely won't mind taking photos with The King if you promise them a fun playtime afterward. Just don't forget to bring a few towels!
Tupelo gets many of its visitors from the scenic Natchez Trace Parkway, a federally-protected 444-mile road that stretches from Nashville to Natchez, Mississippi. The Parkway Visitor Center is a great place to start for a map and advice from a ranger. You can learn about Tupelo's original residents at the nearby Chickasaw Village site, make a short hike to a mysterious row of Confederate graves, and see sacred Indian mounds built 2,000 years ago at Pharr Mounds, all within a few miles of downtown Tupelo.
Less than an hour from Tupelo, you'll find Tishomingo State Park, a must-see for outdoor families. Hikers rave about the 3.6 mile Bear Creek Outcropping Trail, a loop trail that includes a historic swinging bridge, a waterfall, sparkling springs, and massive rock outcroppings with caves where the Chickasaw people once lived. April through October, the park offers a ranger-led daily Bear Creek canoe float that takes about three hours to complete. You'll want to make reservations for this float in advance.
Attractions You Can Only Find in Tupelo
Looking for a fun family adventure? Take the VIP Tour at the Tupelo Buffalo Park & Zoo. While the zoo itself is small and not especially memorable, the VIP Tour of the land surrounding the zoo is definitely worth the ticket price. A guide will take you on a UTV through fields stocked with buffalo, zebras, exotic breeds of cattle, ostriches, and more, offering some very, very close encounters with bison, zebras, and water buffalo. Free up some serious iPhone memory for this tour—you're going to end up with awesome pictures and videos.
Best Restaurants in Tupelo
If you go to one restaurant while you're in Tupelo, make it Neon Pig. Part butcher shop, part casual eatery, Neon Pig's Smash Burger is made with an elaborate house grind so good that it was recently voted the best burger in America—and when you taste it, you'll agree! A $4 kids menu ensures your little ones leave happy, too.
This Tupelo mainstay is famous for its crispy fried chicken and fluffy biscuits, but what we really went crazy for at Connie's Fried Chicken were the deep fried blueberry donuts, which are wonderfully light and fluffy on the inside and have a crisp, sugary exterior. You definitely don't want to leave town without trying them. Connie's Fried Chicken is open for breakfast, lunch and dinner (although it closes at 2 p.m. on Sundays).
Once the sun goes down and the live music starts, Blue Canoe is the place to go in Tupelo for good beer and live music, but with kids in tow, opt for a late lunch or early dinner. The menu is simple and delicious and features local favorites like Neon Pig's Smash Burger, bread pudding made from Connie's blueberry donuts, and the Blue Canoe's famous Crack Fries—French fries covered in a spicy sausage cheese dip.
This old-fashioned burger joint, which is known both as Tupelo's oldest restaurant and Elvis' favorite place for a burger when he was a kid. Sit in Elvis' booth while you're there and order a doughburger, onion rings, and delicious funnel cake fries for dessert. Not only is everything delicious, but it's also so cheap, you'll think you're reading the menu wrong. $1.35 for a burger? Yes, please! Johnnie's Drive-In only takes cash and like most restaurants in Tupelo, it's closed on Sundays.
Owned and operated by one of the co-owners of Neon Pig, this cozy downtown restaurant was another of our favorites. Ask for a seat upstairs—that's where all the action is—and be sure and order a plateful of wood-grilled gulf oysters. They're fabulous. The kids menu at Kermit's Outlaw Kitchen features meals that include an entree, fries, and a drink for $6. Don't miss the Elvis mural on the side of the building while you're there—it's another great spot for a family photo.
This no-frills meat and three is a good option for lunch or dinner, particularly if you have small children. Their scratch-made macaroni and cheese is pretty much guaranteed to meet your kids' seal of approval and your whole family will love the Crawfish Romie Dip. For dessert, try the Chocolate Delight— a surprisingly delicious whipped cream and chocolate confection with a sweet/salty graham cracker crust. Find Romie's Grocery at 804 W. Jackson Street.
Tupelo has a lock on desserts, baked goods, and sweet treats and of all the places that serve them, Crave has got to be king. This downtown dessert shop is always packed with locals savoring their signature desserts, which include red velvet cheesecake, bread pudding, and a decadent skillet cookie that's rich enough to make a grown man weep. Crave is open until midnight on Friday and Saturday nights, making for a sweet end to a downtown dinner.
Looking for a local coffeehouse in Tupelo? Check out Strange Brew. Located inside an old gas station right across the street from where Elvis once attended school, this bright, airy space features inventive coffee drinks, whimsical baked goods like blue suede shoes macarons and tomato pie scones, and a welcoming vibe that'll make you want to kick back and stay a while.
Your kids will love the popsicles at downtown Tupelo's PoPsy. Made with fresh fruits, organic sweeteners, and locally-sourced ingredients, PoPsy's desserts are delicious and nutritious, and perfect to stop an impending tantrum on a sultry summer day.
Best Resorts in Tupelo for Kids
Tupelo's new Holiday Inn is spacious and sparkling and close to all the things. It has all the amenities that matter when traveling with the fam—comfortable beds with plenty of pillows, super-clean bathrooms, a mini-refrigerator in each room, an indoor pool, a sizable fitness room, and a full-service bar and restaurant, both of which are very popular with guests.
Centrally located in the heart of downtown Tupelo, the Hilton Garden Inn will put you closer to the action than any other hotel in town. This Hilton includes both rooms and suites and has an indoor pool, fitness center, and full-service restaurant. Best of all, you can walk from this hotel to many of Tupelo's restaurants and attractions. The Hilton Garden Inn is at 363 E. Main Street.
MORE: Must-See Activities in Chula Vista for Kids
Dallas Attractions Perfect for the Whole Family
Best Things to Do in St. Louis on Your Family Vacation
This article was originally published on