Things To Do in West Palm Beach With Kids
by Erica Landis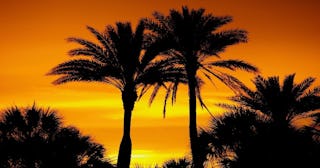 Del Adams/Pexel
Believe it or not, beautiful family-friendly West Palm Beach was quite the party town in the late 1800s. With streets named after native plants and flowers, the bustling frontier town's Banyan Street was filled with whiskey-slinging bars. It became so bad that the anti-alcohol crusader Carry Nation personally visited in 1904, wielding her bible and a hatchet, preaching against alcohol. Good thing we won't run into her in the Monday morning drop-off line.
Today, West Palm Beach has the obvious beautiful beaches and so much more for the whole family to do together. Spend your next family vacation visiting our suggestions of things to do in West Palm Beach. Here are the best things to do in West Palm Beach with kids.
Kids Attractions in West Palm Beach
This fascinating family activity that will have the whole family saying "awwwww" a gagillion times as you learn and love on the manatees of South Florida. Manatees are drawn to this area from Nov. 15 through March 31, but Manatees can be unpredictable, so whether they are in the surrounding waters or not, you should still visit Manatee Lagoon year-round. Gather the kids around the manatee cam online before your visit and check out their calendar of events and family activities. Hours: Tuesday – Sunday 9 a.m. – 4 p.m. Free admission and parking. Check out some reviews of Manatee Lagoon.
This is the place to treat your family to an up-close animal experience with the obsession of your choice. Embarrass yourself with excitement feeding a giant capybara. Shed tears of joy feeding grapes to the sloth while coveting her life. In addition to 100s of beautiful creatures in natural environments, there's a spray-ground for the kids to cool off, a playground, carousel, safari train ride, and a fully air conditioned on-site restaurant. Throw a tarp over the kids and check out their rainy day discount offer as well. Open daily from 9 a.m. to 5 p.m. The last admission ticket is sold at 4:15 p.m. Palm Beach Zoo is open 363 days a year and is closed only on Thanksgiving & Christmas Day. Adults $24.95, Seniors (60+) $22.95 Children (3-12) $18.95, Toddlers (0-2) Free. Read these Palm Beach Zoo reviews.
You'll have hours of family fun with their many exhibits like Journey Through The Human Brain and The Aquariums of The Atlantic. Play some conservation-themed mini golf in the Science Center's backyard. Swing your golf club through pretend marshlands surrounded by butterflies instead of that creepy clown mouth or frustrating windmill. Then relax in the planetarium with a showing of "Black Holes" narrated by Liam Neeson. These outer space mysteries have never sounded so imposing and sexy. Open Monday-Friday 9 a.m.-5 p.m., Saturday & Sunday 10 a.m.-6 p.m. Adults $17.95 Children (Ages 3-12) $13.95 Planetarium and mini-golf additional cost. Read these reviews of the Science Center.
The whole family loves a boat ride. Take the ferry to Peanut Island, an 80-acre tropical park ideal for family-friendly activities like snorkeling, swimming, nature trails, camping, barbecue pits with the convenience of freshwater showers and bathrooms. The ferry runs every 30 minutes. Open 7 days a week! Summer: 9 a.m. – 6 p.m.; winter: 10 a.m. – 5 p.m. Contact Ferry Captain Joe for rate at 561-844-7969 Read these reviews of Peanut Island.
This great family adventure is about 40 minutes from West Palm Beach. Florida's only drive-through safari and walk-through amusement park is a unique place for the family to spend the day on safari with over 1000 animals. There are animal encounters and feeding experiences, rides and activities, water spray ground, restaurants and snacks. You won't mind buying the kids yet another plush toy lion at the numerous gift shops.
Lion Country Safari inspires people to get involved with conservation through connections with wildlife in a fun, family-friendly environment. Admission (per person plus tax): regular (ages 10-64): $37; seniors (ages 65 and over): $33; children (ages 3-9): $28; toddlers (ages 0-2): free. Parking: $8 per vehicle. Gates open: 9:30 a.m. – 4:30 p.m. Walk-through closes: 5:30 p.m. Check out the reviews of Lion Country Safari.
This theater has a full calendar of straight from Broadway shows. Check out their Family Fare schedule of wholesome and classic shows to stimulate the curiosity of young minds. Affordable ticket prices and convenient times make this a great family activity to introduce the performing arts on your family vacation. Purchase tickets here. Reviews of this performing arts center can be found here.
With 25 uniquely-themed gardens to calm your collective family anxieties, give your kids their independence while they figure out the children's maze. Parents can see their kids' heads giggle and think from outside this labyrinth. This living shrubbery puzzle is no higher than three feet tall. Genius. Garden hours: Monday-Sunday, 10 a.m. – 4 p.m. (last ticket sold at 3:30 p.m.); gift shop: open 7 days, 10 a.m. – 4 p.m.; admission costs: $10 (general); $5 (ages 5-12). Free admission for Mounts members. June 6-Sept. 30. Free for PBC residents on Thursdays; free for children on 2nd Sunday. Mounts Botanical Garden reviews.
Ride the bright red trolley around downtown West Palm Beach. Hop on and off the free trolley to get a look at the buildings covered with giant art murals. The trolly is free to ride. Check the routes and schedule here. Read reviews here.
Ride the Trolley to Rosemary Square, an outdoor shopping experience with plenty of restaurants, and a movie theatre for when you just need some high-powered air conditioning and a comfortable seat. Store hours: Monday to Saturday: 10 a.m. to 10 p.m.; Sunday: noon to 6 p.m. Reviews can be found here.
Ice skating isn't the first thing that comes to our minds when we think about sunny Florida. But this brand new Olympic-size facility offers family open skate almost every day of the week. Now that's a very cool family activity. There are many program choices. Full schedule and rates can be found here. Check out their reviews.
With a restaurant and coffee bar right in the museum, that's just icing on the cake for this impressive collection of American, Asian, and European contemporary art. There's also a focus on photography. Check out the family programs designed to help your whole family get in touch with their inner artiste! General admission: $18 for seniors (60+); $15 for students with valid school ID; $5 children 12 and under FREE Museum admission is free to the public on Fridays and Saturdays! Museum is closed on Wednesdays. Reviews of The Norton Museum.
Take a two hour guided tour of this conservation focused animal sanctuary. All the resident animals have been discarded or removed from their owners for different reasons. Your very knowledgeable tour guide will tell you their stories as you meet the tigers, lions, jaguars, black leopards and many other rare animals. This an educational and emotional family activity but you will leave feeling uplifted by the great work they do. A sweet lesson for your whole family. Tours are available Tuesdays-Saturdays, 11 a.m.,12 p.m., and 1 p.m. Reservations Required. The tour cost is $35 per adult and $25 per child. Reviews of McCarthy's Wildlife Sanctuary.
Best Restaurants in West Palm Beach With Kids
The #1 mom-recommended kid-friendly place to eat in West Palm Beach. Kids can get as adventurous as they like, or just stick with American cheese on white bread. It's all cool here. The adults can enjoy choices including lobster, artisan bread and cheese choices out the wazoo. Open 7 days a week, 11 a.m.-9 p.m. Read the rave reviews.
The first thing you'll notice are the smells filling the air. Freshly baked waffle cones, cookies and brownies are baked in store. Ogle the wall of bulk candy, fabulous chocolates, chocolate apples, gifts and stuffed animals all around. Over the top decor with pink walls, chandeliers, moving trains and even glass bathrooms, you'll think you're dreaming. And that's a good thing because you'll need the extra sleep as your kids get all sugared up. Two locations in West Palm Beach. Open Sunday-Thursday, 11 a.m.-11 p.m.;
Thursday -Saturday, 11 a.m.-12 a.m. Reviews of Sloan's.
With live music every day after 10 p.m., a gigantic shareable menu from fresh seafood to burgers to nachos, this a family-friendly restaurant choice with something for everyone. Open 365 days a year: Sunday – Thursday, 8 a.m. – 2 a.m.; Friday – Saturday 8 a.m. – 3 a.m. Check out their Happy Hour specials, Monday – Thursday, 4 p.m. – 6:30 p.m. and late night from 11 p.m. – 1 a.m. Check out the reviews.
Starting with their first restaurant in 1992. They've since added six more stores. Home cooked, in-house prepared food and family-friendly service. With their own bread, pies and cookies baked fresh daily, even their secret sauces and salad dressings are whisked up fresh for your order. Families love the fast service with nothing taking longer than 5 minutes to prepare. Fast fed kids equal stress-free dining. There's no MSG or any preservatives used and they don't own a freezer! Open daily from 11:30 a.m.-9 p.m. Read the reviews.
Some families enjoy fine dining as a family. We envy those brave families. Have your older foodie kids practice their table manners here for a family fine dining experience. Kids will love the Silver Service Hot Dog served with a deviled egg on the side. You will beam with pride over your well-behaved kids while enjoying a craft cocktail or glass of wine from their mouth-watering wine list. Proper attire required; dinner only. Open Sunday – Thursday, 5 p.m. – 10 p.m.; Friday – Saturday, 5 p.m. – 11 p.m. Reviews of The Palm Beach Grill.
Set in a beyond beautiful courtyard, it's a simple as the name. Eating pizza outside makes everyone happy. This family-friendly restaurant offers super fresh menu choices. Indulge in their perfect wine list to enhance your storybook view of your happy children eating amongst palm trees and twinkling lights. Open daily from 11 a.m. to 10 p.m. Read the reviews.
"Cooked in sight… Must be right" has been Howley's motto since 1950. Kitschy and cool. The ginormous diner-style menu will give your family decision-making practice. Open for breakfast, lunch, and dinner so don't miss this great place to eat with kids. They serve late into the night. Put your kids in pajamas and have some family fun. Hours: Monday – Thursday, 7 a.m.-2 .a.m; Friday and Saturday, 7 a.m.- 5 a.m.; and Sunday, 7 a.m.-2 a.m. Read reviews of Howley's Restaurant.
Best Hotels in West Palm Beach for Kids
This AAA Four Diamond hotel is connected by a walkway to the Convention Center, just two miles from Palm Beach and across from Rosemary Square shopping center. The family-friendly vibrant pool scene will help you create unforgettable family memories. Walking distance to The Kravis Performing Arts Center and The Norton Museum. Check-in: 3 p.m.; check-out: 11 a.m. Reviews.
Make sure to ask about their FREE bike-sharing program so your family can explore West Palm Beach in style. Fill up on the free hot breakfast buffet in this non-smoking family friendly West Palm Beach hotel Enjoy the heated outdoor pool, 36-inch flat-screen TVs, free Wi-Fi, and exercise room. Rooms have a separate kitchen area with full-size refrigerators and dishwashers- a great way to save some money and please the cranky/picky kids and adults. Read the reviews.
Studios or two-room suites with everything your family needs for a comfortable stay in West Palm Beach. Let the little kids claim the sofa bed. In-room microwave, mini-fridge, HDTV, and Wi-Fi. Start your family vacation every day with a complimentary made-to-order breakfast each morning. In the evening, sneak down for cocktails and snacks at the complimentary Evening Reception. With a pool and casual restaurant on site, this a great choice for a great place to stay with kids in West Palm Beach. Check-in: 4 p.m.; check-out: noon. Reviews.
Flying with kids? We have a guide to help you through it.
MORE: Jacksonville Florida Family Fun
Explore Bakersfield With The Family
This article was originally published on