Things To Do in Williamsburg, VA With Kids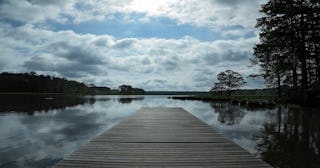 Patrick Smith/Getty Images
Williamsburg, VA, might be best known for its ability to give guests a glimpse into history, but there are plenty of modern conveniences, from hotels to restaurants, to enjoy there too. Here are the best things to do in Williamsburg with kids.
Kids Attractions in Williamsburg, VA
This blast from the past is the perfect place to give kids a taste of history. Explore one of the many historic sites or check out the art museum. The carriage rides are an exciting opportunity to see the historic sites as the original colonists did. When you're ready for a bite to eat, there are four different on-site taverns to choose from. Open daily 8:45 a.m.- 5 p.m. Admission: $24.99 for kids 12 and under, $44.99 for adults. Read reviews of Colonial Williamsburg.
The collection of oddities is freaky fun for the whole family. Take a peek at the two-headed animals, or sit back and enjoy a 4-D movie. If you're looking for something a little more active, try the laser obstacle course. There's even an 18-hole mini-golf course on site. Open daily 10 a.m. – 12 a.m. Admission: kids 12 and under pay $21.99; adults pay $25.99. Read reviews of Ripley's Believe It or Not! Williamsburg.
From historic ships to antique weapons, Jamestown Settlement will make you feel like you've stepped back in time. It also includes the American Revolution Museum. Group tours are available that focus on everything from ships to local art. There are also hands-on seminars that let guests experience some of the tasks settlers had to do. Open daily from 9 a.m. to 5 p.m. (one hour later during the summer). Admission for the settlement and museum is $26 for adults, $12.50 for kids. Read reviews of Jamestown Settlement.
Rollercoasters, water slides, and plenty of rides for kids dot this massive amusement park. If you're wondering which rides are best for kids, look for the KIDsiderate logo Busch Gardens marks them with. They also host shows, from dance performances to amazing animals. The park is internationally themed, meaning you can jump from Ireland to Germany to France all in an afternoon. Open daily, 10 a.m. -9 p.m. Monday-Thursday, 10 a.m. -10 p.m. Friday-Sunday. Admission for the park is $46.99. Read reviews of Busch Gardens Williamsburg.
You'll find paintings, toys, and architecture to admire at the Abby Aldrich Rockefeller Folk Art Museum. Enjoy art that honors Native American traditions and discover new artists to appreciate. One of the highlights of the museum is an old fashioned carousel. Kids will love the unique animal additions to the traditional carnival ride, like a carved camel. Open daily 8:45 a.m.-5 p.m. Admission: $24.99 for kids 12 and under, $44.99 for adults. Read reviews of the Abby Aldrich Rockefeller Folk Art Museum.
Best Restaurants in Williamsburg, VA for Kids
Dedicated to offering "fresh bites," The Hound's Tale features a full kids menu. Offerings for the youngest diners range from hot dogs to organic chicken. The adult menu features a mix of vegetarian and meat-heavy options, from skirt steak to Wild Mushroom Wellington. Dog decor throughout the restaurant makes it the go-to spot for families that love four-legged friends. Open daily at 4 p.m. Read reviews for The Hound's Tale.
If you're looking for classic Philly cheese steaks, this is the perfect spot. Side options include fries and pickles. There's more to Rick's than just cheese steaks, however. If you're craving something sweet, you can try their fried cheesecake, and their kids menu has options like chicken fingers and cheesy bread. Open daily 11 a.m.- 9 p.m. Read reviews for Rick's Cheese Steak Stop.
Breakfast options abound at First Watch. Kids meal choices include chocolate chip pancakes and grilled cheese. While there's no shortage of sweet and salty menu items, there are also plenty of healthier options. If you're looking for a light breakfast, you can try a granola bowl or fresh juice. Open daily 7 a.m. – 2:30p.m. Read reviews for First Watch.
Old school charm is what anchors the decor at Shorty's Diner. The kids menu features breakfast and lunch options, and all kids meals come with a small drink. They're known for their affordable options, with most sides available for under $3. If you leave room for dessert they also have a selection of milkshakes and an impressive banana split. Open daily from 6 a.m. – 2 p.m. Read reviews for Shorty's Diner.
Your whole family will leave Food for Thought Restaurant feeling a little smarter after taking in their educational decor. Their kids menu includes options like pot roast, ribs, and baked salmon. In addition to their kids menu, other specialized menus include their gluten-free menu and senior menu. All side dishes can be ordered on their own as a meal or to compliment one. Open Monday – Friday 11 a.m.-9 p.m.; Saturday 8 a.m.-11 a.m. then 11:30 a.m.-9p.m.; Sunday 8 a.m.-11 a.m. then 11:45 a.m.- 9 p.m. Read reviews for Food For Thought.
Willy Wonka's factory has nothing on Kilwins. During your visit, you can sample their homemade ice cream, fudge, or chocolate (or combine all three). They also dip already classic treats, like twinkies, in their own chocolate. The Williamsburg location has been open since 2015. Open Monday – Thursday, 11 a.m.-10 p.m; Friday, 11 a.m.-11 p.m.; Saturday 10 a.m.-11 p.m.; and Sunday 11 a.m.-10 p.m. Read reviews for Kilwins.
Best Hotels in Williamsburg, VA for Kids
Part hotel, part amusement park, Great Wolf Lodge features a bowling alley and an arcade. Suites can also come camp-themed so kids can imagine they're sleeping under the stars. They also offer a variety of activities for kids and families. Young visitors can meet the Great Wolf characters or enjoy some books during story time. Read reviews for Great Wolf Lodge.
https://www.instagram.com/p/Bw0SOASFWmP/
If you're looking to stay in a piece of history, Williamsburg Lodge, with its 18th-century architecture is a solid fit. Their amenities include a pool, fitness center, and spa. This pet-friendly hotel always has families in mind. They offer babysitting services, video games, and a separate family pool. Read reviews for Williamsburg Lodge, Autograph Collection.
Hotel guests can swim laps in the pool and enjoy the free WiFi. The hotel also offers a complimentary breakfast. If you forgot to pack a high chair or crib, they have you covered. If you're traveling with a pet, you might want to look elsewhere, furry friends aren't allowed. Read reviews for Hampton Inn & Suites Williamsburg Historic District.
Williamsburg Inn is a pet-friendly hotel ready to cater to the needs of families. Amenities focused on kids include a playground and arts and crafts during check-in. If you need a night offer, the hotel is able to get you a babysitter. Their on-site spa offers a large range of services from manicures to facials. Read reviews for Williamsburg Inn.
Best Outdoor Activities in Williamsburg, VA for Kids
More than just go-karts, this park also offers bumper boats and mini golf. The Python Kiddie Coaster provides excitement for the park's youngest guests. They also have "Kiddie Land" options like the cartoon kiddie train and the happy kangaroo ride. If you're ready for a break, they offer traditional carnival food like cotton candy and hot dogs. Open from March 1 -Oct. 31, hours vary. Admissions: all you can ride wrist bands cost $35. Read reviews for Go-Karts Plus.
Enjoy a round of mini-golf with a swashbuckling theme at Pirate's Cove. Details of the course include waterfalls and pirate ships. If you're interested in a longer mini-golf game, they offer 36-hole adventures. They do feature simulated cannon fire, so kids who don't like loud noises might want to skip this attraction. Open Sunday -Thursday, 10 a.m.-10 p.m. Friday and Saturday, 10 a.m.-11 p.m. Admissions: kids 12 and under pay $8.95, adults pay $9.50. Read reviews for Pirate's Cove Adventure Golf.
To get a new perspective you can climb, swing and slide among the trees at the Go Ape Challenge Course. The park has special adventures created for kids 10-15. The basic tree top journey is available for all ages, however. Adults can supervise up to two kids under five, and up to six kids between five and 16, so do your family math ahead of time. Book an adventure for kids 10-15 for $39, adults $59. Read reviews for Go Ape Challenge Course.
Best Waterparks in Williamsburg, VA for Kids
There are plenty of slides filling Ocean Breeze, which also features an adventure river if you want a more relaxing experience. Their Little Buccaneers area is perfect for kids too young for the big slides. Open May 18-Sept. 8, hours vary. The waterpark offers two opportunities to shop, at the candy store and gift shop. There are three on-site destinations to grab food, including healthy options, and a variety of ice cream stands scattered within the park. Admission: kids 3-9 pay $26.99, adults pay $32.99. Read reviews for Ocean Breeze Waterpark.
Slide at warp speed or laze in the river to get cool in this waterpark. There are also cabanas available if you want to spend some time out of the sun. Their 'lil barefoot beach offers a wave pool perfect for young swimmers. The splash house, which features a giant ever-dumping bucket, is also a great option for young kids. Open daily 10:30 a.m.- 10 p.m. Admission: daily tickets are available starting at $45. Read reviews for Soak City Waterpark —King's Dominion.
MORE: Fun Things To Do in Sacramento With Kids
The Best Things To Do in Baton Rouge With Kids
This article was originally published on