Things To Do in Witchita With Kids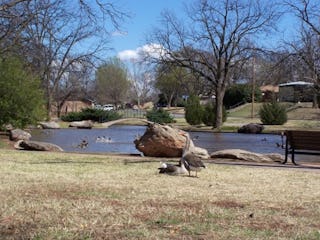 WitchitaFallsTX.Gov
Witchita, Texas, is proud of its local history. Its restaurants feature a mix of the American southwest and Mexican influences, and there are plenty of day-trip activities focusing exclusively on attractions for kids.
Kid Attractions in Witchita Texas
The Kell House feels like a moment frozen in time. Guests can admire the architecture and antique furniture preserved by the Witchita Historical Society.
Village Bowl offers games for under $4 (per person) seven days a week. You can request bumpers for your younger bowlers, and their in-house cafe features tacos, burgers, and salads.
Lunar Mini Golf is a glow in the dark, black light mini golf experience. The entire course is indoors and air-conditioned, so it's the perfect activity if you want some summer fun without the summer heat.
The Deep End might be a bar by night, but until 9 p.m. each night, it's a kid-friendly arcade. The space boasts more than 50 arcade games including skeeball and foosball, all free to play.
CrashWorks STEAM Studio & Makerspace, created by a former teacher, is a space that allows kids to explore and create. Projects can range from a towering structure made only of plastic cups to a homemade bracelet.
Best Restaurants in Witchita, TX for Kids
HWY Cafe is a family-owned restaurant known for its Texas staples. Their extensive selection of sides includes local favorites like hush puppies, fried okra and homemade sweet creamed corn.
Rafter J BBQ & Cajun Eats offers a wide selection of both Texas BBQ and Cajun cuisine. Family-owned, all their meat is smoked in their own slow smoker.
Harvey's Family Resturant serves only fresh, locally-sourced burgers. Their daily specials feature favorites like baby back ribs and chicken fried steak.
El Sancho Mexican Resturant is known for their Mexican and American Fusion TexMex dishes. Their kids menu features favorites including nachos, tacos, and enchiladas.
Hotels in Witchita, TX for Kids
Comfort Inn Wichita Falls North offers rooms with plasma TVs and free WiFi to make sure you stay connected beyond the bounds of your vacation. Every guest gets a complimentary hot breakfast.
Candlewood Suites Wichita Falls @ Maurine St. features a lending library of appliances guests can borrow, including waffle makers. You can also pick up a DVD to watch from their own collection.
Homewood Suites by Hilton Wichita Falls has tons of ways to get in a little exercise, including not only a pool and fitness center but also a basketball court. Meal prep is not just possible but easy in their kitchens featuring two-burner stoves and dishwashers.
Baymont by Wyndham Wichita Falls offers free continental breakfasts, but you can also stock your own in-room fridge. Guests can relax in the indoor pool and jacuzzi.
Outdoor Activities in Witchita, TX for Kids
Castaway Cove Waterpark features seven different play areas. Be bold on the Pirate's Plunge water slide, or relax as you float in an innertube down Nellie's Rolling River.
Family Fun Zone features go-karts, laser tag, and mini-golf. You can get access to all three "zones" for one $24.99 all day pass.
Seymour Sound Garden is an outdoor musical playscape. The musical instrument installations will allow anyone to become a musician for the day.
Lucy Park provides several opportunities to enjoy Texas wildlife. Enjoy a view of the Wichita River, relax by the pond, and admire the pecan trees.
Museums in Witchita, TX for Kids
The Museum of North Texas History hosts exhibits on the region's medical history, plenty of WWII memorabilia, and even a doll collection. Visitors can also check out a real Jenny biplane and Model-T.
The Professional Wrestling Hall of Fame and Museum host wrestling outfits from competitors from across the globe. Signed photos and performance accessories are also on display.
The Wichita Falls Railroad Museum allows guests to get up close to real railway cars. A fully stocked gift shop offers plenty to entertain young train enthusiasts.
MORE: Family Fun in Fresno, CA
Must See Kid Attractions in Sacramento
Explore Mesa, AZ With the Family
This article was originally published on