10 Things To Do In Belfast, Maine With Kids
by Sarah Cottrell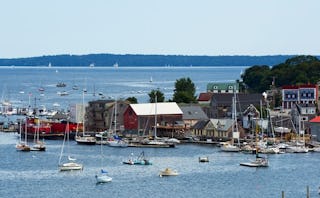 Not many people know that Belfast, Maine is a hip coastal town that is family-friendly and affordable for summer vacations. I adore this town for many reasons, but mostly because it has the cool factor of a trendy city but without the attitude and crowds. I've got the scoop on this little Maine gem, so here are my favorite things to do with kids in Belfast…
1. Belfast City Park: This amazing 17.5-acre park is located right on the edge of the ocean. You can eat lunch on the beach and search for sea glass or go for a dip in the clean pool. The kids can play in the park that features a giant sand box, climbing equipment, and more. If that isn't great enough, there are tennis courts, fields for kicking balls around and even a horseshoe area! If you get hungry, you can enjoy a veggie burger (or a dozen other options!) from The Grill.
2. Colonial Theatre: Moms will LOVE this theater, because not only is it a stylish and independently owned Art Deco Theater, but also while the kids enjoy the latest and hottest movie, Mom can enjoy a glass of wine. Can you believe that? On Wednesday's all tickets are $5.
3. Harbor Walk: Starting at the Belfast Boathouse and extending to the beautiful Belfast Footbridge, this Harbor Walk offers beautiful vistas of the Belfast waterfront. You can watch amazing boats slowly sailing into the harbor. Since people in Belfast are super friendly, you are sure to meet a variety of delightful local characters who can tell you some stories about the history of this great town – or give you directions.
4. Get Your Picture Taken With The Famous Belfast Benches: Local artists created some of the most imaginative places to park your rear. These benches are a huge attraction for tourists. Some of the benches included are a baby grand piano, a bench made of lobster traps, and a polka dotted high heel shoe and more. Half the fun is wandering around town looking for the benches.
5. Chocolate Drop Candy Shop & Daves' Old Fashioned Soda Fountain: Step into 1950 by ordering an authentic old-fashioned soda or ice cream at Daves' Old Fashioned Soda Fountain. The staff even wears those adorable paper hats you might see in a Rockwell painting! If you still have a sweet tooth that needs attending to, then check out the Chocolate Drop Candy Shop next door. They have more varieties of candy than a Willy Wonka factory.
6. Belfast Free Library: Sometimes kids just need a safe and quiet place to unwind and the Belfast Free Library is just the place. During the summer they run a great children's event series called Summer Days that features stories and craft projects. Some of the projects featured include juggling balls, washi paper dolls, rain sticks, wand and top hats, book making, and puppet making.
7. Good n You Food Truck: You can order food ranging from Mexican to Middle Eastern at this hip and urban food truck. The kids can enjoy $2 tacos and Maine brewed root beer. The truck is usually parked near the water front, so you can enjoy your awesome lunch while you sit in the grass or maybe even on one of those funky Belfast benches!
8. Maine Celtic Festival: The longest running Maine Celtic celebration features family friendly events that includes music, a cheese roll, 5K road race, Highland Heavy Games, Celtic Breeds that celebrate Celtic dogs, and lots of local food and product vendors. This is by far one of the best festivals in all of Maine. You and your kids will have a blast!
9. Annual Belfast Street Festival: On the first Monday in August is the annual Belfast Street Festival, which you cannot miss! The streets of downtown are closed to traffic while families boogie down to great music, jump and flip in a bounce house, and enjoy games like a rat race, bucking bronco, and climbing wall. There are also face painter, clowns, kids games, and a ton of local food vendors. The even is free, but the rides are one dollar per ticket.
10. Three Tides Restaurant: Need to unwind? Check out the fabulous Three Tides Restaurant right on the waterfront. In the summertime you can lounge on a couch with the gorgeous Atlantic Ocean as your view while you drink micro-brewed beer in front of a fire. Yeah, you read that right. This place totally rocks. Also, the menu includes favorites for even the pickiest eater in your family.
(For more information on the great things happening in Belfast, Maine please check out these great sites: www.ourtownbelfast.org and www.midcoastmainekids.com, and if you have other tips, leave them in the comments!)
This article was originally published on