Things To Do in Chicago With Kids
by Alexis Tande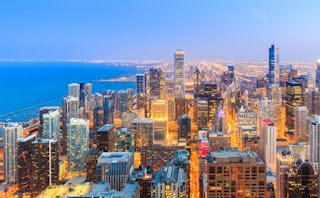 Want to know a secret? Chicago is one of the best cities to visit with kids. OK, so it's not exactly a secret. Chicago regularly hosts millions of international and domestic visitors. There's also plenty of things to do in Chicago with kids.
If you're planning to be with kids in Chicago, you definitely shouldn't miss these favorite things to do.
Things to do with Kids in Chicago Today
Visit the Lakefront Trail. It's got water, sand, beach volleyball, and boats. No, this isn't Club Med, this is Chicago. How many cities can boast an 18-mile paved path that you can run, walk or bike along? The lakefront is the crown jewel of Chicago and one of the most fun ways to experience the city. Literally located across the street from world-class hotels and shopping, the beach is easily accessible and fun to explore. The trail is open 24/7, but the parks and beaches alongside it close by 11p.m.
Take a ride on the Architectural Boat Tour. There is no better way to see downtown Chicago than to sit back, relax and cruise the river that winds through the city. Adults love it because Chicago's history is mob-filled and fascinating and kids love it because anything on a boat is seriously cool. Both daytime and twilight cruises are available.
Top Attractions in Chicago
Check out Lincoln Park Zoo. No matter if you're two or 42, it's downright mind-blowing going nose-to-nose with a polar bear right in the heart of a major metropolis. If that doesn't do it for you, say hello to the giraffes, zebras and gorillas. Still not satisfied? Take a spin on the merry-go-round. If you visit during the summer, purchase some cotton candy and lemonade and watch the flamingos. If you're with your kids in Chicago during the holidays, catch the awe-inspiring 'Zoo Lights' complete with choreographed musical lights and hot chocolate. Best of all? It's 100% free, free, free. Open 10a.m. to 5p.m. everyday.
The Museum of Science and Industry is fun for everyone. The entire family will totally dig it here. Complete with a massive toddler room that showcases a giant water run, a weather exhibit that simulates thunder and lightening, and an enormous train that chugs its way around the biggest model of Chicago you've ever seen, everyone will walk away a little bit smarter than they were just a few hours before. Open 9.30a.m. to 4p.m.
Building Block's Toy Store is a great toy store in Chicago to visit. Sometimes you just have to visit a toy store no matter what city you're in. Enter Katherine McHenry, local Chicago mom, who built the city's best toy store. Two locations convenient to wherever you are staying, they are sure to offer personalized help and get you what you need! Wicker Park: 2130 W Division Street, Lakeview: 3306 N. Lincoln Avenue. Open 10a.m. to 7p.m. Monday to Friday, 9.30a.m. to 6p.m. Saturday, and 9.30a.m. to 5p.m. Sunday.
You can't leave Chicago without visiting Wrigley Field. While the Cubs might be the nation's most losing baseball team, they happen to play home games in the nation's most inspiring baseball stadium. The ivy walls, scoreboard, and beloved bleacher-bums make for a very colorful afternoon. Even in the off-season it would be sinful to leave 'The Chi' without a picture of the fam in front of the famous Wrigley Field sign.
Best Kid-Friendly Restaurants in Chicago
There are obviously tons of great places to eat in Chicago and best restaurants in Chicago for family. These are just a few of my favorites:
Right across from Wrigley Field is Dutch & Doc's. This may look like a fancy establishment, but they make sure to make children feel right at home with a kid's menu full of lots of options, special events just for kids and special kids treats on birthdays. They also make kids feel like artists by hanging their colorings up. Just don't go on a Monday or Tuesday, as it will be closed!
Walker Brother's Pancake House is another must-visit restaurant. Running around Chicago with kids in tow takes serious energy and there is no better place to fuel up in the morning than here. In Chicago for over 25 years this Rush Street restaurant is legendary. What to eat: massive apple pancake, enormous egg-white omelet, or chocolate-chip short stack. There's something for even the most picky of the picky eaters. 22 E. Bellevue Place. Open 6.30a.m. to 9p.m. Monday to Friday.
Eleven City Diner is another fantastic place to go with the family — especially if you like grilled cheese. There's a build-your-own grilled cheese and soup section of the menu that lets you customize your meal, tons of mouthwatering burgers and yummy desserts. The atmosphere is fun, the portions are great and there's something for everyone. Open 8a.m. to 9p.m. Monday to Thursday, 8a.m. to 9.30p.m. Friday, 8.30a.m. to 9.30p.m. Saturday, and 8.30.a.m. to 9p.m. Sunday.
Sweet Mandy B's is an awesome place to stop for an old fashioned treat. Sure, there's the Ghiradelli Chocolate Shop and Garrett's Popcorn all off Michigan Ave, but if you're looking for a tried and true local bakery for cupcakes, cookies and whoopie pies then Sweet Mandy B's, in the heart of Lincoln Park, is the place to go. And afterward when your kids are shaking from the sugar high you just initiated, have them work it off across the street at the Oscar Mayer School playground and field. Open 8a.m. to 9p.m. Sunday to Thursday and 8a.m. to 10p.m. Friday and Saturday.
Not only a great restaurant for kids, but also one of the best bbq restaurants in Chicago, you'll want to check out BBQ Smoque when you're in town. This place has low and slow-cooked barbeque deliciousness big enough to fill your bellies and also small enough for your littles to hold in their tiny hands. Open 11a.m. to 9p.m. Tuesday to Thursday and Sunday and 11a.m. to 10p.m. Friday and Saturday. It's closed Monday.
Kid-Suitable Tourist Attractions in Chicago
Millennium Park/Grant Park is a must-see. Chicago throws down a serious challenge to every other city in the US with what's sprung up in Grant Park this past decade. Boasting a massive reflecting pool, sculpture garden, playground, concert pavilion, ice rink and chance to see your mirrored image in "The Bean," your family could spend an entire day here and no one would utter the three most dreadful words in the English language, "Mom, I'm bored." Open year round, 6a.m. to 11p.m.
The Sears Tower is one of Chicago's most well-known tourist attractions. Oops! I mean Willis Tower. It's hard for true Chicagoans to refer to the tallest building in America by its new name but I will try. Take an elevator or two up to the top at warp speed and then see as far as your eyes will let you. If you dare, step onto the glass floor and look down. If you have a fear of heights… get over it. After you've been to the top you, and your kids, can cross this off your bucket list. Open 9a.m. to 10p.m. March through September and 10a.m. to 8p.m. October through February.
MORE: Detroit's Best Attractions for Kids
Must-See Spots in St. Louis for Families
How to Have the Best Time With Your Kids in Houston
This article was originally published on