Things To Do in Los Angeles With Kids
by sevenclowncircus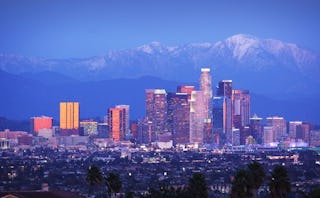 Though it's not quite the city that never sleeps, most people think of Los Angeles as a hustle-and-bustle city chock-full of fancy shopping, famous people and an enviable nightlife for adults. But honestly, you can't beat a family vacation in Los Angeles. There are so many things to do with kids in LA, including lots of kids attractions, family-friendly activities and some of the best beaches in Southern California. As if that's not enough, the weather tends to be incredible year-round. So, there's plenty of outdoor activities in LA for kids, too. Since it's really the perfect family vacation destination, here are some of the best things to do in Los Angeles with kids.
Best Beaches in Los Angeles for Kids
Everyone knows that the sun is always shining in Los Angeles so no matter when you visit, plan at least a few hours (or days) for the beach— they are some of the most beautiful in the world! Don't expect good shells though, you won't find them here. What you will find is nice sand and good weather.
Known as the beach "for the creative and artistic," one of the best family attractions in Venice Beach is people watching. It's also a great place to get active/tire everyone out by swimming or walking, biking or rollerblading on the boardwalk. You can rent everything you need. Be sure to check out the bodybuilders at infamous Muscle Beach, funky shops and stroll along Venice's canals, too.
If you need a break from catching those SoCal rays on Santa Monica Beach, check out this three-block, car-free promenade. It's home to Santa Monica Place, which has dozens of retailers, restaurants and street performers.
If laying out is your ultimate goal while the kids frolic in the surf, this is the SoCal beach for you. It offers 10 miles of sand for swimming, surfing, fishing and watersports.
Similarly, Huntington Beach offers more than three miles of shoreline for some more family-friendly beach activities in Los Angeles.
Just a few miles south of Huntington Beach is Bolsa Chica. This is our family's favorite because it's rarely crowded, and it has fire pits.
Dockweiler is another family-friendly beach in LA. You can scuba dive, snorkel, swim, surf and windsurf. Plus, there are family campsites and RV access if that's your family's bag.
Want to avoid hangry beach babies (or adults) when you're catching waves in Malibu? Paradise Cove is the best of both worlds. Swim, rent a beach bed with an umbrella and keep your feet in the sand when hunger strikes. It has a great kids menu, lots of seafood and fresh fruit rum drinks.
Or, have your own beachside butler tend to your family's every need at Perry's. There are nine locations in LA, but you can find butler service at two of its Santa Monica spots. They'll set up your beach chair, table and umbrella and provide sunblock, beverages and food. You can also rent bikes, roller skates, boogie boards and more through Perry's, too.
Get the Kids Surfing Lessons in LA
You'll likely see lots of surfers while you're visiting these beaches in LA. So, why not book surfing lessons from Go Surf LA? A surfboard and wetsuit is included in every 90-minute lesson. Plus, there are family deals, so you won't be left on the shore.
One of the more interesting things to do on LA beaches with kids is watch the grunion run. These fish leave the Pacific to spawn on SoCal beaches at night in spring and summer.
You've enjoyed all that the best beaches in Los Angeles have to offer. Now, pay it forward for the next family vacationers to do the same. Volunteer to do a beach cleanup with Heal the Bay. This nonprofit merges science, education, advocacy and the community to keep LA's waters safe and clean.
Family-Friendly Attractions in Los Angeles
Before we get into the best kids attractions in LA, here are some things for families to do in Los Angeles.
Just a block from Union Station is Olvera Street, the oldest street in Los Angeles. Here you'll find kiosks with Mexican handcrafts, knickknacks and delish authentic Mexican food. You will love walking through the Avila Adobe, too. Tours are free, and the adobe has the distinction of being the oldest standing residence in Los Angeles.
If you've got a family of readers, crack open LA's biggest book festival. It takes place every April on the campus of USC. There are panels, readings, performances and lots of books, as well as special events for kids and YA author appearances, too.
You might not think an art museum is a place to take your wild bunch on your family vacation in Los Angeles. But the Los Angeles County Museum of Art has an award-winning youth membership program. Plus, its Andell Family Sundays will get the whole family looking, making and talking art. In addition, the children's gallery hosts artmaking sessions and story times. Kids can also run around the sculpture garden and marvel at the Urban Light sculpture.
This family-friendly museum in Griffith Park has a huge collection of Native American items. It also offers lectures, festivals, family events and more. (Check out the section on outdoor activities for kids below for more on Griffith Park, one of the best parks in LA for kids).
The historic El Capitan is a great place to see a movie in LA with kids (it is owned by Disney, after all). Having opened in 1926 on Hollywood Boulevard, the theatre serves as a glittery reminder of the original Tinsel Town. On Tiny Tot Tuesday, lights are dimmed, sound levels are reduced and all shows are 2-D. You can also take behind-the-scenes tours for $12 per person.
Catch a family-friendly production or festival in a gorgeous setting in Topanga. This open-air theatre has been entertaining visitors for nearly five decades. Kid-centric programming includes concerts, shorter literature-based plays and classes.
At Laguna Beach's Pageant of the Masters, the world's greatest works of art come to life every summer. Admission includes the Festival of Arts, which has family-friendly events, workshops and children's artwork on display.
Because you never know what'll you find, even kids will love browsing the Rose Bowl Flea Market. Especially if you give them a few bucks to find their own treasures. And yes, it's stroller friendly for when littler legs "don't wanna" anymore. But, leave the side-by-side at home as aisles can be narrow. The Rose Bowl Flea Market takes place the second Sunday of every month.
In Los Angeles for New Year's? Take the kids to the Rose Parade on New Year's Day. But what might be easier on everyone (especially you) is to skip the long festivities to check out the majestic floats after the fact. If you've all got green thumbs, volunteer to decorate the floats beforehand.
Horses more your kids' thing than flowers? Equestfest is part of the annual Rose Parade festivities. You can watch the parade's equestrian performers do drills and demos and check out the stables. And yes, there's a good chance you can all nuzzle a horse or two.
Meet the self-proclaimed "twisted sister" of the Rose Parade. Held in November, the Doo Dah Parade has been celebrating eccentricity for 40-plus years. So, you'll never know what you'll see. But, it'll be a fairly kid-friendly good time as some of its attendees can be a little more, let's say, out there, than other parades.
Let. your kids take to the skies-ish at the LA chapter of Trapeze School New York. It also offers aerial arts, trampolines and more, including all-day circus experiences on common school holidays.
See a Pro Sports Team
Los Angeles is home to several pro football, baseball, basketball, hockey and soccer teams. Respectively, there's the Rams, Chargers, Dodgers, Angels, Lakers, Clippers, Kings, LA Galaxy and Los Angeles Football Club. In addition, there's also the WNBA's Sparks while the NHL's Ducks are in nearby Anaheim. So, there's a good chance you'll be able to catch a hometown game of your kid's favorite sport whenever you visit LA with family.
Speaking of the LA Dodgers, kids 14-under can run the bases after most Sunday day games at Dodger Stadium.
The Getty Center is truly an amazing spectacle built high in the hills of Los Angeles in between Beverly Hills, Bel Air, and Pacific Palisades. The view of the valley is spectacular. If you can visit on a day without smog you'll be astounded by the view. The collection housed in the museum is not too shabby either!
You don't have to be religious to enjoy the famed Gospel Brunch at the House of Blues in Anaheim. The all-you-can-eat buffet is delish, and there's a good chance your little songbirds (or yourself) can get up on stage.
Take a free trolley ride from the Civic Center to LA's famed Rodeo Drive. It usually runs Tuesday through Sunday from 11 a.m. to 5 p .m., save for holidays.
The whole family will love seeing how Hollywood magic is made with a studio tour at Warner Bros. You'll see sets, backlots and soundstages, interactive exhibits and more.
A visit to this multimedia museum on your family vacay in LA is super timely these days. Centered on the Holocaust, it explores racism and prejudice with programming and exhibits that are educational and eye-opening for everyone, especially kids. They are our future, after all.
Kids Attractions in Los Angeles
There are so many great kids attractions in Los Angeles, you might have trouble knowing where to start. Here are some of our top picks.
Obviously, one of the biggest things to do in LA with kids is Disneyland in nearby Anaheim. It is the Magic Kingdom, after all, and who can deprive their children of all the magic that only Mickey can provide? But, when you're over the happiest place on Earth, check out these other things to do in Anaheim with kids.
Before there was Disneyland, there was Knott's Berry Farm, which started as a small berry farm. Now, it's another must-visit theme park on your family vacation in LA. It, too, has tons of rides over four themed areas, Knott's Soak City waterpark and transforms into Knott's Scary Farm come Halloween.
Find Heal the Bay's aquarium under the Santa Monica Pier. It boasts more than 100 local species and lots of hands-on activities for kids. It's a great place to learn and gain a new appreciation for local ocean life. Plus, admission is just $5 for ages 13-up and free for kids under 12.
This Pasadena venue isn't so much a museum as it is an exploratorium. A 3.5-acre exploratorium, at that. It has both indoor and outdoor hands-on displays and interactive exhibits for a perfect blend of learning and fun. The Arroyo Adventure area gives kids the chance to enjoy learning about ecosystems through climbing a hawk's nest and building a beaver dam. The museum has a cafe while also allowing visitors to bring their own food and drink. Admission is $14 for both adults and children (infants under 1 go free), but the museum also hosts Free Family Nights on the 1st Tuesday of every month.
Moorpark is much smaller than LA's other zoo. But, its facility not only provides a home for rescued animals but teaches the college's students how to care for them. To inspire future zookeepers, there are lots of kid-centric educational programming and exhibits. It's just $8 for adults and $6 for children and seniors. Under 2s go free. Note: This zoo is only open on weekends.
This is a great family attraction in LA. But, kids will love getting handsy in the Discovery Center and Insect Zoo. They can dig for dinos, inspect insects and more. Plus, every day from 3-3:30 p.m., you can meet a live animal. In spring, be sure to check out the Butterfly Pavilion. Or, if you have kids ages 5-12, have a sleepover at NHM. You get after-hour access and free passes to explore the museum the next day.
Go back to the Ice Age without leaving the SoCal sun at the La Brea Tar Pits, located in the Miracle Mile district. Millions of fossils have been found at this active excavation site, which is truly something to see and learn about. Tours take you even deeper inside the important work being done here. There's also a fossil lab that shows what's done to the fossils once they've been excavated. Plus, the kids can run around Hancock Park and play next to giant (fake) Ice Age mammals. Don't forget to take advantage of the museum free days, which fall on the first Tuesday of every month (apart from July and August) as well as every Tuesday in September.
Discovery Cube is great for sparking creativity and learning when visiting LA with kids. It has lots of interactive exhibits covering everything from the planets to zero waste. Plus, there are sleepovers and summer camps, too.
Kids get in the Norton Simon Museum in Pasadena for free. It houses a collection of European paintings and sculptures ranging from the 14th to the 20th century. It has beautiful gardens, too.
The Skirball Cultural Center brings Noah's Ark to life with this indoor playground that's so much more. It's filled with handmade animals of recycled materials and everyday items. Plus, there are toddler sing-alongs on Tuesdays, story times on Wednesdays, sensory-friendly hours and a Spanish and English jam session every Sunday morning.
Your kids at a LA Philharmonic performance? Surely we must be joking, right? Nope! The LA Phil, as it's known, hosts Toyota Symphonies for Youth concerts for ages 5-11. Before each show are workshops, an instrument "petting zoo" and dancing.
While most major cities have their own zoo, there is really something special about the city-owned LA Zoo. In addition to having lots of animals and plants, it has several educational and conservation programs and family-friendly events. But seriously, name another zoo where the chimpanzees can be counted on with regularity to fling their poo on each other. The kids will find such behavior hilarious we're sure.
You best believe there are lots of things to do at Universal Studios Hollywood with kids. In addition to rides for kids of all ages (and adults, of course), keep your eyes peeled for characters wandering around. One ride that's definitely worth checking out is the thrilling—and intense—new Jurassic World – The Ride. There you can also check out the Raptor Encounter and interactive DinoPlay area for kids. Be sure to treat yourself to a tropical just-for-Mom drink at Isla Nu-bar, too. You deserve it.
There are dozens of family-friendly restaurants and shops, a 19-screen IMAX theater and more at Universal's three-block long promenade. For example, go skydiving without technically leaving the ground at iFly Hollywood. Not only is CityWalk's indoor skydiving attraction super fun, but it's accessible for everyone, too.
This is an incredible attraction in LA for kids of all ages. There are four main exhibit areas covering life, creativity, ecosystems and air and space. Plus, there's an IMAX theater and plenty of special exhibits, including the Space Shuttle Endeavor, too. The hands-on learning and fun is great, and so is the fact that admission is free.
Outdoor Activities in Los Angeles for Kids
To enjoy seemingly endless sunny days and some of the world's best beaches in LA. you'll want to be outside as much as possible. So, here are some of the best outdoor activities in Los Angeles for kids.
With more than 4,300 acres, Griffith Park is one of the largest urban parks in North America. So, that means it's one of the best outdoor activities in Los Angeles for kids. And not just because they'll have lots of room to run free and exhaust themselves. In addition to hiking and picnicking, there are ($3!) pony rides, a carousel and a miniature train ride.
The Travel Town Museum is a favorite because kids can explore real, life-sized trains. The Bronson Caves are neat, too. They've been in countless shows and movies, including serving as the Bat Cave entrance in the campy 1960s Batman series. Plus, the park is home to the Griffith Park Observatory and its spectacular views and stargazing and the iconic Hollywood Sign.
However, it's illegal to get close to the sign, so here are the best spots to see the Hollywood Sign for a family photo for Instagram. Or, get a great vantage point on a family horseback ride with Sunset Ranch.
The Santa Monica Pier is the only remaining amusement pier in LA that's more than a century old. In addition to hitting the beach with the fam, there are amusement rides, a 1922 carousel, food vendors, arcade, fishing and a trapeze school. But, really, we're just scratching the surface of all the things to do on the Santa Monica Pier with kids.
LA's Topanga State Park is the largest wildland located entirely within the boundaries of a major city. Here you'll find grasslands, wooded areas, waterfalls, rock formations, breathtaking Pacific views and more.
There's lots of family attractions in this public park in Irvine, where sports, agriculture and arts meet. Among our favorite activities: The Great Park Balloon, which rises 400 feet above ground, and the vintage Great Park Carousel.
This is another great park to visit when on a family vacation in LA. It has beautiful rock pools and a visitor center with child-friendly displays they're supposed to touch.
Take it easier but stay active at Lake Balboa in nearby Van Nuys. There are barbecue pits, sports fields, fishing, a children's play area and more. Plus, you can rent bikes and swan-shaped paddle boats. How cool will they look on Instagram?
This annual event by the Ocean Institute is held in Dana Point and pays homage to the area's maritime history and ocean. Kids can tour ships, learn how to tie a bowline, talk to sailors, meet mermaids and much more.
There are 16 gorgeous themed gardens at The Huntington Botanical Gardens. Kid favorites include the Chinese, Japanese and rose gardens. There's a conservatory exhibit for middle-schoolers, while the Helen and Peter Bing Children's Garden is ideal for the younger ones. There they can play near cute topiary animals, splash in water, make music and even find fairy doors. Plus, there are tons of classes, events for families and kid-friendly dining. Bring your swimsuit!
Go Skiing in Los Angeles
Where else but LA can you frolic in the Pacific one day then hit the powder on a snow-capped mountain the next? There are a bunch of family-friendly ski resorts not too far from downtown LA. Two close ones ones are Snow Valley Mountain Resort and Mountain High Resort.
The Conservancy offers a slew of family-friendly walking tours. You can check out LA's Art Deco architecture, its historic downtown and more.
Celebrate Chinese New Year by attending the long-running Golden Dragon Parade in Chinatown. The kids will be wowed by the vibrant floats that include a giant dragon and, if we're being honest, all the candy and confetti. But if anyone is skittish around loud noises, know there may be loud music and firecrackers at the celebration.
While this living history museum was destroyed by wildfires, it still hosts educational events as it rebuilds. So, it's a great place to sneak in some learning and lend a helping hand to an important part of SoCal's history.
Yes, Hollywood Forever is a funeral home, crematory and cemetery, but stay with us. It's also a beautiful cultural events center offering concerts, films, plays and more. Its annual day-long Dia de Los Muertos celebration turns 20 this year and is incredible, too. And finally, be sure to grab a map and guide book to pay your respects to some of the world's brightest stars who are its permanent residents.
Need a break from La La Land? Take a day trip to Catalina Island. The island offers tours, beaches, family-friendly activities like mini golf, zip lines and more. Catch a ferry from San Pedro, Long Beach, Newport Beach or Dana Point.
Go Whale Watching in LA
You can spot all types of whales year-round when visiting Los Angeles with family. At certain times of year, you can see dolphins, too. Davey's Locker is one of many companies in the LA area that you can whale-watch with. It sets sail from Newport Beach three times a day.
Held for three weeks every August and September, the LA County Fair is one of the best family attractions in Los Angeles. There are rides for the whole family, art, animals, tons of kids attractions and, maybe most importantly IOHO, food.
Every March 19, St. Joseph's Day, thousands of swallows migrate to Mission San Juan Capistrano from Argentina. The town celebrates this incredible annual event with a festival.
Yet another unique thing to do with kids in LA is a morning Faery Hunt. Be out in nature and inspire their imaginations with these interactive children's theater shows. Kids (and adults) are encouraged to dress up in their favorite fairy, princess, prince or superhero costume. Shows take place all over the LA metro region, so you're sure to be near one at some point on your family vacation.
Let the kids get all medieval on this Renaissance fair in Irwindale. It has themed weekends, crafty workshops, shows, games and food — and mead for adults. And of course costumes are strongly encouraged.
Obviously, you'll all work up an appetite with this many outdoor activities in Los Angeles for kids. Fend of hanger and stay outside with Tuesday Food Truck Night at the California Heritage Museum. Trucks rotate weekly, and you can bring blankets to picnic on the museum lawn. But, you can also hop over to The Victorian to eat and have a well-deserved (and well-made) cocktail or two.
Other Things to Do in LA With Kids
In case you thought we were kidding when we said there are lots of things to do in LA with kids, here are even more family-friendly attractions in Los Angeles.
Inspire a love of music and vinyl, if you haven't already, at Amoeba Music. You might even be able to catch a live Green Room sesh.
Whether your kids are into cars or not, this is a cool place to visit. It's really family-friendly with some exhibits geared toward kids, including Lightning McQueen from Cars.
This is one of those LA institutions you just can't miss. There's always an interesting mix of clientele. But most importantly, the huge menu at this landmark deli is sure to please even your pickiest eater. But we highly recommend the Reuben.
Show the kids late 19th century life in a former cow town at this living history museum. There are events, exhibits, workers in period dress, beautiful architecture and more.
Here, the kids will learn all about environmental science and exotic wildlife (some of which are rescued illegal pets). But they'll also get some hands-on time with them, too.
Hollywood Boulevard
Hollywood Boulevard is where you'll find the Hollywood Walk of Fame. These well-known sidewalk stars salute the celebrities who made/make Hollywood great. Grauman's Chinese Theatre is here as well. It's usually pretty congested with people from all walks of life, so keep a close eye on your little ones.
This is THE ORIGINAL farmers market, and they don't want you to forget it. It's a little bit snobby, but it's a landmark. You will love the monster-sized crepes you can have here. Once you've had your fill, walk across the parking lot to The Grove, a fantastic outdoor shopping mall. It's got An American Girl store and about every other retailer you can think of. And, there's a good chance you'll bump into someone famous.
Yes, this is a reptile store, but it's a dream come true if you've got reptile-loving kids like my two boys. This Fountain Valley store always has a critter (or three) out and about for kids to hold and touch. Obviously, if snakes make you scream, you might not want to put this on your itinerary.
Here's an "only in LA" family attraction. After more than five decades, this historic marionette theater moved to a new home and started hosting shows in August 2019. It's the oldest children's theatre company in LA, so these guys are well versed in entertaining the kids. As its tagline says, "imagination dwells here" — and so do more than 2,000 puppets.
These 17 sculptural towers were built by artist Sabato "Simon" Rodia between 1921 and 1954. The ice cream cone-shaped metal works embedded with found objects like shells and bottles are a sight to behold.
Kids inspired by Rodia's Watts Towers? Take them to reDiscover, where they can create their own works of art using sustainable materials.
Kids and adults will love an inside look at space exploration at the NASA Jet Propulsion Laboratory. Tours run on a Monday or Wednesday on an alternating basis, and you need to reserve more than three weeks in advance. It is definitely one of the coolest things to do in Los Angeles with kids — and it's free.
Another unique thing to do in LA with kids is to take a short ride on the iconic Angels Flight. The 118-year-old funicular up Bunker Hill is the world's shortest railway, running just one (very steep!) block. It's right in DTLA, connecting the lower Grand Central Market to the higher Water Court shopping mall. So you save a steep walk and ride a renovated 1901 train for just $1 each way.
For a longer train ride, hop all aboard the Fillmore & Western. Offerings include scenic weekend routes, murder mysteries and special events.
Christmas in LA with Kids
Get in a very Hollywood holiday mood early with the Hollywood Christmas Parade. It's held the Sunday after Thanksgiving and features performers, celebs and, of course, Santa. Another "very LA" way to celebrate is hitting up a Christmas boat parade. Boaters deck their hulls (pun intended) and cruise LA's waterways for spectators. There are quite a few holiday boat parades in LA. But our faves include the Newport Beach Christmas Boat Parade, Marina Del Rey's Holiday Boat Parade and the Parade of 1,000 Lights in Long Beach. The six-week long Festival of Lights at the Mission Inn in Riverside is also a must-see during the holidays in LA with kids.
Yes, Virginia, you can ice skate in LA during the holidays. And in short sleeves no less! Ice at Santa Monica sets up an 8,000-square-foot rink every Nov. 1 to Jan. 20. You can even book private or group skating lessons. The best part? Skate rental and all-day admission is just $15.
Transportation in Los Angeles
By and large, people in Los Angeles never use public transportation, so, it's always fun to hop on the Metro link and head into Los Angeles. You can get a view of Los Angeles without sitting in traffic and your kids will get a fun little train ride. Plus, if you exit at Union Station you can grab a French Dip Sandwich at Philippe's, originator of the French Dip Sandwich. Plus, the architecture in Union Station is just gorgeous.
Looking for MORE to do in Los Angeles with kids? We've got it! More Things to Do with Kids In Los Angeles.
MORE: Must-See Spots in Santa Cruz for Families
Explore Santa Fe With Your Kids
Things to Do in San Francisco With Kids
This article was originally published on