10 Things To Upgrade In Your Kitchen Before Holiday Cooking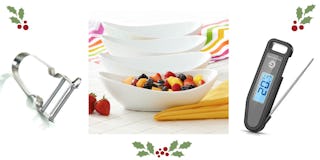 Walmart.com
This year I've decided I'm done with using the half-broken potato peeler, or the burned cookie sheets, or the blender with a lid. It's a few weeks before my huge Christmas dinner — the most complicated meal I make every year — and I need to upgrade my cooking tools.
Here's my holiday cooking upgrades shopping list.
My mom has a swiss-style potato peeler and I've made her bring it over every Christmas to make peeling eight pounds potatoes easier. I was so excited to find this version of a Swiss Potato Vegetable Peeler I snapped it right up and it's so easy to use.
No, YOU almost murdered all your guests last year with an undercooked turkey because your meat thermometer was broken. But I still bought this SMARTRO Instant Read Digital Meat Thermometer anyway, you know, just in case.
Last year I snapped my zester in half while rage-making cranberry relish. I don't remember what I was mad about, now, but I'm guessing it was something related to politics. So I grabbed this Combination Zester which looks more durable.
I've never been much of a baker, but my daughter is fast becoming an expert. She researched and found this Non-Stick Silicone Baking Mat Set and asked me to get them for her. Happy to do it, kid, and keep the brownies coming.
I've never owned a standing mixer. I know, I know. But my mini-chef asked for one, so I grabbed her this Hamilton Beach Classic Hand and Stand Mixer as a sort of "starting" mixer for her. Because who knows what she'll be into a year from now.
Why do cookie sheets get burned? I've got no damn idea. But I know they do, and I needed new ones, and this sweet Rachael Ray Nonstick Bakeware 3pc Cookie Pan Set is perfect for big and small jobs. I bought two because baking child = dirty cookie sheets ALL THE TIME.
I cook a turkey covered in a high-heat oven, and this Granite Ware Large Covered Rectangular Roaster is PERFECT. The square shape leaves plenty of room for a 20lb+ bird without sticking to the breast. Plus it's a snap to clean, so WIN.
For decades I've served my holiday dinner on a slew of mismatched adhoc serving bowls. NOT THIS YEAR. This year I bought two sets of these lovely Better Homes & Gardens Oval Serving Bowls because I'm gonna be classy or ELSE.
I have mad love for Ree's dishes (I can call The Pioneer Woman Ree, right?) and I couldn't resist these adorable Pioneer Woman Garland 12-Piece Dinnerware Set because HOW CUTE ARE THEY. So cheery!
Well, OBVIOUSLY, I had to get the matching The Pioneer Woman Holiday Cheer 2-Tier Server for serving desserts, right? It's so perfect and it makes it look like I've hit a new level of adulting, so go me.
So there you have it: ten items to consider upgrading before you cook another big holiday meal. Because listen: if you have the right tools, it becomes less of a chore to cook and more of a joy. And who doesn't want more holiday joy, right?
We are a participant in the Walmart.com Affiliate Program and may earn fees by linking to Walmart.com and affiliated sites.
This article was originally published on