Classmates Have 'Secret Toy Drive' To Surprise 3rd Grader Who Lost Everything In A Fire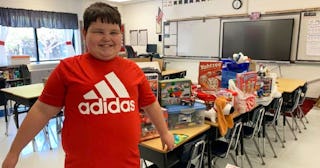 Philadelphia Elementary School/Facebook
When their classmate lost all of his belongings in a fire, they were only too happy to gift him with new toys
A Tennessee third-grader got the surprise of his life when his classmates banded together to help cheer him up after losing all of his belongings in a house fire. When parents and kids in the community found out about the fire, they were contacting the school to see how they could help Daniel Hunt and his family after such a huge loss.
The teachers at Philadelphia Elementary School organized everything to get the ball rolling with the donations, and the school shared a photo of the happy result of the kids' (and community's) efforts. It's truly enough to warm the coldest of hearts. "Last week, one of our Warriors, Daniel Hunt, lost all of this belongings in a house fire. His 3rd grade teachers and classmates started a secret toy drive for him to replace the toys he lost. He received the toys today and he was so surprised and thankful! This is certainly one of the #37846Reasons we love PES!" they wrote.
His happy face. Who's chopping onions in here? This is just too much for my heart.
They were extremely excited to show him everything they'd helped collect for him.
And that excitement was met with Hunt's own adorable gratitude and love for his kind friends. PES School Counselor Kelly Jones tells ABC News that Daniel is "one of the most positive, happy students I've ever seen."
And it wasn't just toys that his peers provided during a very difficult time in his young life. "It was amazing to witness the excitement these third-grade kids had while sneaking in toys. The entire week, they couldn't love him enough," Jones gushes. "People were holding doors for him, getting his pencil ready for him each morning, taking his chair down from the desk for him to sit in and swarming him at recess."
Look at them. If you're not a sobbing wreck right now, I don't even know what to say. This is everything.
To get the surprise going, teachers sent Daniel on an errand and snuck all the students into the classroom with his toys. When the little boy returned, the students yelled "surprise!" Jones says he "was speechless for a minute."
"He said, 'I love it! Everyone come here,' with his arms open wide and the kids swarmed in for a large group hug," she says.
Instead of making the very understandable kid move of heading straight for the toys, Daniel "wanted to give his classmates a hug for what they did for him."
"Every adult and even a few students had tears swelling up in their eyes who were in the room to witness this," Jones recounts. "I feel extremely blessed to have witnessed the pure love and giving from the hearts of the 3rd grade students at my school last week." The boy's grandmother, Marsha Hunt, wrote about her grandson's happiness on Facebook. He said, "I'm happy crying and I have joy in my stomach."
And after hearing this incredible story, so do all of us.