Lingerie Company's Full Page NYT Ad Puts Victoria's Secret Exec In His Place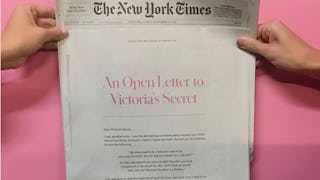 Image via ThirdLove / Instagram
ThirdLove is ready to take over when Victoria's Secret is inevitably canceled
In that awful interview he gave to Vogue about Victoria's Secret's attitude toward plus size and trans women, the lingerie brand's chief marketing officer, Ed Razik, called out ThirdLove, an inclusive competitor.
"We're nobody's third love. We're their first love," Razek said, amid comments about how plus size and trans women aren't VS's market and no one wants to see them walk in its "fantasy" fashion show. "And Victoria's Secret has been women's first love from the beginning."
ThirdLove has finally clapped back. And hoo boy, was it worth the wait.
In a full-page open letter published in the New York Times calling Razek's comments "shocking" and "derogatory," ThirdLove co-CEO Heidi Zak issued a brilliant takedown of struggling VS, and explained why modern women are all about new, inclusive options like what her company offers.
"I was appalled when I saw the demeaning comments about women your Chief Marketing Officer, Ed Razek, made to Vogue last week," Zak wrote. She went on to quote just a few of the most shocking things Razek said. Among them:
"We attempted to do a television special for plus-sizes [in 2000]. No one had any interest in it, still don't."
"It's like, why doesn't your show do this? Shouldn't you have transsexuals in the show? No. No, I don't think we should. Well, why not? Because the show is a fantasy."
And then Zak explained what Razek already knows, amid all the blowback Victoria's Secret has gotten following his interview.
"You market to men and sell a male fantasy to women. But at ThirdLove, we think beyond, as you said, a '42-minute entertainment special,'" she said. "Your show may be a 'fantasy' but we live in reality. Our reality is that women wear bras in real life as they go to work, breastfeed their children, play sports, care for ailing parents, and serve their country."
Amen.
She continued, "Haven't we moved beyond outdated ideas of femininity and gender roles? It's time to stop telling women what makes them sexy — let us decide. We're done with pretending certain sizes don't exist or aren't important enough to serve. And please stop insisting that inclusivity is a trend."
Zak explains that she created ThirdLove partly because of brands like Victoria's Secret, that pretend they exist for women when in actuality they cater to men.
"ThirdLove is the antithesis of Victoria's Secret. We believe the future is building a brand for every woman, regardless of her shape, size, age, ethnicity, gender identity, or sexual orientation. This shouldn't be seen as groundbreaking, it should be the norm," she wrote. "Let's listen to women. Let's respect their intelligence. Let's exceed their expectations. Let women define themselves."
Zak's words are not groundbreaking in 2018. But her response to Razek and Victoria's Secret is perfectly spot-on. Women don't buy bras because of men. We buy bras because we wear them. We wear them to work. We wear them to school. We wear them to run errands and walk our dogs and chase our kids and work out and go to movies. We wear them in real life. It's not a fantasy. They need to be comfortable, functional, and fit all of us.
Thanks, ThirdLove, for not only realizing it but building women's realities into some seriously comfy bras.