This Amazing Teacher Has Personalized Handshakes For Each Of His Students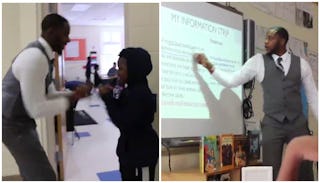 Images via WCNC.
Barry White Jr. memorized personalized handshakes for every student in 3 classes
An incredible teacher has found a unique way to connect with every single student he teaches. Barry White Jr. has a personalized handshake with each student in his three classes, and video of just a few prove the teacher is beyond gifted.
"The most critical component is the relationship, the rapport you build with your students because sometimes it can go underrated or overlooked," the teacher told WCNC. White teaches fifth-grade literacy at Ashley Park Elementary School. Before his students enter room 219, they perform the elaborate handshakes. "Before I'm able to deliver a substantial amount of content to them, they have to invest in the teacher," he said.
While his school encourages teachers to be creative, White took his efforts a few steps further with the custom handshakes. "That's how he hypes our day up," shared White's fifth-grade student Denise Hart. When White, a Cleveland Cavalier's fan, saw Lebron James' handshakes with his inner circle the idea resonated with him. He thought incorporating it in the classroom would build trust with his students and get them excited about school. He started small with just one student and one handshake. "She would come see me before she went to class and sometimes she would get in trouble because she would wait to get the handshake," White explained. "Once I saw how simple, but how powerful it was to her, I thought it would be so cool to have for an entire class."
School can be exhausting for kids, so anything fun makes the day a bit easier. Once the handshakes started they quickly became ridiculously popular. "I said 'Okay, if I can do 20, I can do 20 more I guess," the teacher shared. Talk about dedication. Lesson plans, grading tests, reading homework, and 40+ personalized handshakes sounds like a ton of work. Someone give this man a teacher of the year award already. The best part is the students spend some time being creative as well. "We collect and collaborate and come up with it together, so a lot of it is based on who they are," White said. "That's what I love, they came up with it so it's really personalized to their personalities."
White's handshakes are so beloved that in addition to his three classes of students he's come up with personalized ones for fellow teachers, volunteers, and students in different grades. "That's really why I do (the handshakes), to bring joy to them," the teacher reported. White's inspired other teachers to find creative ways to connect with and engage their students. "That really makes my day when I get messages about how I inspired other adults," he said. "I'm all about bringing joy to people's lives and inspiring others to do so, hopefully, everybody can start doing it in their classroom."