Ep. 4: This Baby Stopped Being Interested in Sleep, Enter the Lullaby League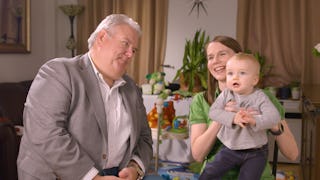 In this episode of Lullaby League, Backtrack will try to sing baby Harvey to sleep in under 5 minutes and 16 seconds. Not only is Harvey's middle name – Danger(!) – an imposing one, but according to his mom, Alison, "He's not real interested in sleep these days." Will Backtrack be up to the challenge? Or will they meet a danger-ous demise?
Lullaby League is the ultimate bedtime battle where a cappella groups compete to sing a baby to sleep. The group with the fastest time advances to the next round, and the winning group receives a professional recording session. Hosted by the hilarious Jim O'Heir of Parks and Recreation, Lullaby League airs Wednesdays on Scary Mommy's YouTube channel and Facebook Watch.
[ss_featured_video]
This article was originally published on