This Family's Pun-Filled Holiday Decor Is Absolutely Epic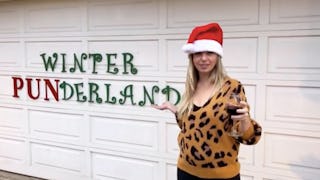 Image via Kyle Gunderson
Holiday decorations taken to a whole new level.
Sometimes the boring old tree and stockings just won't cut it. Cori and Kyle Gunderson, a California-based couple, decorated their entire house in holiday puns, and it is truly, truly a work of art.
The duo shot a tour of their "Winter Punderland," and shared it on Facebook, where it quickly racked up almost 20 million views. Kyle did the filming, and Cori conducted the tour — Santa hat on head, glass of red wine in hand (because, natch).
"It's the most punderful time of the year," Cori began, before guiding us through a whole series of very impressive, completely A+ puns.
There were the spice ornaments, with little signs attached to them that read "hi!" (season's greetings…took me a minute, too).
A picture of Michael Caine hanging over a whole bunch of candy (candy cane).
Three garden tools lined up next to one another. "Hoe, hoe, hoe," Cori said, gesturing to each item.
Let's give them an extra set of applause for that one. So simple, so brilliant.
Other puns included a life-size cardboard cutout of The Rock lurking behind on a Christmas tree ( "Rockin' Around the Christmas Tree") and a knight with his finger to his lips ("Silent Knight"). One million bonus points for owning a life-size cardboard cutout of The Rock, by the way.
Kyle told NBC4 that the couple came up with 10 puns total, and Cori helped him "weed out" a few, including a picture of Chris Pine on top of some cones, to represent pine cones.
"Friends and family have gotten a kick out of the responses we have received from the video," he said. "It was so much fun while decorating and having the neighbors watch and guess as new puns went up. One of my favorite comments was hearing a neighbor tell another neighbor while I was decorating, 'Hmmm… must be a Millennial thing.'"
Is all of this making your standard ornaments look wildly inadequate? You are not alone. Maybe this year, we should all try a Winter Punderland. Or, if you're pressed for time, just buy the red wine and get as delightfully tipsy as Cori. 'Tis the season, after all.