This Etsy Shop Gives Dolls The Most Incredible Makeunders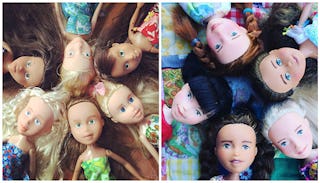 Mim Hammonds upcycles dolls and gives them more natural looks
It turns out the most beautiful little faces are hidden under a ton of makeup on most popular dolls. One mom set out to uncover those little faces for her daughter — and was so good at it she's made a business.
Mim Hammonds, the mom behind Mim's Dandy Dolls, explained her inspiration to Scary Mommy. "My 3-year-old daughter recently began playing with dolls and so I was on the lookout, but couldn't find any I liked in mainstream shops." After seeing gorgeous repainted versions online, she decided to paint some for her little girl." Hammonds now runs the Etsy shop Dandelion Threads where she sells "Mim's Dandy Dolls."
"I didn't like the focus on beauty and perfection that mainstream dolls had, and instead had a vision for dolls that looked like any child I might pass on the street," Hammonds shared. "I wanted my children to see a variety of faces and to be exposed daily to 'perfect imperfections' – i.e. normal."
"I also love that my dolls dress like any young child might choose to dress them self – mismatched top and bottom, bright colors, leggings and a skirt with gumboots," Hammonds reported.
She cleans the preloved toys and gives them a full makeover by repainting their faces and designing new clothes that match their personalities better. She also crafts a story for each doll. "Rather than focusing on image, I give each little doll a name and personality, and celebrate their strengths, capabilities, passions, and character," Hammonds explained. "I initially wrote their stories just for my children each time I painted one, and they enjoyed watching the little girls come alive."
Here is a sample of the stories she writes for the dolls. This one is for Mary, who is pictured above: "'Mary, Mary quite contrary, how does your garden grow?' Quite well thank you, replies Mary patiently, each and every time she is asked. Mary loves flowers but is not at all contrary. She has a little timber flower press and enjoys collecting petals and blossoms to press and dry. Her grandmother taught her how to do this using an old, heavy book with tissue paper to protect the pages."
The feedback from customers "has been for the most part so encouraging and supportive," Hammonds told us. "I'm hearing mothers share that they enjoy reading about each doll with their children, and looking at the before and after photos together, which in turn is generating a lot of healthy discussion about body image, and what makes a person beautiful!" She added: "I think this extra dimension has really connected people to each doll – we can see a little bit of ourselves or someone we know in them."
Hammonds currently ships within Australia but said she'd send dolls internationally for customers. Through her dolls, the mom and crafter wants to empower young women. "One of my hopes with these dolls is that it will inspire young girls to be confident in themselves exactly the way they are," she said. "I (like most women) used to have low self-image and critique my appearance but since realizing that appearance is only a tiny part of who I am and that my children watch and learn from me, I have embraced my body exactly as it is and am thankful for all the amazing things it can do."
"I am strong and capable, funny and kind. I am mother, sister, wife, daughter, friend. And not one person that I love cares one iota what I look like!"
This article was originally published on